The Taylor Swift Starbuck's Collab Rumors Are True. Here's What We Know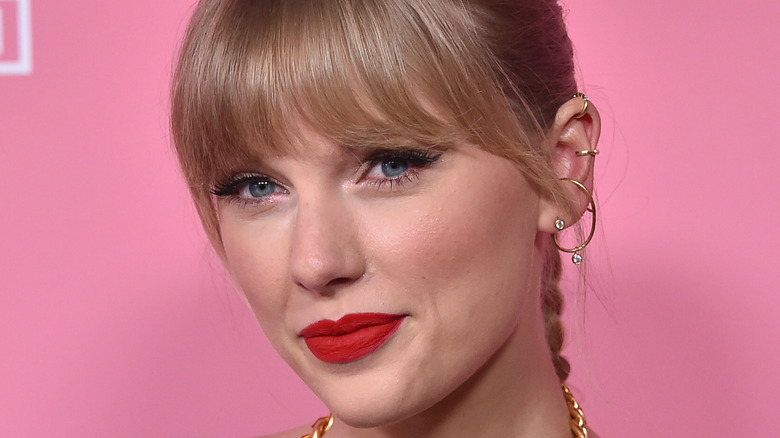 DFree/Shutterstock
Fans have talked about Taylor Swift joining forces with Starbucks for some time now. Earlier in November, the coffee chain posted a tweet reading, "It's Red season," alongside several emojis of coffee and red sweaters. Then the chain went on to tweet the singer's lyrics to the post's replies, leading fans to speculate if a collaboration was about to happen. Starting today, the coffee chain plans to launch its Swift blitz, having announced a signature latte named after the singer, in addition to streaming "Red (Taylor's Version)" and selling Taylor Swift x Starbucks eGifts, per Popsugar.
Fans can now walk up to any participating Starbucks counter and order a Taylor Latte, which is a grande caramel nonfat latte. Simply ask for a Taylor Latte or Taylor's Version to get the drink, which also appears online on Starbucks' app. The Grammy winner even has her own special card on the app you can tap to order the drink. Starting today, you can enjoy this beverage in stores while listening to a stream of Swift's album over the cafe's sound system or enjoy the custom Starbucks x Taylor Swift playlist on Spotify.
The best way to celebrate Taylor Swift and coffee together
If a signature latte and a curated playlist couldn't get you excited enough, Starbucks has even more Swift-inspired swag in store. According to People, fans can round out their coffee experience by sending their loved ones a Red-themed Taylor Swift e-Gift card. The chain hasn't announced how long the promotion is going to last for, but if you count yourself as a Swift mega fan, you can't afford to miss this collaboration that the coffee brand has been teasing for days.
If you can't afford to go another day without getting a Taylor Swift Latte, make your way over to your local Starbucks and soak in some of the songwriter's music alongside her signature drink. If the collaboration proves successful, you might get to see some other big pop artists get their own coffee order and time to shine at the cafe chain. In the meantime, keep your fingers crossed that Starbucks keeps the promotion going and make your way over to enjoy a pick-me-up with Swift's name all over it.