Here's What Food Was Served At Paris Hilton's Wedding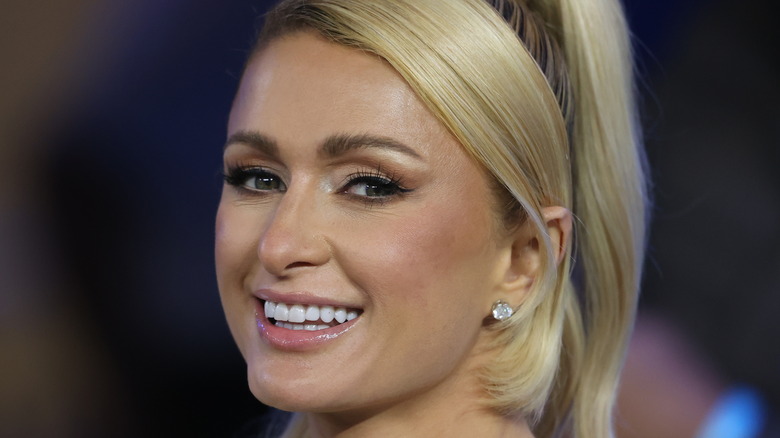 Ronald Martinez/Getty Images
Paris Hilton is married! Celebrating her union with now-husband Carter Reum, the reality star and activist built up all the excitement for the couple's big day on November 11 for the Peacock series, "Paris in Love." Hilton reflected on her wedding day on her website, "It was the best day and night of my life. If I could do it all again I would in a heartbeat." Fortunately for foodie fans, Hilton's willingness to open the reception to cameras has gotten us a sneak peek at the question all Mashed fans are asking — what was on her wedding menu?
First, of course, we need to talk about the decadent five-tier wedding cake by Joanie & Leigh's Cakes from Los Angeles. The bakery team is known for crafting elegant wedding cakes with spectacular floral details in cascades of white frosted tiers, based on its website. With intricate detailing including golden palm trees and a fairy tale carriage surrounded by pink and white rose bouquets, Hilton's cake was a showstopper, People reports. It was complete with a shiny gold crown for the topper and almost appeared lit from within. Of course, the Hilton-Reum guests did not survive on cake alone — they also ate quite well beforehand, celebrity-style.
Hilton's wedding featured tons of premium seafood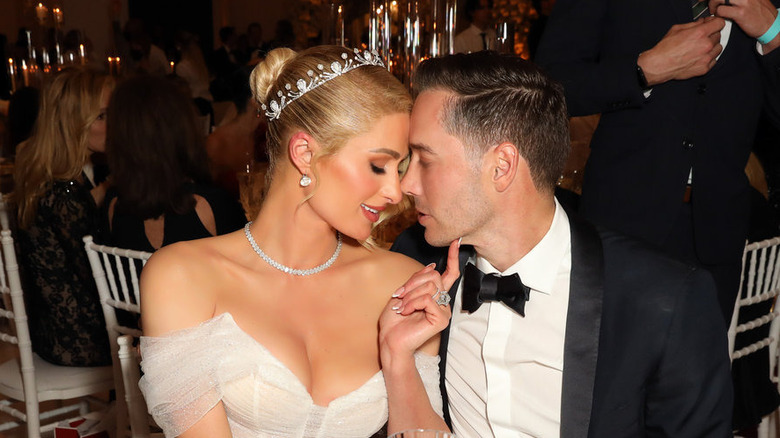 Chelsea Lauren/Shutterstock/Peacock
The menu for Hilton's wedding day was designed by all-star chef Wolfgang Puck, according to People. Angelenos may be familiar with some of the dishes, which are among the offerings at Puck's Beverly Hills restaurant, Spago. Seafood was in abundance with spicy tuna tartare, smoked salmon pizza, tempura shrimp, and even a caviar station paired with Moët and 2012 Chandon Grand Vintage Champagne. Also on the lineup of amuse-bouches were duck potstickers, deviled quail eggs, chicken and leek pot pies, pot roast croquettes, and Puck's signature Chinois chicken salad.
And that was all before dinner. The main meal began with yet more seafood, such as oysters Rockefeller and crab Louie, followed by a salad and tortellini course. The entree was guests' selection of surf, turf, or veg: "potato encrusted sea bass, grilled New York steak or vegetarian grilled eggplant 'steak frites.'" Finally, there were the end-of-the-night eats. Flourless chocolate cake, ice cream, and fruit cobbler were the sweet conclusion before everyone hit the dancefloor. After working up a sweat, dancers could fuel up on miniature snack foods including grilled cheese, duck fat fries, cheeseburgers, pigs in a blanket, and even peanut butter and jelly macarons. It was a true treat for the eyes — and tastebuds.