Trisha Yearwood Looks Back On A Funny Family Thanksgiving Mix-Up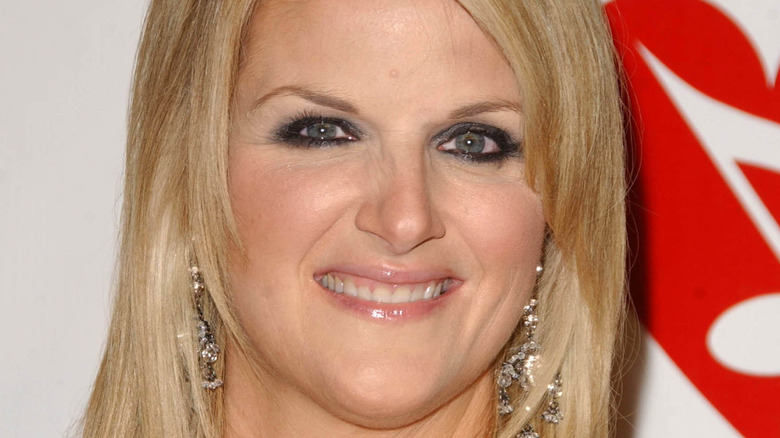 s_bukley/Shutterstock
Thanksgiving is a day when the food takes center stage, and the turkey is the absolute star of the show. From the mashed potatoes and stuffing to the cranberry sauce and green bean casserole, we want each element to contribute positively to our taste buds' memories. When you put so much time and effort into one meal and so many people you love gather under one roof, you want it to be special. However, we're only human. The entire meal is rarely perfect and often includes a combination of delicious successes, so-so dishes, or even some epic failures.
Trisha Yearwood, the host of "Trisha's Southern Kitchen," confessed on Guideposts that she didn't make her first Thanksgiving dinner solo until she had to cook the entire spread for her husband's parents. Growing up, "I just assisted with the feast," she wrote. "Mama and my older sister, Beth, were in charge of the turkey, the sides, and the pies. They'd be cooking back home in Monticello, Georgia, and here I was in Oklahoma." Despite a turkey-thawing mishap, the dinner went off without a hitch. But not all of Yearwood's turkey days have been as smooth. Recently, she shared a funny family mix-up that occurred with the big-ticket protein, and it is so relatable.  
The turkey was raw
Yearwood posted a video to her Instagram that showcases her cooking with her sister, Beth, and talking about Thanksgiving dinner. She wrote in the caption, "Who among us hasn't had a little Turkey trouble?! (cough*Beth*cough)." The clip shows the siblings gathered in the kitchen, laughing and reminiscing as Yearwood says to her sister, "You know, we're having garlic roast this year, because I didn't know if you would want to make the turkey or not."  
Beth replied with a laugh, "She always brings up the turkey story!" Beth then goes on to share how, one year, she was in charge of making the turkey and forgot to press start on the oven. She contends that it really wasn't her fault, though, because she wasn't used to her mom's kitchen. But don't worry, Thanksgiving still had a happy ending. Yearwood revealed, "Mama saved the day. She always did." And Yearwood's fans couldn't help but share their support for Beth's relatable cooking fail.
Yearwood says that family recipes tell stories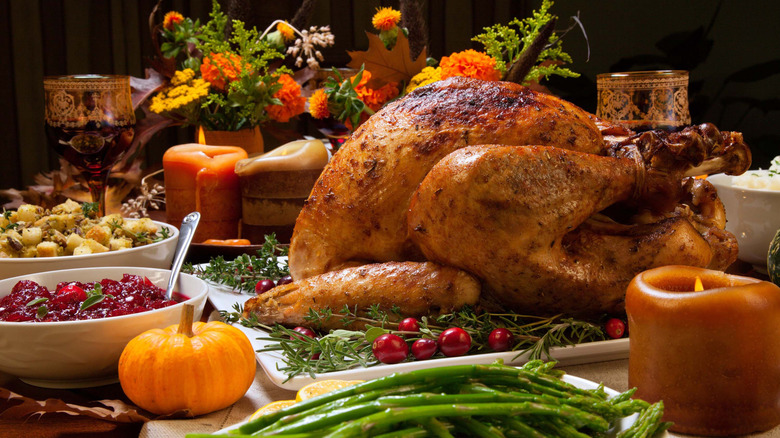 DesignHolo/Shutterstock
One fan responded to Yearwood's Instagram post, "No one is perfect Beth." Another shared their own turkey horror story, writing, "One year I thawed the turkey in our garage since I had no room in the fridge. Unfortunately it was a warmer than average November. When I put it in the oven, the house took on a kind of sour odor – the bird had spoiled. We had vegetarian Thanksgiving that year. Thankfully, there was plenty of pumpkin pie." 
Of course, when you mess up the focal point of the meal, you are bound to get a good-natured ribbing from family, and it seems like Beth and Yearwood wouldn't have had it any other way. This is not the only funny Beth story that Yearwood has shared. The country music star wrote on Guideposts, "Every recipe in our family has a story. We still laugh about the time Beth put too much ranch dressing in her Super Bowl Sunday cheese ball. My dad renamed it 'cheese wad,' and that's what we call it to this day."