The Truth About Giuseppe Dell'Anno From The Great British Baking Show: Season 12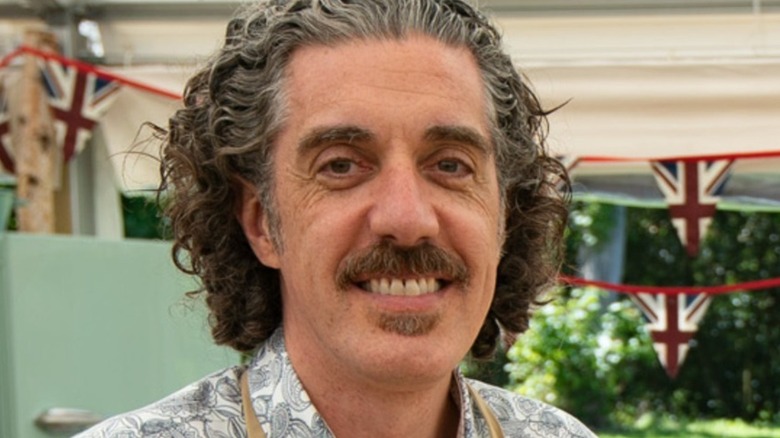 British Bake Off/Twitter
Love "The Great British Baking Show"? Maybe you have what it takes to become a contestant on the show! Although "The Great British Baking Show" contestants are amateur bakers and not professional pastry chefs, we are always super impressed by all their talent and wonderful creations. If you've been watching Season 12 of the series, you might know that the semi-finals are approaching, and one of the bakers who has made it to the final stretch of the show is Giuseppe Dell'Anno.
Nerds & Beyond recapped a recent episode of the show where each baker made dairy-free ice cream sandwiches, and Dell'Anno's creation was ginger and maple syrup cookies filled with orange ice cream. While you might be familiar with Dell'Anno's baked goods, what about the rest of his life? As we head into the semi-finals of the competition, let's learn a little more about this rising star.
Giuseppe Dell'Anno's father was a chef
According to the Radio Times, Giuseppe Dell'Anno is originally from Italy, but he currently is living in Bristol, England, with his wife and three children. While Dell'Anno might not be a professional cook, his father was a chef, so it makes sense that the star knows his way around the kitchen. Although Dell'Anno himself is an engineer, his father would bake a cake every Sunday, according to the U.K. website Heart. The same website also explains that Dell'Anno bakes for his own kids and avoids buying the mass-produced desserts that you might find in grocery stores.
If you want to continue following Dell'Anno's journey through "The Great British Baking Show," you can follow his Instagram @giuseppecooks, where he posts photos of his creations. Based on the fact that the first photo is of him in the tent, it looks like he made this account specifically for "The Great British Baking Show," but we hope that he continues to show off his baked goods long after the program ends. And if you want to cook like Dell'Anno, his recipe for caramel chouxnuts is on "The Great British Bake Off" website.