Buddy Valastro Made This Over-The-Top Cake For Michael Strahan's 50th Birthday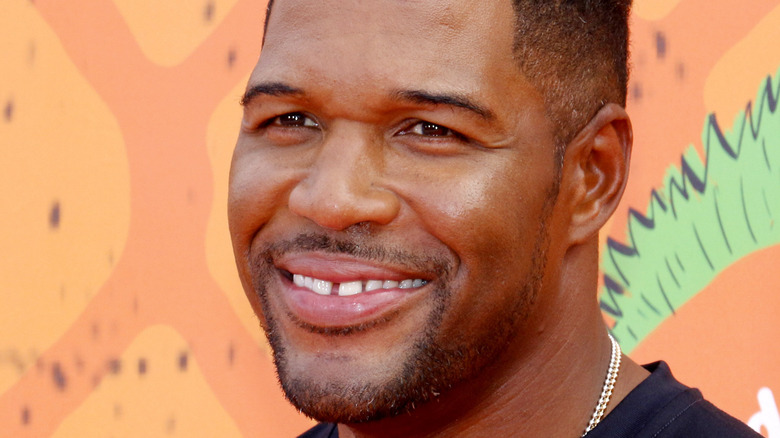 Tinseltown/Shutterstock
It's probably not easy turning 50. Even if you're Michael Strahan, a former football star with a Super Bowl ring, and a popular television personality with two Emmys under his belt (via Michael Strahan's website). Although he doesn't actually turn 50 until November 21 (via Biography), the team on "Good Morning America" kicked off early celebrations for the big day on the Monday before. There were numerous well-wishes from other celebrities and gifts from his costars and crew, including fancy chocolates, a special "GMA" football jersey, and customized Air Jordans dubbed "Air Strahans" (via YouTube). And to top it all off, there was an over-the-top cake from the "Cake Boss" himself, Buddy Valastro.
Valastro has revolutionized the art of cake making with such masterpieces as a giant aquarium cake complete with edible coral, a four-and-a-half foot Leaning Tower of Pisa cake, and a "Transformers" Bumblebee cake with glowing eyes and fireworks (via The Recipe). And he used that same creativity to make a personalized dessert just for Strahan's 50th. 
This isn't the first time Valastro baked a cake for Strahan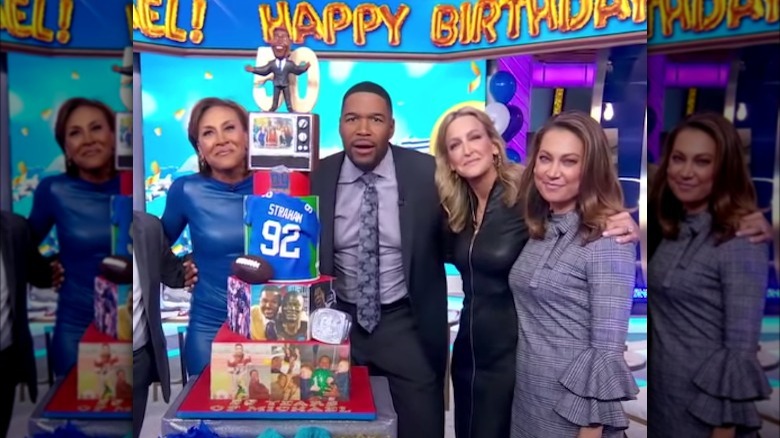 YouTube
The special 50th birthday cake featured multiple tiers and included a model of the football star, a television set, his NFL jersey, and his Super Bowl ring. in addition, Buddy Valastro crafted scenes of Michael Strahan with family, friends, and colleagues (via YouTube). The former NFL star has admitted to having "the biggest sweet tooth" (via People) and no doubt loved his custom cake. 
Strahan is no stranger to Valastro's work. In 2012, while he was co-hosting "Live with Kelly and Michael" with Kelly Ripa, he headed to New Jersey's Carlo's Bakery to get her a cake. As seen in Season 3 Episode 9 of Valastro's "Next Great Baker," Strahan asked the contestants to bake the perfect birthday cake to present to his costar on live television (via MSN). On her birthday, Ripa was treated to two different custom cake creations while Strahan got his own treat from Valastro. Valastro, who is a New York Giants fan, created a Giants cake for the former Giants player, along with 92 different treats to represent Strahan's jersey number (via Recapo).
Hopefully, Strahan shared his most recent Valastro special with the cast and crew of "Good Morning America." Otherwise, he might have to put those golf clubs and Air Strahans to use immediately.