The One Grocery Store Item Michael Strahan Can't Live Without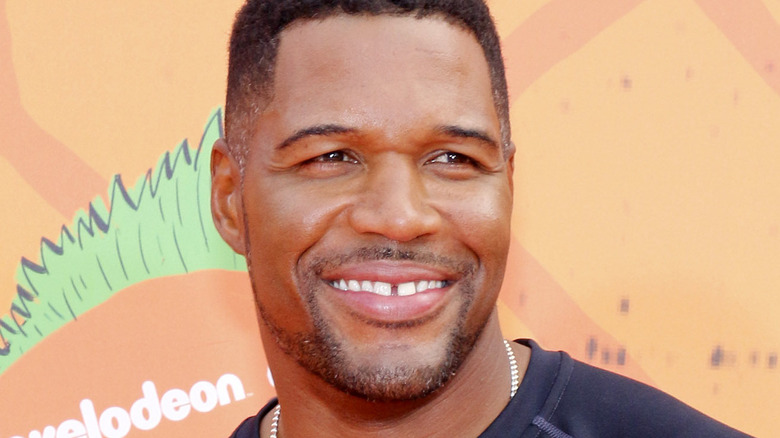 Tinseltown/Shutterstock
For many people, pre-made and pre-packaged snacks are a quick and easy solution for growling stomachs on busy days.
Even though celebrities seem to have more of everything than the average individual, they still have to work with the same amount of time. Yes, that's right, you can have a personal chef standing by and still eat an entire package of Oreos for lunch on the go. Celebs are not immune to the wonders of junk food; Selena Gomez always carries Flaming Hot Cheetos and Chrissy Teigen can't live without Doritos (the Doritos seasoning, anyway).
Michael Strahan, pro-football player turned "Good Morning America" host, is no exception. While he might not be reaching for a box of Twinkies, he does often opt for a packaged snack to keep up his energy on particularly busy days. 
Michael Strahan is on the quest for an easy snack
Being a former football player, Strahan still gravitates to the healthier end of the spectrum for his snacking needs. "I'm always on the run, and when I can't sit down and really eat, I'll have a protein bar to fill that void," he says, according to The Strategist.
His favorite protein bar? Quest's Cookies & Creme flavor. This item boasts 21 grams of protein and 14 grams of fiber, while remaining low carb and gluten free. If Cookies & Cream isn't your flavor, Quest also offers Birthday Cake, Blueberry Muffin, and Chocolate Brownie bars, to name a few.
If you do happen to have more time on your hands, you can save a bit of money and make your own customized protein bars at home. Don't see what you want at the store? Whip up your own peanut butter chocolate chip bars.