Padma Lakshmi Is Turning Heads With 'Banging' Bob Hairstyle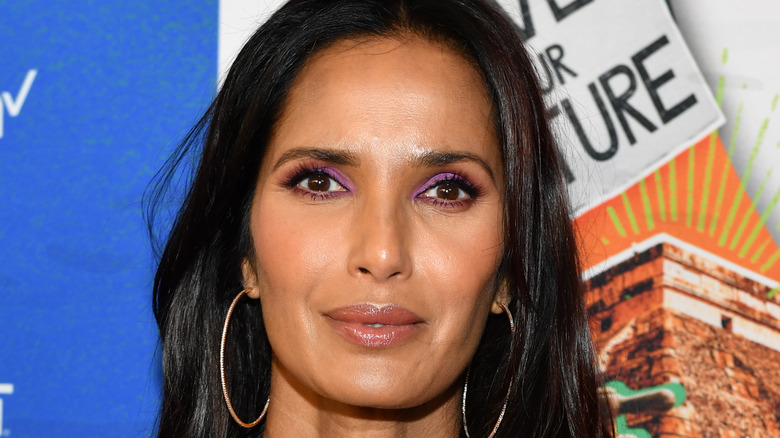 Noam Galai/Getty Images
Food writer, actress, and "Top Chef" host Padma Lakshmi is a respected name in the industry. With years of experience behind her, Lakshmi is popular among scores of fans. She's rather perceptive, too. When she once spoke about her previous stints as a model, Padma Lakshmi told PBS NewsHour, "I know that my looks are really the alchemy of my parents' genetics and have little to do with me or any accomplishment of my own."
Her appearances on "Top Chef" were stressful for her. Lakshmi explained to Eater that she needed to adapt in order to align with the show's format. "For me to do my job well, it requires me sublimating my personality a lot, because I want to get to the guest judges and what they think. I want to get information out of the contestants, et cetera," she said. However, when she got the opportunity to work on another show, Lakshmi was relieved to make her own wardrobe choices and have much more "creative control."
She keeps fans entertained
Padma Lakshmi has most definitely not stopped experimenting with her looks, though. She's still up for some fun and doesn't mind sharing her latest updates with her fans. The star recently posted a photo of herself on Instagram sporting a funky bob haircut with some bangs and wrote a funny caption, "Berries and Cream or Edna Mode vibes? You decide!" 
Her fans enjoyed this latest picture for sure and had lots to say. A commentator wrote that she absolutely reminds them of Edna Mode from "The Incredibles." A supportive fan simply said, "always think of that character when I see that haircut. Amazing. Also, you're basically perfect, so you could pull off anything, qween [sic]." Well, she certainly knows how to engage her fans.
In another recent Instagram update, she shared her version of a late-night snack with some delicious-looking pasta and motivated fans to share their love for carbonara.