Padma Lakshmi Has Fans' Mouths Watering Over This Late-Night Snack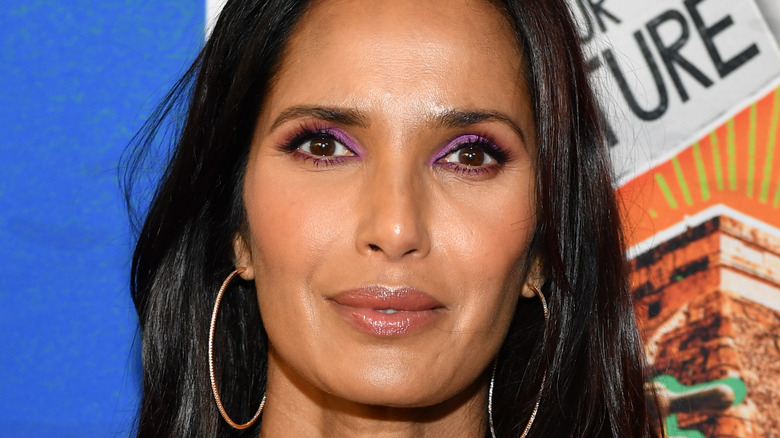 Noam Galai/Getty Images
Maybe you're staying up late because you're finishing a work assignment, binge-watching the new Netflix series you're obsessed with, or traveling. Or maybe you simply just can't sleep. Whatever the reason, it's been hours since dinner and you're getting hungry again, which means one thing: It's time for a midnight snack. According to the 2021 International Food Information Council Survey, some 60% of American adults like to snack after 8 p.m. (via ABC 13 News). Whether it's a handful of popcorn, a bag of Flaming Hot Cheetos, or a few Oreos, post-dinner treats are something many of us enjoy on the regular.
Even the professional chefs you watch on TV  partake in late-night snacking from time to time, although their eats of choice might be a little more elaborate than most. Gordon Ramsay likes baked beans on toast, while Alex Guarnaschelli prefers cold spaghetti and meatballs. And "Top Chef"'s Padma Lakshmi recently took to Instagram to share her favorite midnight snack — and fans are drooling over it.
People want to try Padma Lakshmi's pasta carbonara
Celebrity chef Padma Lakshmi is known for her mouthwatering recipes, so it's no surprise that her go-to late-night snack is just as delicious — or at least, it looks to be. In the video clip that the "Top Chef" host posted on Instagram, she's whipping up pasta carbonara, complete with doughy noodles, crispy bacon bits, and egg crumbles. "My kinda late night snack... or breakfast for dinner? Brinner?" she captioned the video.
To say that Lakshmi made quite a few people hungry with her post would be an understatement. Many fans commented that her pasta carbonara sounds — and looks — like the perfect midnight snack. After all, carbs plus fat equals the recipe for a satisfied craving. "I want to submerge myself in that food," one person wrote. Even a few of Lakshmi's famous friends chimed in. "You always make us [drool]," Hulu commented, while actress Debi Mazar simply said, "Save me some."