Eggnog Martini Recipe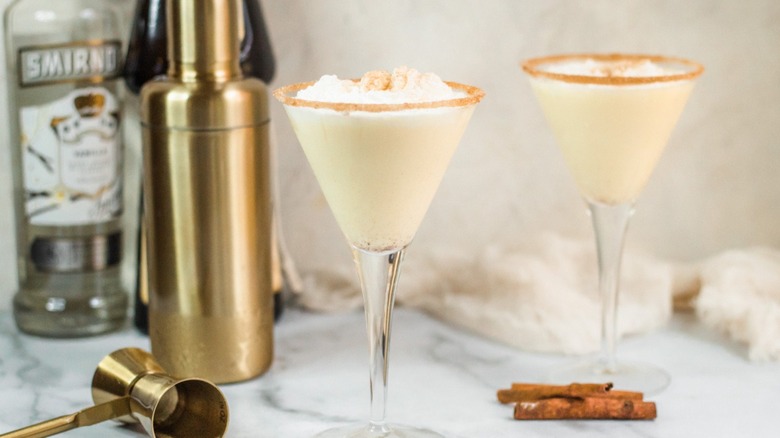 Jaime Bachtell-Shelbert/Mashed
Fa-la-la-la-la, 'tis the season for hall-decking and partaking in all manner of old-timey seasonal delicacies. We love the figgy pudding and sugarplums, and as for fruitcake ... well, you may want to count us out on that one. Eggnog, however, may seem on the surface like a fairly odd concoction: raw eggs with cream and booze? Still, as most of us are well aware, it tastes a whole lot better than it sounds.
Still, super-rich eggnog is the kind of beverage you can only drink so much of in one go. What you can do, however, is use it as an ingredient to flavor other delicious holiday concoctions such as Jaime Bachtell-Shelbert's eggnog martini. Bachtell-Shelbert tells us, "I like to serve festive cocktails over the holidays. Eggnog is a quintessential holiday drink, so I decided to turn it into a martini ... and I'm glad that I did!" (You will be too.) She describes the flavor as "rich, creamy, and decadent [with] hints of vanilla, eggnog, hazelnut, and cinnamon."
You may need to visit the liquor store as well as the supermarket to get the necessary ingredients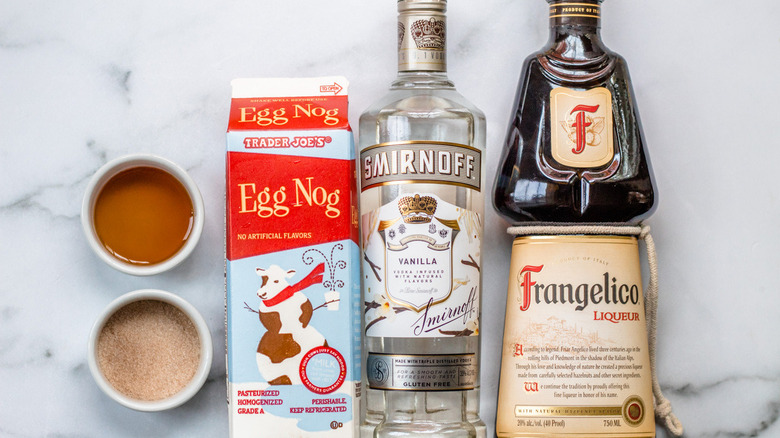 Jaime Bachtell-Shelbert/Mashed
The cocktail itself is made with eggnog — just the plain, unspiked kind that comes in a carton from the grocery store. You'll be adding the booze yourself. Bachtell-Shelbert used the hazelnut liqueur Frangelico as well as a vanilla-flavored vodka.
You'll also want to serve this drink in some fancied-up martini glasses. (Champagne coupes could work, as well.) To rim the glasses, you'll need maple syrup, sugar, and cinnamon. You may also want to have some whipped cream on hand to garnish your finished creation.
Rim the cocktail glasses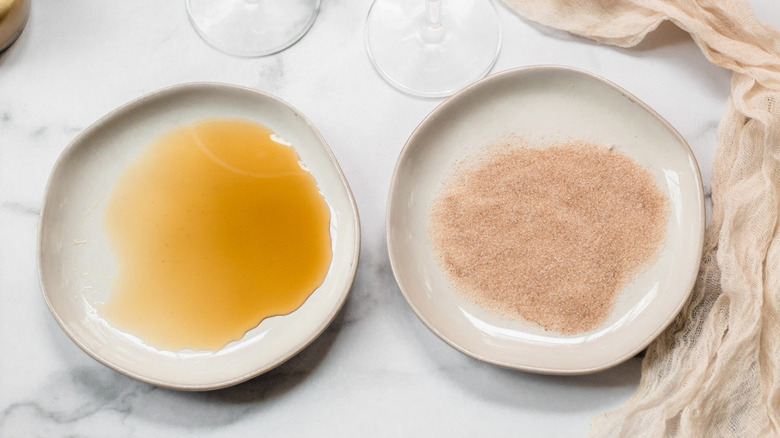 Jaime Bachtell-Shelbert/Mashed
Start off by selecting the glasses you'll be using, then find two small saucers just big enough to dip the glasses into. Pour the maple syrup into one of the saucers, and use the other one to mix the sugar and the cinnamon. Dip the glasses first into the maple syrup, then into the cinnamon sugar, then set them aside for a moment.
As to why she went with the maple/cinnamon flavor combo, Bachtell-Shelbert explains, "I wanted something sticky for the rim to for the cinnamon sugar coating, and maple seemed like a complimentary flavor." For the sugar rim, she says, "I thought about using nutmeg but opted for cinnamon, which is sweeter." If you want a more traditional nutmeg flavor, though, she says, "You could absolutely use nutmeg."
Mix the cocktail ingredients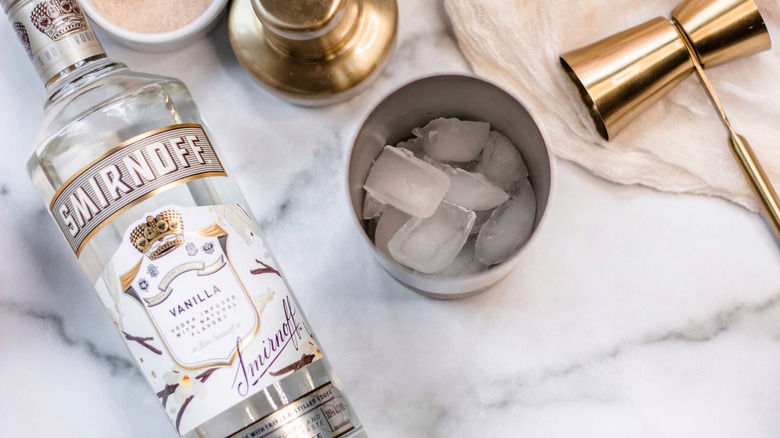 Jaime Bachtell-Shelbert/Mashed
If you have a cocktail shaker, fill it halfway with ice. If you have no shaker, use a lidded jar instead. Pour the vodka, Frangelico, and eggnog into the glass, then screw the lid onto the shaker (or jar). Now comes the fun part: shake, shake, shake! As a final step, strain the cocktail into the prepared glasses.
While the hazelnut flavor of the Frangelico is, like the cinnamon, not itself a traditional eggnog ingredient, Bachtell-Shelbert tells us, "It pairs nicely with the traditional spices in eggnog."
This is definitely an after-dinner drink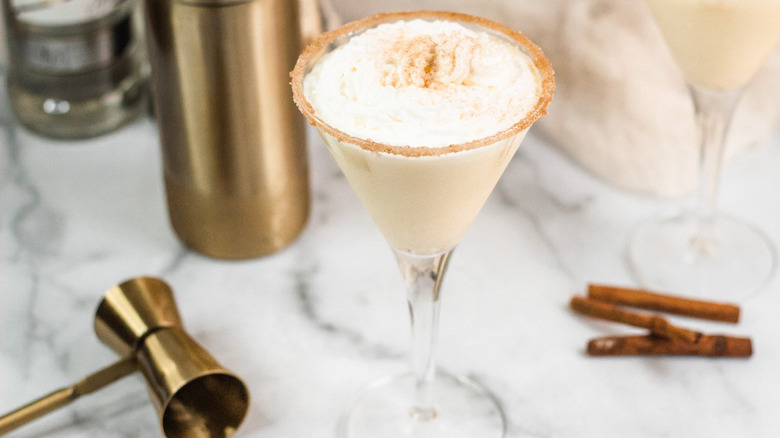 Jaime Bachtell-Shelbert/Mashed
If you want to garnish your eggnog martini, you can top it off with a spritz of whipped cream, and/or sprinkle it with nutmeg or some additional cinnamon sugar. You could even hang a mini gingerbread person off the rim of the glass to make the drink extra-cute!
Bachtell-Shelbert says of this cocktail, "It tastes like dessert!" She describes it as "decadent" and says it would be best served after dinner. While it needs no accompaniment other than its own sweet self, she says it would pair nicely with gingerbread or chocolate cookies.
Eggnog Martini Recipe
Eggnog is a quintessential holiday drink, so we decided to turn it into a martini ... and we're glad that we did! Give this fun cocktail a try.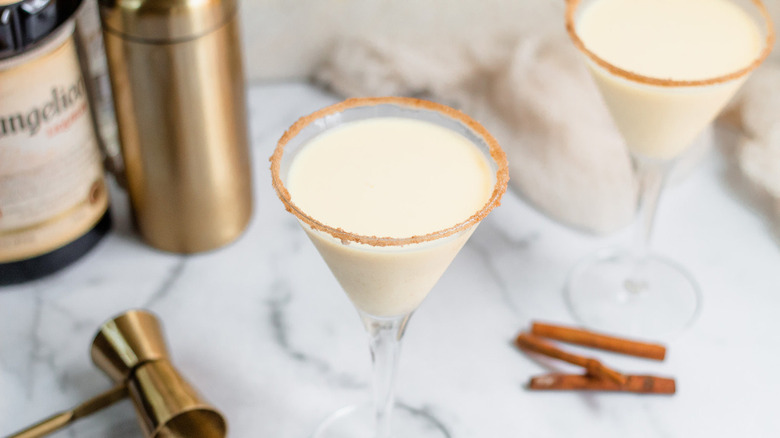 Ingredients
1 tablespoon maple syrup
½ teaspoon cinnamon
1 tablespoon sugar
3 ounces vanilla vodka
3 ounces Frangelico
6 ounces eggnog
Optional Ingredients
Whipped cream
Additional cinnamon sugar
Directions
Pour maple syrup onto a small saucer.
Mix the cinnamon and sugar in another small saucer.
Dip the rim of each martini glass into the maple syrup, then press the rim into the cinnamon-sugar mixture to coat.
Fill a cocktail shaker or lidded jar halfway with ice.
Add the vodka, Frangelico, and eggnog to the shaker.
Close the shaker and shake.
Strain the cocktail into the prepared martini glasses.
Top the martinis with whipped cream and a sprinkle of cinnamon and sugar if desired.
Serve and enjoy.