What Is Figgy Pudding And What Does It Taste Like?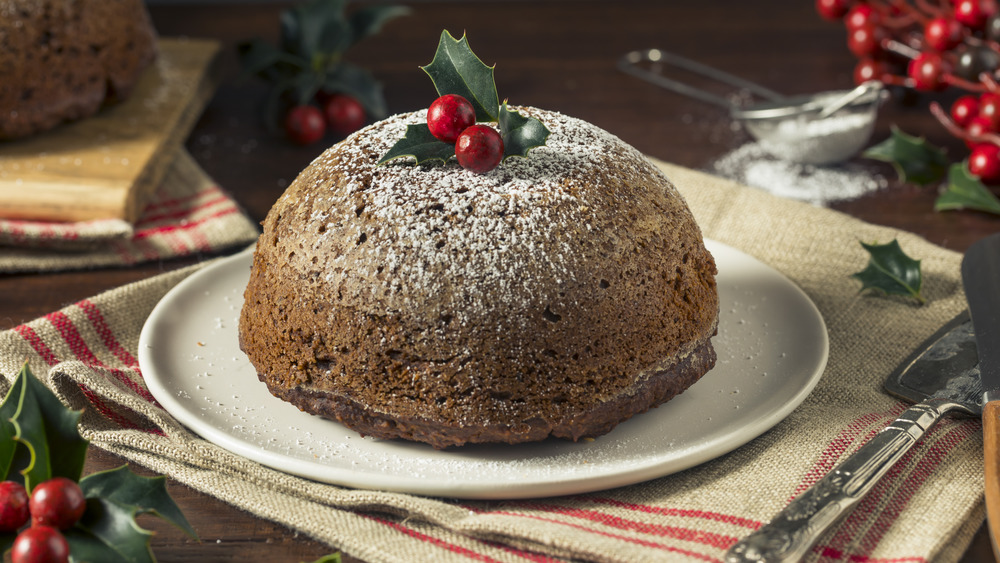 Shutterstock
As we get closer to the festive season, it's undeniable that it's finally time to look forward to certain Christmas desserts and treats. Whether you're a fan of homemade cookies or can't say no to a few glasses of eggnog, it's highly likely that you have a special Christmas treat that you look forward to every year. One of the most appealing options to turn to this time of the year? A serving of Christmas pudding, of course!
It's even better if you can get your hands on figgy pudding. Wondering what that is, apart from a "We Wish You a Merry Christmas" lyric? Well, according to NPR, figgy pudding is basically a steamed cake that features delectable ingredients such as currants, raisins and ... wait for it ... brandy. The original version had a grand total of 13 ingredients that symbolized Christ and the 12 apostles. The British dessert is also known as plum pudding or Christmas pudding and has delicious flavors that are guaranteed to take your tastebuds on a joyous, festive ride. 
Making figgy pudding was a time-consuming process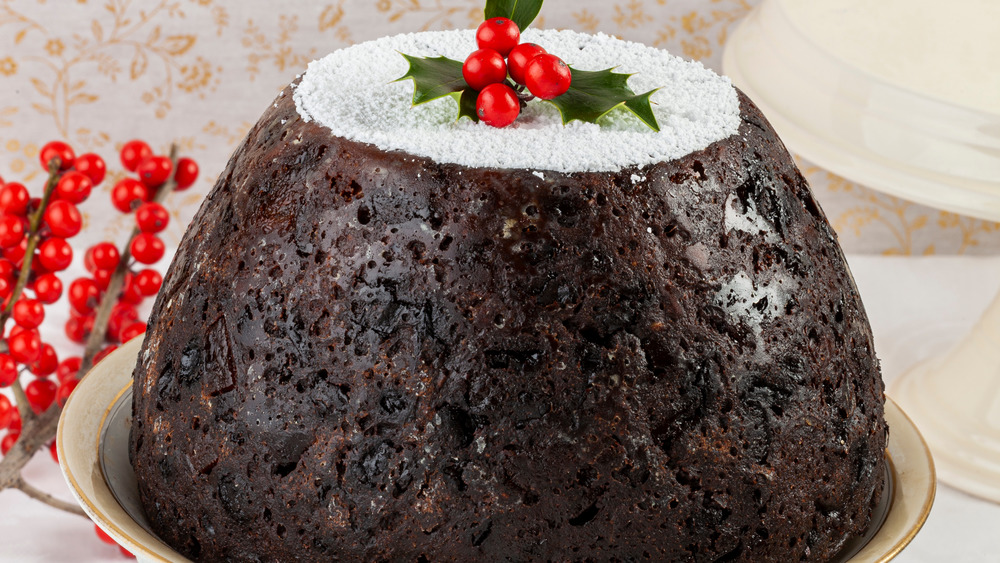 Shutterstock
Figgy pudding traditionally took a long time to prepare. As per Taste of Home, the puddings were usually made a few weeks before the Christmas season and were boiled twice with the help of a pudding cloth and aged to allow the dessert to shape up perfectly. Funnily enough, technically, figs aren't used often in the dish that has heavy amounts of alcohol, which means that you'll be treated to strong, bold flavors that complement other ingredients like eggs, breadcrumbs, sugar, raisins, currants, nutmeg, candied orange peel, cloves, and more. Interestingly, people would serve the figgy pudding in a rather stylish manner, adding more brandy to the dish and setting it on fire before serving it. Cool!
A curious Redditor asked strangers to explain what to expect when you bite into a plum pudding. A well-structured answer to that question read, "Imagine gingerbread with the consistency of really moist brownies and with not only nuts, but candied and dried fruit (raisins, figs) and a little brandy." The commenter added that the dish tastes extra nice with vanilla and custard sauce along with a cup of coffee. Yes, please!