Padma Lakshmi Still Struggles With This Cooking Skill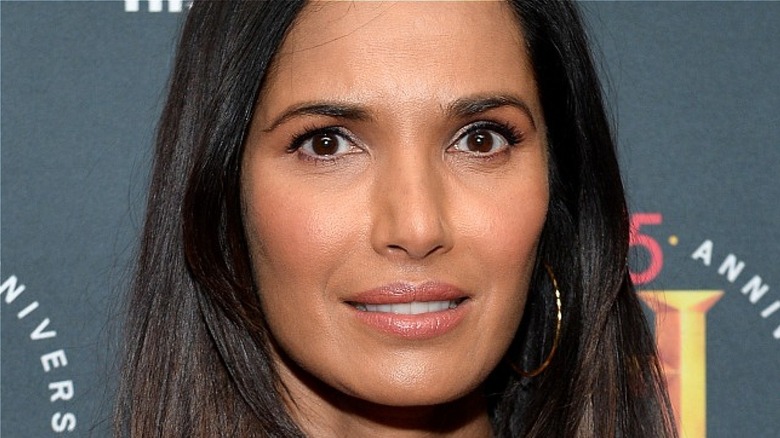 Noam Galai/Getty
If you're even a casual viewer of food television, you've likely come across Padma Lakshmi, a professional model turned cookbook author, activist, and, of course, host of "Top Chef," the popular Bravo cooking competition whose latest 18th season aired over the summer (via Lakshmi's official website). In addition to hosting, judging, and executive producing that Emmy award-winning show, Lakshmi also created, hosts, and produces the Hulu travel series "Taste The Nation," in which she travels across the country learning about food and sharing stories with both immigrant and native communities (via Hulu).
Aside from her media appearances, Lakshmi's cookbooks and an encyclopedia of spices and herbs which she published with cookbook editor Judith Sutton (via Lakshmi's website) firmly land her a reputation as a food expert. So, it comes as no surprise that Lakshmi can roast a mean Thanksgiving turkey and often whips up a big pot of the Indian dish khichdi, a savory rice and lentil porridge loaded with veggies. But, even she admits that when it comes to cooking, she has skills she still needs to work on, including this big one.
Padma Lakshmi is still learning how to cook certain cuts of meat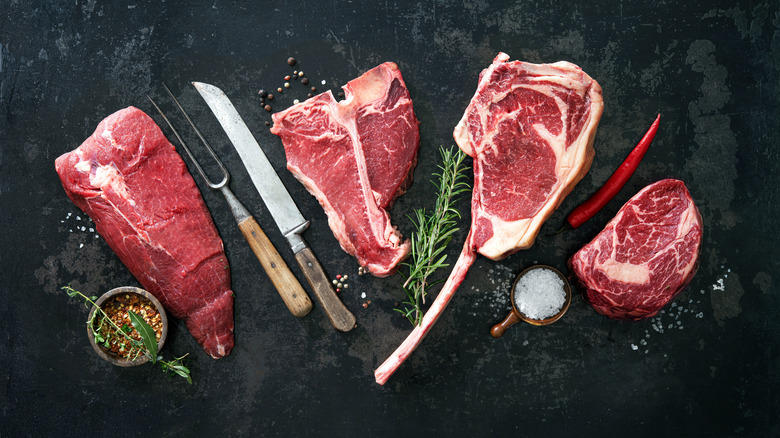 Alexander Raths/Shutterstock
Growing up in Chennai, India, cookbook author and food TV host Padma Lakshmi was raised as a vegetarian, eating the traditional Hindu-Brahmin diet in which dairy, but not meat or egg, products are consumed (via NPR). In her 2016 memoir "Love, Loss, and What We Ate," Lakshmi recalls emigrating to New York City when she was four-years-old and finding it hard to adjust to a whole new variety of foods there — especially ones that contained meat, according to the NPR article. As she recently told The A.V. Club, she was a teenager by the time she fully integrated meat into her diet, and, as a result of that lag, there are still some cuts that confound her in the kitchen.
"I still struggle with understanding how to handle different cuts of meat ... like a liver or something," she said. "I don't like organ meat, but it's part of my job and intellectual development in food to learn. I'm trying to embrace it, but you're never going to see me order a T-bone steak rare, let's put it that way."
As she has noted in the past, Lakshmi tries to stick to a mostly plant-based diet off-air, cooking protein-rich legumes such as lentils, beans, and black-eyed peas, as she told Bravo TV's The Dish. "It's really good for your health but it's also good for the planet," she said. And clearly she's mastered that style of cooking.