Baskin-Robbins Adorable Snowman Cake Is Perfect For Your Holiday Party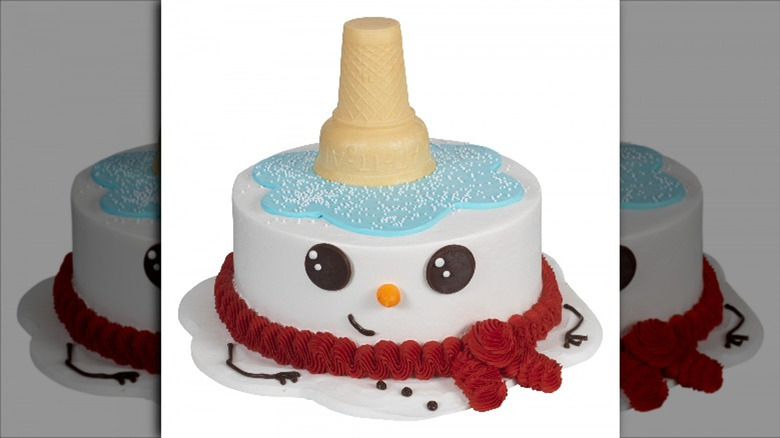 Baskin-Robbins
It might be almost winter, but just because the cold is coming in doesn't mean you have to give up all of your favorite warm-weather treats. In fact, quite to the contrary, the popular chain Baskin-Robbins is here to show everyone that ice cream is more than just a summer food. While true fans may argue that ice cream is tasty enough to be enjoyed any time, Baskin-Robbins is also now launching a festive new item that is so adorable, it will have people forgetting all about how cold it may be outside. The company has just announced they will be releasing a brand new Brrr the Snowman Cake this December that is sure to delight any ice cream fan.
Baskin- Robbins is certainly no stranger to releasing holiday-themed baked goods in the past, having launched many other festive cakes, like their adorable Elf Cake, dreamy Winter Wonderland Cake, and their merry Modern Wreath Cake, according to Baskin-Robbins. However, this newest snowman design just might, well, take the cake. Made with your choice of cake and ice cream flavors, and decorated with an icing carrot nose and scarf, tree branch arms, a delectable smile and buttons made of fudge, all set atop a bed icing made to look like melting snow, and topped with a crunchy cake cone, it is sure to be the perfect centerpiece for any holiday occasion (via PR Newswire).
How you can get the Baskin-Robbins cake for free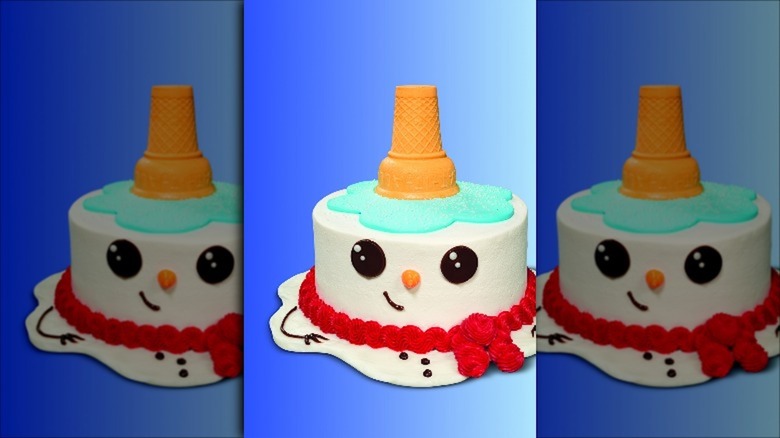 Baskin-Robbins
If you've got a big holiday dinner planned but haven't quite found your pièce de résistance, look no further than this Brrr the Snowman Cake. Yet, while it is adorable and festive enough to be served at any seasonal gathering, this sweet snowman cake can just as easily be enjoyed at home with family and loved ones. And now, anyone who is hoping to try this brand new holiday cake has the chance to win one absolutely free. Baskin-Robbins will be giving away 1,000 Brrr The Snowman cakes for free on Black Friday to customers who order online after 1 P.M. EST and use the code SNOWMAN*. Fans who don't make the Black Friday cutoff can use the code HOLIDAY** to score 20% off any online cake purchases through Cyber Monday, per Baskin-Robbins.
"Dessert is one of the best things about the holiday season and this year, like every year, we're excited to give the gift of ice cream to our guests. With festive flavors and deals for Black Friday making it even easier to bring delicious treats to the table, we hope our guests will enjoy making Baskin-Robbins a part of their holiday traditions," Charlie Nutting, Inspire Brands' Brand Marketing and Insights Director, said of the new release (via Baskin-Robbins).