Baskin-Robbins Iconic Turkey Cake Is Returning For Thanksgiving 2021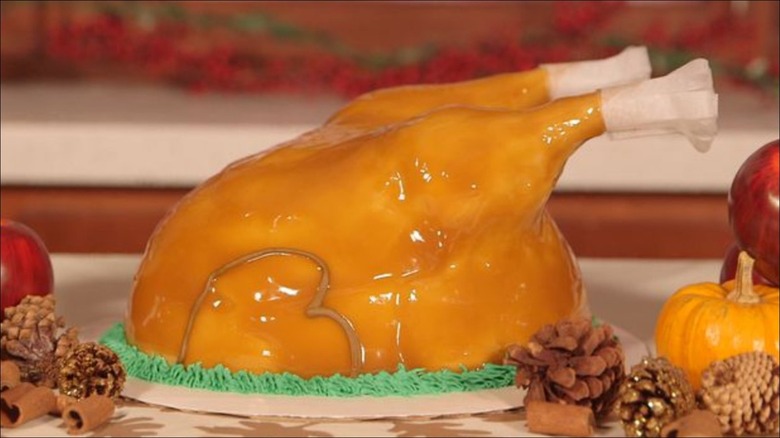 Baskin Robbins
Baskin-Robbins always has super fun and cute seasonal ice cream creations, whether it's sea creatures to kick off the summer months or a spooky ice cream cake just in time for Halloween. Who said ice cream is just for the summer, anyway? If you missed their Halloween offerings, don't be disappointed though! With Thanksgiving coming right around the corner, the chain is bringing back one of their iconic holiday treats that will be perfect for your gathering.
After reporting on Salt & Straw releasing their new line of ice cream that's inspired by classic Thanksgiving dishes, we can now share that Baskin-Robbins is getting in on the fun with the return of their Thanksgiving Turkey Cake, according to a press release on the company's website. Made of ice cream and frosting, and shaped like a very realistic turkey, this treat deserves to be the center of your table this year.
In the press release, Charlie Nutting, brand marketing director at Inspire Brands (which owns Baskin-Robbins), said the company is "excited to bring back Baskin-Robbins' own Thanksgiving tradition, the beloved Turkey Cake, which is the perfect conversation piece and Insta-worthy addition to any Thanksgiving or Friendsgiving gathering."
What you need to know about Baskin-Robbins' Turkey Cake
Baskin-Robbins' Turkey Cake is truly a show-stopping centerpiece that doubles as dessert. According to the press release on Baskin-Robbins' website, "This all ice cream 'turkey' is stuffed with guests' favorite ice cream, topped with two sugar cone legs, and smothered in a rich caramel praline glaze sitting on top of a bed of frosting garnish." If you ask us, we think that the garnish and glaze really take this cake to the next level since it's all about the extra special details.
The company's website also says that, through November 25, you can get $5 off any cake purchase of $35 or more, so buy your cake before Thanksgiving and pop it in the freezer to take advantage of this deal. If your real turkey is taking up too much freezer space, no sweat — you'll want to thaw it properly any way by giving it a few days in the fridge to defrost — and that will clear up space for this ice cream cake.
To celebrate this special time of year, Baskin-Robbins has another treat, recently announcing the November 2021 flavor is none other than Snickerdoodle Chai, which is perfect for anyone that loves fall warming spices like cinnamon. And the chain is offering a free kids scoop of this flavor of the month (or any flavor, for that matter) to all customers who make a purchase of $15 or more from Thanksgiving Day through November 30. Now that's truly something to be thankful for.