The Best Restaurants At Universal Studios Hollywood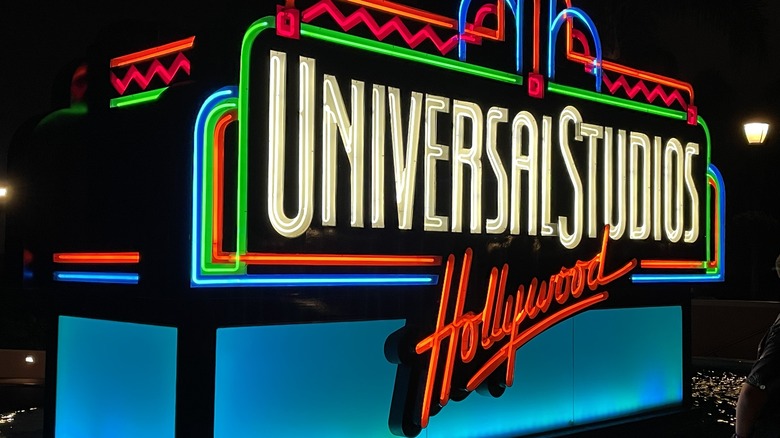 Carly Caramanna/Mashed
Let us get this out of the way. In order to proceed, you must free your mind of any preconceived notions that you may have in regard to what you think theme park food is. We will be honest. It is very easy to have a bad meal at a park, but just as equally easy to have a great one. It does require a bit of work, but that is where we come in — you are welcome.
Universal Studios Hollywood is a theme park smack dab in the middle of Los Angeles. While smaller than its sister park in Orlando, it makes up for it with a rich history. It is also an actual working television and film studio to this day — one of the oldest and most famous in the world. Our sheer fascination with Hollywood is celebrated at the park in not only the attractions, but in dining.
Have you ever wished you could belly up to the bar with a frosty one at Moe's Tavern like they do in "The Simpsons"? How about some fish and chips in the fantastical world of Harry Potter? You can do all that — and then some — here. With impeccable theming, Universal Studios Hollywood's restaurant scene is inspired in both its décor and in its food.
1. Three Broomsticks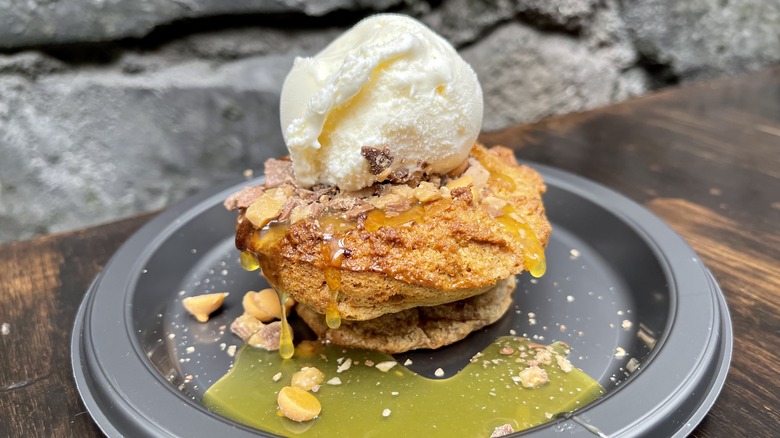 Carly Caramanna/Mashed
Stepping foot in the Wizarding World of Harry Potter will have you truly believing that you took a wrong turn and somehow stumbled onto a movie set. This incredibly immersive land allows you to explore the streets and shops of Hogsmeade Village before wandering through the hallowed halls of Hogwarts castle. It is an experience even to be appreciated by non-Harry Potter fans –- you muggles! Your time in Wizarding World is rounded out by an incredible selection of food, including iconic bites from the film series — like Bertie Botts every flavor jelly beans and all the Butterbeer one can consume in endless variations, from fudge to ice cream. The premier dining location here in Wizard World is Three Broomsticks. 
The popular inn and pub of Hogsmeade is brought to life here and will have you convinced you'll have a potential run-in with Harry and his buddies. Raise a mug of Butterbeer as you feast on fish and chips, shephard's pie, and herb-roasted chicken before a dessert of Butterbeer potted cream, the creamiest ice cream one will ever have, and an absolutely sinful sticky toffee pudding. It's connected to the watering hole Hog's Head where you can sip on beers exclusive to Wizarding World, including a standout stout called the Wizard's Brew, or throw back some firewhisky.
2. Minions Café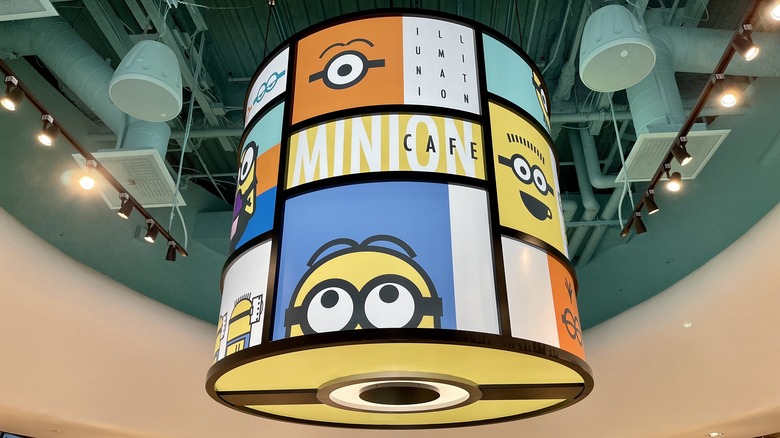 Carly Caramanna/Mashed
You aren't required to resist the banana — or the Nutella banana pudding for that matter — because, at the Minions Café, you can eat to your heart desires at this amped-up quick-service spot. Let's just hope your stomach hasn't been shrunk down to the size of a Minion because here you can fulfill your mischievous appetite at the entrance to Super Silly Fun Land. The name of the game is comfort food done well, with a few twists. We are partial to their grilled cheese lineup which includes the classic childhood version you know and love, served alongside creamy tomato soup. The staple is reinvented with a meatball parmesan version as well as a pulled pork grilled cheese that's full of tender meat and served alongside none other than a banana flavored BBQ sauce.
Other eclectic bites include chicken tinga nachos, a chicken ranch mac and cheese topped with house-made crispy bacon ranch breadcrumbs, and a pork ramen bowl with black garlic oil and a marinated egg. The preferred way to end a meal here? By eating a Minion -– sort of. It is the adorable Minion face sugar cookie. On the way out, head just around the corner where you may spot an actual minion outside Miss Hattie's home for girls.
3. Luigi's Pizza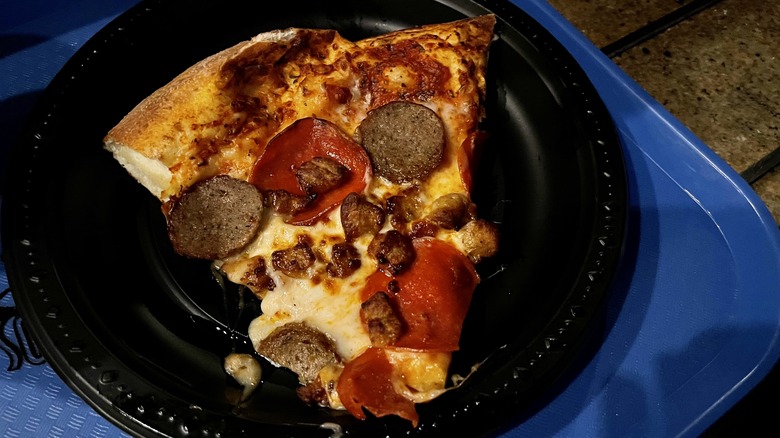 Carly Caramanna/Mashed
Theme park pizza gets a bad rap — and for good reason. Most of the time what you are served could be best described as microwaved cardboard with flavorless sauce and some sort of medley of processed, cheap cheese. But, it doesn't have to be bad. We have found standout pizza at other major theme parks, and Universal Studios Hollywood now makes the cut for suitable pizza. Listen, it is not going to be one of those moments where your world is totally rocked, but when the craving strikes, it is an unoffensive way to fill that cheesy void — and sorry Homer, we don't agree with your scathing review. At Universal Studios Hollywood, Luigi's can be found in the Simpson area of the park and is themed to the fictional restaurant from the animatic smash.
While you won't be rubbing elbows with Krusty the Klown here, it is themed after Luigi's in the series, a popular hangout for members of the Springfield Mafia. At Springfield's finest, owned by the fictional Luigi Risotto, the specialty is pizza, available in both by the slice and full-sized versions. We are partial to the Meat Liker's which is loaded with flavorful sausage, pepperoni, meatballs, and bacon. Just be sure to watch your back for Fat Tony.
4. Suds McDuff's Hot Dogs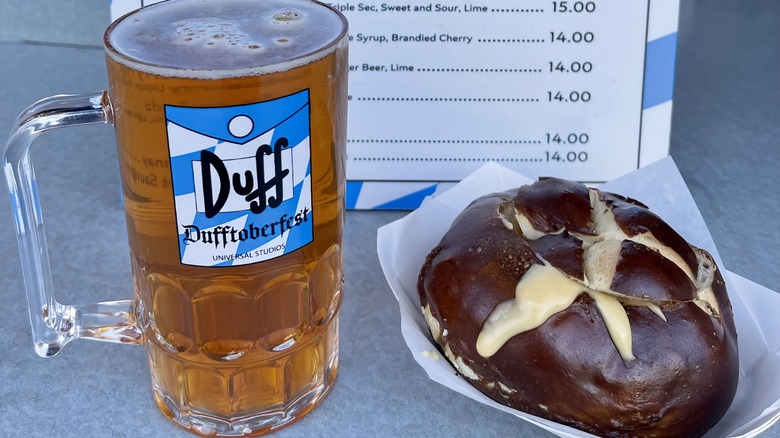 Carly Caramanna/Mashed
When walking through Springfield, it could be easy to bypass Suds McDuff's Hot Dogs and head right for some libations at Moe's Tavern or Duff's brewery beer garden. The unassuming counter-service spot sells your basics, but with playful Simpsons-inspired names, like the Krusty's Non-Kosher Hot Dog, Marge Hair Cotton Candy, and Ralph Wiggum's Choo-Choo Churro. But it is the seasonal items that have had our heads turning more than once. The hooray for everything pretzel takes their standard soft pretzel (which is actually quite good) and sees it dunked into a buttery bath before being generously coated with everything but the bagel seasoning.
But much like the Simpson's family dog, Suds McDuff, races to get a treat, so did we for their Dufftoberfest offering. The German-inspired delight featured a freshly baked pretzel bun that was filled to the brim with beer cheese. Sounds delicious, right? Well, even better, they used the park's own exclusively brewed Duff beer to create this cheesy masterpiece. The pillowy, pull-apart pieces of pretzel proved to be the perfect purveyor for the silky cheese dip. Petition for year-round Dufftoberfest?
5. Cocina Mexicana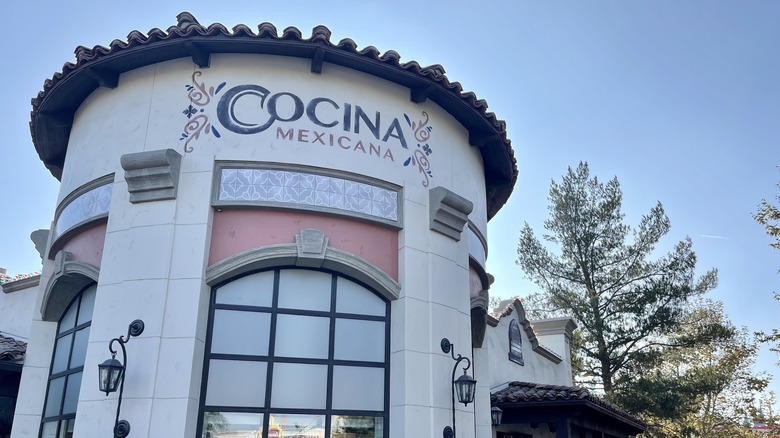 Carly Caramanna/Mashed
Located in Southern California, Universal Studios Hollywood embraces the local flavors throughout park — and that couldn't be more demonstrated than at this next spot. Cocina Mexicana is located near the park's entrance and a very popular destination for those in search of a little fiesta before their post-marathon park day siesta. While it is a counter-service spot, it packs a real punch in the flavor department dishing out solid Mexican offerings. Skip the frozen margaritas and go straight for one of the platters, including citrus carnitas tacos and a chicken tinga taco salad. Beyond Meat is also an option making for a rather versatile lineup for a theme park quick-service spot. 
The absolute must-haves here are the succulent beef birria tacos plate served with a swoon-worthy cup of red consomé and the cheese tamales with both red and green sauce. Desserts include churro bites, which feature a seasonal horchata flavor with tastes of vanilla and cinnamon, and chamoy pineapple spears. During the colder months, warm up with a glass of Champurrado. This traditional Mexican hot drink is made from a corn flour and cinnamon-infused water. With notes of brown sugar and a savoriness from star anise think of it as an upgraded version of hot chocolate.
6. Cletus' Chicken Shack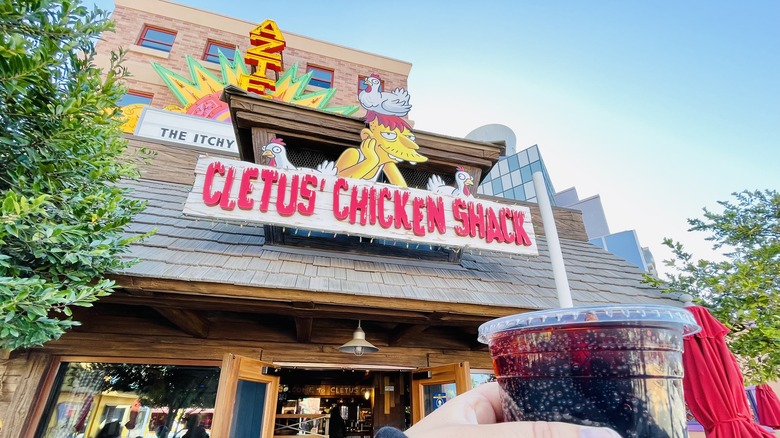 Carly Caramanna/Mashed
We are back in Springfield, U.S.A. for this next one inspired by lovable, albeit slightly tragic character of Cletus Spuckler, from the Simpsons. Cletus' Chicken Shack is inspired by the hillbilly lifestyle that Spuckler leads — although his food of choice, raccoon, is most certainly not sold here. The menu here is all about chicken — from chicken thumbs, a fancy name for fried chicken fingers, to Cletus' peep-fried chicken platter that comes with all the fixings including corn on the cob, a biscuit, mashed potatoes, and gravy. The star dish here is the chicken and waffle sandwich. A tender fried chicken breast is sandwiched between a soft, yet study-enough waffle that is topped with a decadent maple mayo sauce tying all the flavors together.
You are going to want to wash it down with a Buzz Cola. Unlike the series that promises "twice the sugar, twice the caffeine" this is actually calorie-free and uses Coke Zero and a flavored, calorie-free cherry syrup. We love grabbing our food and heading next door to Moe's Tavern for some good ole fashioned people watching along with our meal — and a frosty glass of real-life Duff beer made exclusively for the parks.
7. Mummy Eats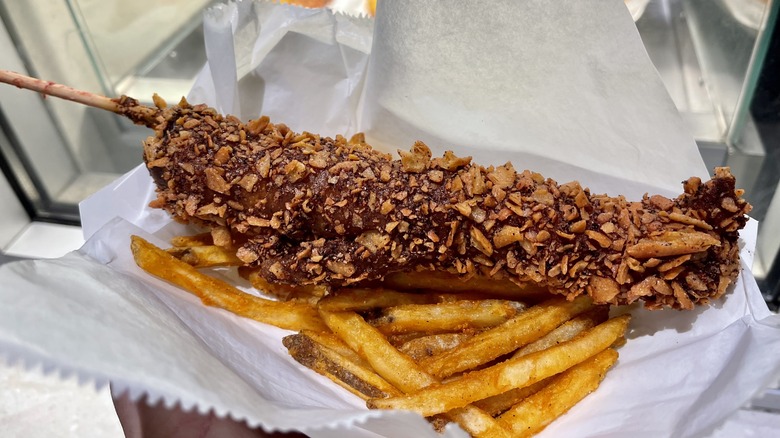 Carly Caramanna/Mashed
The curse, it indeed is real! Revenge of the Mummy: The Ride is a heart-pounding attraction at Universal Studios Hollywood that sends riders on a thrilling, roller coaster-style adventure. Much like the twists and turns you will find on the attraction, Mummy Eats, which sits just outside the ride's entrance, packs a major punch in the snack food department. What looks like a seemingly normal corn dog stand, is actually the home of some pretty inventive treats that give the boring theme park version a major upgrade. Mummy eats serves up corn dogs, but not your average frozen variety, these are hand-dipped and prepared right behind the counter. Available in the classic version as well as vegetarian, when we visit, we are going straight for their line-up of spicy corn dogs, including the Korean Corn Dog with a crunchy panko breading for its exterior.
The holy grail here is their seasonal Takis corn dog. After the hot dog is hand-dipped in their signature batter it is rolled in crumbled Takis, the popular Mexican corn tortilla chip. This gives the dog a welcomed crunch and packs a whole lot of flavors thanks to the heat the Takis bring to the table. You will be singing its praises ... "Taki, Taki!"
8. Pink's Famous Hot Dogs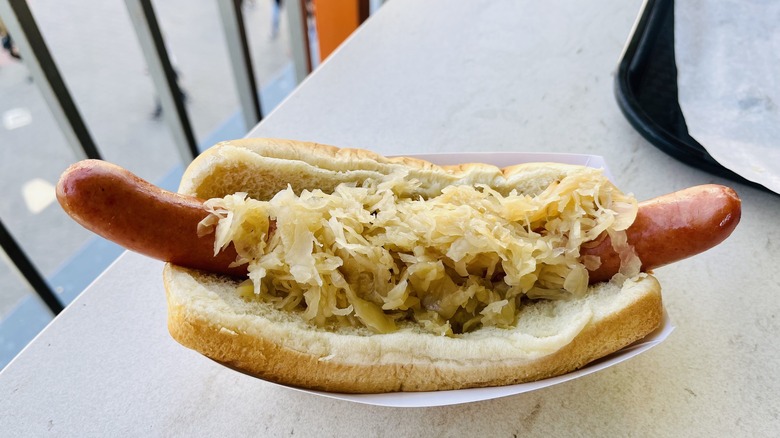 Carly Caramanna/Mashed
Pink's Hot Dogs is a Los Angeles institution that opened in the 1930s known for their no-frills roadside shack serving up creatively topped hot dogs. Unfortunately, the Hollywood landmark is also a hot spot known for its downright impossible parking situation and a long line of hot dog hopefuls. Luckily, you can get that same taste right at Universal Studios Hollywood. Located at City Walk — the entertainment and dining district just outside the theme park's gate— you will find Pink's Famous Hot Dogs amongst of sea of many drool-worthy options. You also can't miss it thanks to its massive neon hot dog sign.
This outpost won't land you with a Los Angeles parking ticket and has the bonus of a much more manageable line to boot. The menu is much the same with Pink's favorites, including the chili dog with sauerkraut and the "El Cucuy" Jalapeno dog with a 12-inch jalapeno sauce. There is also a selection of burgers, specialty loaded fries, and even a vegan dog. We promise that you won't be sacrificing on taste as these are just as good as the original and feature that same snappy dog we love from the brand that has become iconic.
9. Jurassic Café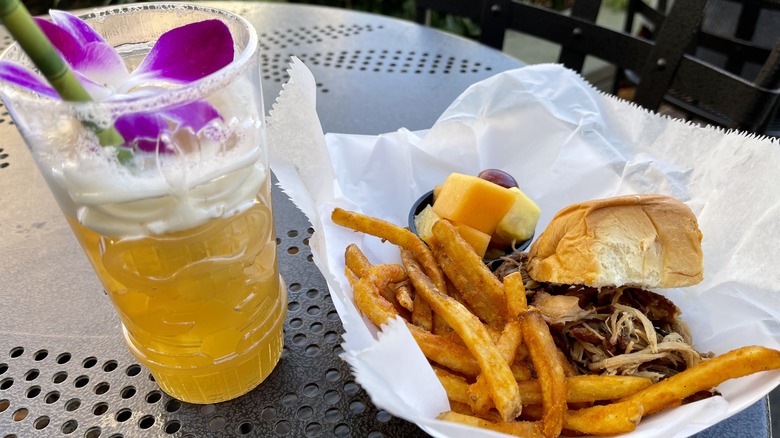 Carly Caramanna/Mashed
The Jurassic Café is a versatile eatery perfect for when you want a healthier nosh or have come with a dinosaur-sized appetite. This Costa Rican-inspired refuge features a diverse menu that includes a citrus glazed chicken with chimichurri, bbq biscuit sandwich, and a turkey leg platter. The giant rib is almost the size of a dinosaur bone and big enough to feed a small army. It features well-marinated, juicy meat that quite literally falls off the bone. For something that airs on the more refreshing side, we love the tropical roasted chicken salad with queso fresco, pomegranate seeds, avocado, shredded cabbage, and a house-made citrus vinaigrette packing just the right amount of tang.
The beer menu is Caribbean-inspired as well with Red Stripe and Carib Lager, but our preferred way to imbibe is stopping next door and grabbing a drink at Isla Nu-Bar. This popular watering hole serves tropical drinks in creative tiki mugs adorned with edible orchid flowers underneath its shady thatched roof. To celebrate the film series, they offer the Jurassic World Nublar IPA, a light and refreshing pale ale with notes of citrus.
10. NBC Sports Grill & Brew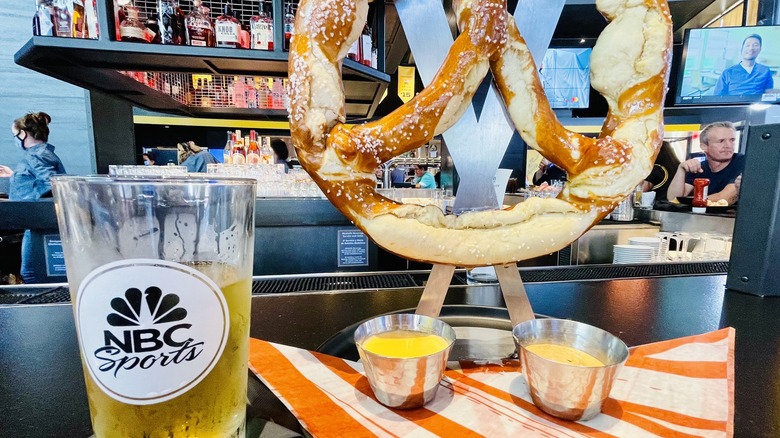 Carly Caramanna/Mashed
Our preferred way to end a long day in the parks is just outside the gates at City Walk. NBC Sports Grill & Brew is the newest full-service restaurant at the property, themed (as you guessed) to the NBC Sports network. You can bet on a number of high-definition television screens broadcasting every game under the sun ensuring you won't miss a single play. The setting is casual but don't let that fool you — they truly step up to the plate with an impressive selection of draft beers and specialty cocktails in addition to a full menu. Entrée highlights here are the Nashville hot fried chicken sandwich and the toasted gruyere burger with crispy onions and sherry caramelized onion.
Our touchdown of a way to hang here? Throw back a few beers and design our own feast out of their standout appetizer selections. The guac bowl is delicious with charred corn and cotija, and you could never go wrong with crispy wings — especially their unique take on the sports bar favorite coated in a pad Thai sauce. The absolute must is the colossal artisan pretzel that's crispy on the outside and super soft on the inside — it is also so big a plate just didn't suffice. It is served with addictive beer-cheddar queso made in-house and creamy Bertman's mustard.
11. Voodoo Doughnut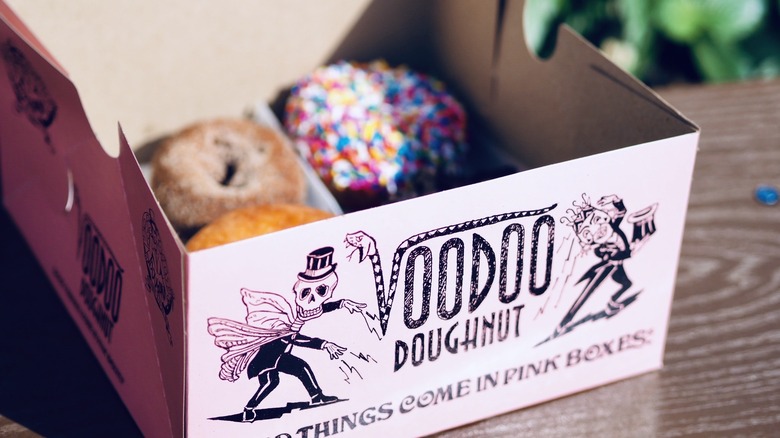 Carly Caramanna/Mashed
Originating in Portland, Oregon, the now-famous donut shop, Voodoo Doughnut, is known for its wildly inventive selection of doughnuts served in a funky, brightly colored shop. They have since opened several stores throughout the United States, with their first in California being their location at Universal Studios Hollywood's City Walk. Once you hit the dining district, you can't miss the hot pink building and larger-than-life voodoo doughnut statue out front.
This location serves up over 60 different, sugary-laden treats, with vegan options available as well. They were right when they said "good things come in pink boxes," because at Voodoo they go well beyond the standard cinnamon sugar doughnut (although they execute those exceptionally well). Their selections are unconventional to say the least — hello bacon-topped maple bar! — but they somehow work. Speaking of unconventional, you can also get hitched here!
The Hollywood Cream was created exclusively for the park and is not to be missed as well as a cup of coffee from the first-ever pink Stumptown espresso machine.
12. French Street Bistro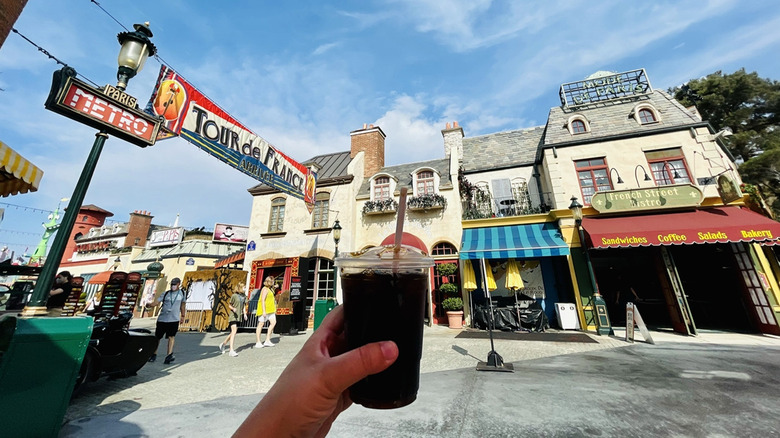 Carly Caramanna/Mashed
When a theme park break calls, nothing sounds more relaxing than escaping to a cozy café for a glass of wine or a freshly prepared latte. The park's French Street Bistro answers that call with a completely unexpected little slice of heaven in the parks. This vastly underrated spot may be just steps from bustling streetscapes and attractions, but it embodies the feel of your local coffee shop. With plenty of seating to rest your weary legs, the menu is simple but their variety of sweet and savory hits all the right notes.
Your morning begins with a fresh-pressed turkey and swiss croissant or ham and brie along with their freshly roasted coffee options, including on tap nitro cold brew. As the day progresses, the menu is even more intriguing with a selection of house-made quiches, including the classic Lorraine, and a solid line-up of desserts, from miniature macarons to house-made beignets. Our must grabs here are the ooey, gooey, s'mores bar, Nutella babka, and their strawberry and chocolate dessert crepe. Pair these with a glass of wine on tap for an ideal mid-afternoon break.
13. Antojitos Cocina Mexicana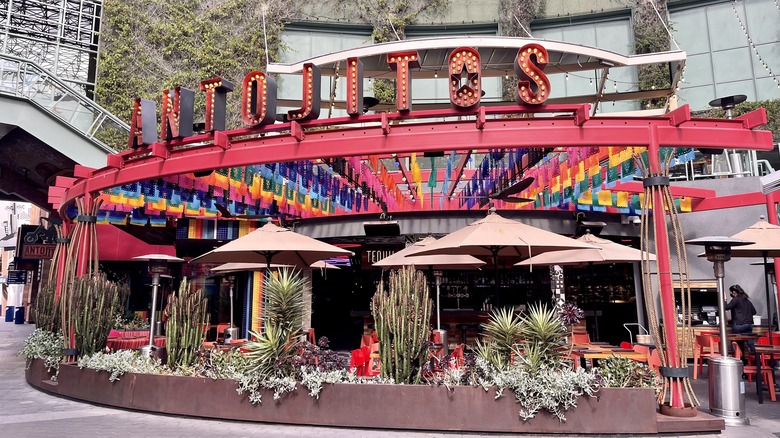 Carly Caramanna/Mashed
Antojitos Cocina Mexicana is a sprawling restaurant located at City Walk. With a massive bar as its centerpiece, the full-service spot also features an outdoor patio, plenty of open seating, and private rooms. The vibe is lively and the décor is colorful full of mural-adorned walls. Authentic Mexican cuisine is at the core of the menu but with some fresh spins — like their version of elote featuring grilled fresh corn, queso fresco, and vegan mayonnaise. The chicharrones de pollo are a pop-able, shared bite with crispy chicken bites covered in chili-lime salt and served with salsa verde cruda and jalapeno ranch.
The handcrafted margaritas can't be missed, specifically, the Butterfly Corazon featuring a butterfly pea tea-infused tequila blanco. They also carry an impressive selection of over 150 tequilas that will make you forget you are even in a theme park.
14. Krusty Burger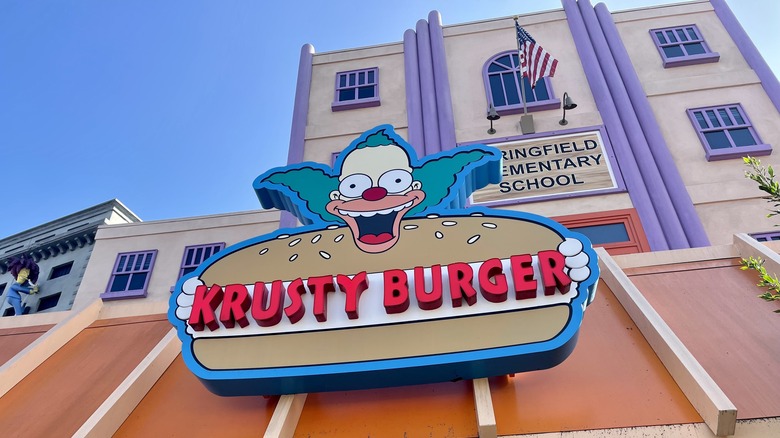 Carly Caramanna/Mashed
Krusty the Klown is synonymous with "The Simpsons" as the loud-mouth, chain-smoking star of Bart and Lisa's favorite show. Once you've escaped his shenanigans on the nearby Simpsons ride, head to Krusty Burger, also in the park's Springfield area. While the fictional television version has been riddled with complications, it is all smiles at the theme park's version. The impeccably themed venue beckons you to indulge in burgers and more in what best could be described as an absolute bucket list experience at the park.
The Krusty Burger, Ribwich, and Sideshow Bob Footlong are all mainstays, but the true show stopper is their Clogger Burger (with a name like that you know you are about to be in for it). This massive burger takes two 1/3 pound patties and loads them with American cheese, tomato, pickles, applewood smoked bacon, and Krusty's infamous secret sauce. We may not know what exactly is in the sauce but we can tell you that it is absolutely delicious. We can also guarantee that Krusty will not spit into every 50th burger.