Steak 'N Shake Just Brought Back This Festive Milkshake For The Holidays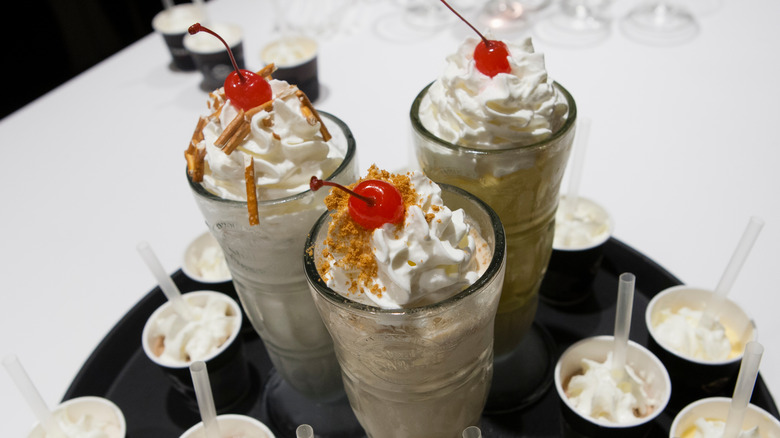 Andre Roque Almeida/Shutterstock
Steak burger specialist Steak 'n Shake has been a Midwestern fast-food staple for nearly 90 years, earning a devoted customer base by offering craveable items like chili cheese fries, patty melts, and to wash it all down, a long lineup of creamy milkshakes.
Over the years, the Indiana-based chain has created a number of limited-time seasonal milkshake flavors, including an Eggnog Shake, White Chocolate Shake, Red Velvet Shake, and Speculoos Cookie Butter Shake (via Facebook). This year, the burger chain brought back one of its most popular holiday milkshakes just in time for tree decorating and present wrapping (via Chewboom). Steak 'n Shake took to Twitter and shared an image of the returning treat with the caption: "The holiday season, we understood the assignment. Our Peppermint Chocolate Chip Milkshake is back." 
The returning peppermint-flavored offering consists of a creamy shake blended with peppermint candy, peppermint syrup, and bite-sized pieces of Snickers chocolate. The fan-favorite seasonal shake is topped with a swirl of whipped cream and a sprinkling of crushed peppermint, as well as the brand's signature cherry on top.
Customers can snag a peppermint milkshake for free
For those who prefer to get a jump on their holiday snacking and sipping, the burger chain's latest festive release is already available on menus nationwide. Although prices may vary by location, the peppermint-flavored shake retails for $3.89 at most Steak 'n Shake locations.
As of now, no other 2021 seasonal milkshakes have been added to the company's extensive menu of unique flavors, which includes flavors like Nutella, Cotton Candy, Oreo Mint, Birthday Cake, Butterfinger, Kit Kat, M&Ms, and more, along with classics like vanilla, chocolate, strawberry, and banana. According to the chain's website, Steak 'n Shake has "been hand-making delicious shakes with real ice cream and fresh milk topped with whipped cream and a cherry" since its founding in 1934.
In good news for penny-pinching peppermint lovers, customers can snag half-priced shakes every weekday from 2 to 4 p.m. during the chain's Half Price Happy Hour. Or, score a complimentary festive treat when you sign up for Steak 'n Shake's Rewards Club.