You Might Want To Throw Out This Spice, According To The FDA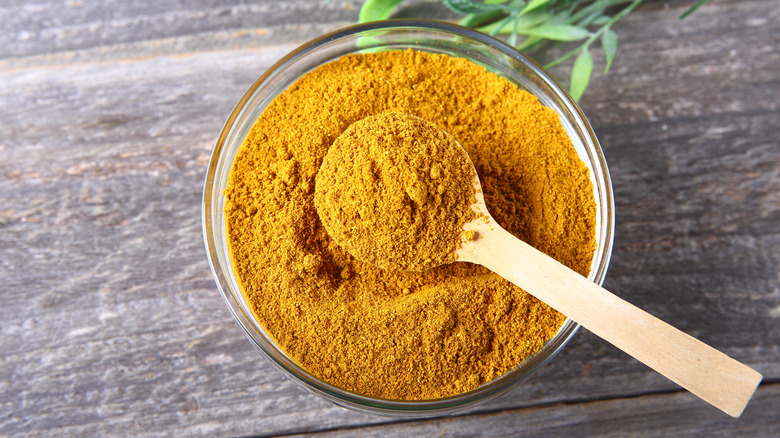 Nadia Yong/Shutterstock
'Tis the season for sugar, spice, and everything nice, but one spice in your cabinet might not be so nice if you or a loved one at your holiday gathering has a certain food allergy. The U.S. Food and Drug Administration issued a statement on Tuesday with an announcement from the Brooklyn, New York-based company Spice N' More Corp. The declaration stated that all "13-ounce (368 grams) containers of Salma Natural Curry Powder with Lot #H092021 and best by date 12/20/23" are being recalled due to the fact that a "peanut-containing product" was found in the spice container, which the packaging does not list. The recall also states that the product in question comes in a "clear plastic jar with UPC code 023913159115" and was distributed to supermarkets and grocery stores across the country. The "peanut-containing product" was discovered upon a routine inspection by the New York State Department of Agriculture and Markets Food Inspectors.
Salma Natural Curry Powder may be dangerous for people with peanut allergies
BestLife notes that per the Food Allergen Labeling and Consumer Protection Act of 2004, all allergens "must be disclosed on the label of any packaged food product regulated by the FDA." The outlet also points out that peanuts are some of the most deadly food allergens — ingestion can cause anaphylaxis and even death. Fortunately, as of the FDA statement's release, no allergic reactions involving Salma Natural Curry Powder had been reported.
So what should you do if you have a bottle of the recalled spice? The FDA says shoppers should return it to the store they bought it from, which will issue them a refund. On the company's FoodBevg page, Spice N' More Corp. states that in its 20 years of business, it has "operate[d] on three fundamental principles: Quality, Value, and Honesty." In that spirit, the company encourages consumers with questions to contact them at 718-417-0746 during business hours.