Duff Goldman's Raising Cane's Birthday Cake Is Turning Heads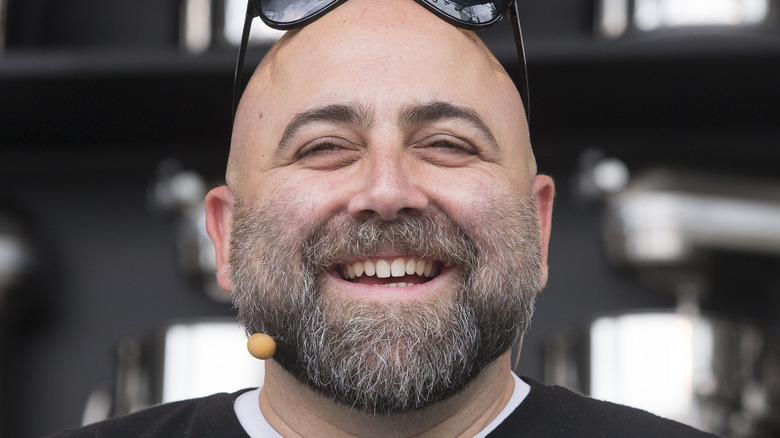 Sterling Munksgard/Shutterstock
With its few, but savory menu items such as its chicken tenders and crinkle cut fries, Raising Cane's would be the last restaurant you'd expect as a cake theme.
But master pastry chef, Duff Goldman, struck again with a unique Raising Cane's birthday cake, which he shared on Instagram on November 17. Goldman said that this cake, which is essentially designed like a dish overflowing, is to celebrate the fast-food restaurant's 25th birthday. This monstrous creation is topped with a giant, silver disco ball and three dogs to symbolize the chain's mascot, which is a smiling dog named Cane. The disco ball also features a hat signed by Duff and a Raising Cane's cup on the side. 
"Myself and the LA bakery came together to make this special cake to celebrate 25 years of their One Love, the craveable chicken finger meal! (Your guys' sauce rocks!)," Goldman wrote in the Instagram caption.
We hope that cake is canine friendly
Both "Ace of Cakes" fans and chicken tender enthusiasts drooled over this cake in the comments Instagram section. One follower, @hellomynameisami, wrote, "Superb as always @duffgoldman and Charm City Cakes team! [heart eye emoji]." Another user, @bethhaney_, simply wrote, "WOWSERS!" As Goldman stated before, the chicken tender chain's One Love is the chain's iconic chicken tender meal and a classic at the restaurant.
Even Raising Cane III commented, leaving a heart and paw prints emoji under the photo. This yellow lab is the third "Cane" representing the restaurant and was decked out in a festive picture posted to Instagram earlier in November. The caption read, "Did someone say...it's my birthday month?!"
This isn't the first time Duff Goldman has made an outrageous cake that garnered lots of public attention. He's previously made a life-sized R2-D2, which was delightfully received by "Star Wars" creator George Lucas and fans.