Duff Goldman Is Most Proud Of This Celeb Cake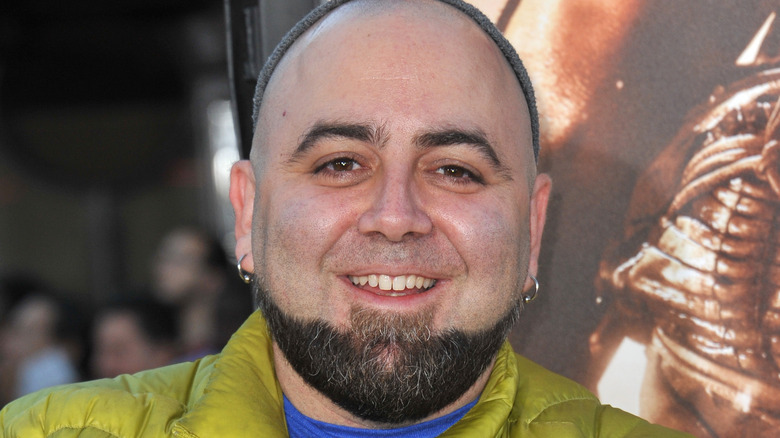 Featureflash Photo Agency/Shutterstock
"Ace of Cakes" host and master pastry chef Duff Goldman is so well known for his spectacular cakes, he's earned the title as the go-to guy for anyone who wants a dessert that is truly memorable. After all, while most people feel that pans, spatulas, and mixers are all the baking tools they need, Goldman generally keeps a drill saw and blowtorch among his cake supplies, per Food Network. In the lab of his Baltimore-based bakery, Charm City Cakes, Goldman and his team were known to spend nearly 30 hours on some creations. That's dedication, right?
What makes Goldman so unique is his "if you can dream it, you can build it" philosophy. From a moving, edible rollercoaster cake (via YouTube) to a giant "Duffapillar" insect cake (via Instagram), the cookbook author has really built it all. Goldman even created the cake of every "Harry Potter" fan's dreams for the premiere of the series' final film, Food Network reports. For two weeks, Goldman and crew constructed a magical, literary-inspired cake replica of Hogwarts, and actor Rupert Grint (who played Ron Weasley in the films) cut the first slice. But as awesome as this cake surely was, it isn't the one that Goldman is most proud of.
Goldman's source of pride is a Star Wars cake
The cake that Goldman is most proud of actually hails from a galaxy far, far away. Goldman, a science-fiction fan and self-proclaimed nerd, told the Daily Beast about his special experience making a life-size, functioning R2-D2 cake for "Star Wars" creator George Lucas. "To be able to say thank you to him with some of my best work, it really felt great. It was so cool, and he loved it," Goldman said. 
If you've seen pictures of any of the R2-D2 cakes Goldman has made — there are at least two others, according to Twitter and Forbes — then you know the force is strong with this cake master. The creations are so life-like that it's hard to imagine how you would cut into such a lovely confection without feeling like you were destroying a work of art. Lucas wasn't the only one who was impressed with Goldman's R2-D2; apparently, one "Star Wars" fan liked the chef's cakes so much, they cast him as a Baker Droid in a fan-fiction series, per The Clone Wars Fandom.