Twitter Is Cracking Up Over Michael Symon's Controversial Ketchup Opinion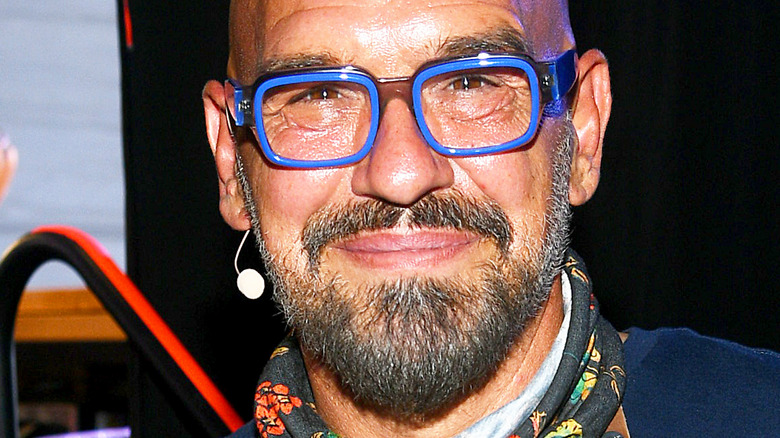 Dave Kotinsky/Getty Images
Ketchup: Love it or hate it?
Twitter is a roiling cauldron of irrational debate 24/7, and it's also a great equalizer. Everyone from the ultra-famous to that guy with two followers is in the same virtual soup, and we all have equal footing on the platform. All of us are equally positioned to weigh in on the merits of Kyle Rittenhouse's defense, cartoon violence against members of Congress, or the stuff that really impacts our daily lives: ketchup.
Wander the recent growth in the Twitter wilderness, and you'll come across a tweet about the condiment by Alex Guarnaschelli of "Iron Chef" fame. Actually, she was responding to non-celebrity Twitter user Erock, who started the whole debate. He tweeted, "I'm watching #beatbobbyflay & @bflay @altonbrown and @guarnaschelli all say they use ketchup in their meatloaf. ... I've been cooking for almost 30 years and I've never used ketchup in anything! Don't even put it on my burgers... if @TheTedAllen and @GuyFieri use it too I'll cry!"
Erock cast a wide net tagging all those celebrity chefs. Guarnaschelli took the bait. Her retweet response laid down the gauntlet for the ensuing battle of words with chef Michael Symon: "Ketchup is delicious."
The tweeted response from Symon, who like Guarnaschelli is a Food Network regular (his new "Throwdown with Michael Symon" is set to debut on the network December 7, per Foodsided), had no words for Guarnaschelli's statement — just a nauseated-face emoji.
Michael Symon's go-to dip is vinegar or aioli, not ketchup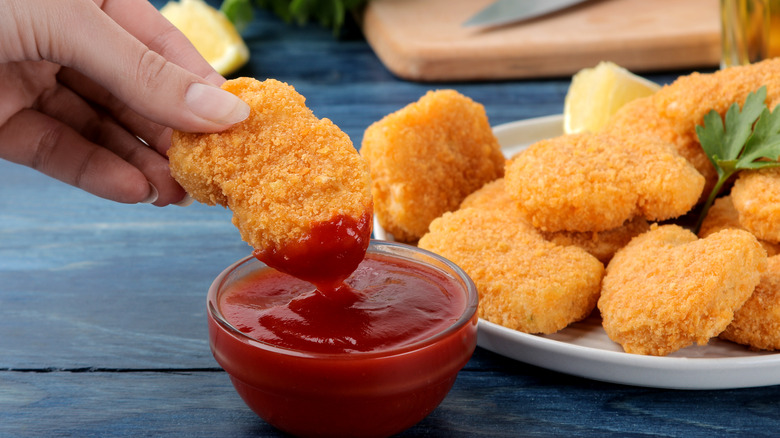 MK Studio/Shutterstock
In a subsequent tweet, Michael Symon explained to Alex Guarnaschelli that he's more of a sauerkraut and mustard guy because he's from Cleveland. Twitter user @sutyak_michael simply couldn't believe that Symon led a ketchup-free life, so they asked Symon, "When you eat fries, how do you dress them?" Symon replied, "Vinegar and or aioli."
Twitter user @brownsfanatic21 sprinkled some rolling-on-the-floor-laughing emojis in their contribution to the discussion. "What a chef answer," @brownsfanatic21 said. "IT'S KETCHUP Mr. Symon."
Symon politely got to the heart of the matter in his response to @brownsfanatic21, and he probably went light on "fanatic" because they are a "(Cleveland) BROWNS FOOTBALL FAN FOR LIFE." Symon answered, "You do you ... I prefer my fries sans sugar ... my inflammation agrees."
Chef Symon is onto something. One tablespoon of ketchup has four grams of sugar, which is more than the standard chocolate chip cookie, per The Washington Post. Ketchup has two-and-a-half times more sugar than Coke (via the Coca-Cola website).
As much as Symon dislikes ketchup, you can find a recipe for his spicy ketchup on the "Rachael Ray Show" website. The recipe includes two tablespoons of dark brown sugar and one six-ounce can of tomato paste. Looking up the sugar quantities for those ingredients at Eat This Much and Calculate Me, you get a grand total of 54 grams of sugar in a three-to-four cup batch of Symon's spicy ketchup. That may sound like a lot, but it's about one-fourth the amount of sugar in regular ketchup.