The Real Reason Black Friday Is The Busiest Day Of The Year For Plumbers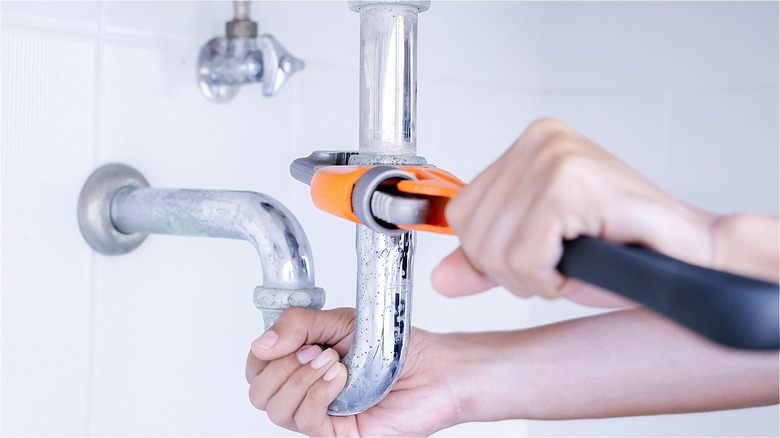 ACTS_DATA STOCK/Shutterstock
After spending a marathon number of hours in the kitchen preparing all the fixings for a traditional Thanksgiving dinner, it can seem outrageous to want to do anything following the meal except stretch out on the couch and take a well-deserved, tryptophan-induced nap. For many people, however, packing away that last of the leftovers in Tupperware containers means it's time to gear up for a trip to the mall to start checking things off the holiday shopping list. According to Finder, an estimated 72.4 million people are expected to take advantage of the amazing deals offered during the day-after-Thanksgiving shopping extravaganza known as Black Friday this year, which is ultimately predicted to become the busiest day for retail in the United States of 2021 (via Retail Leader).
This should hardly come as a shock, as Country Living reports that Black Friday shopping is a tradition that dates all the way back to the 1950s. However, you may be surprised to know retail isn't the only industry that sees a major post-Turkey Day boom — plumbers do as well. According to Business Insider, plumbing companies such as Roto-Rooter can experience as much as a 50% increase in service calls on the day after Thanksgiving. Why is that?
Dispose of your food waste properly to avoid having to call a plumber on Black Friday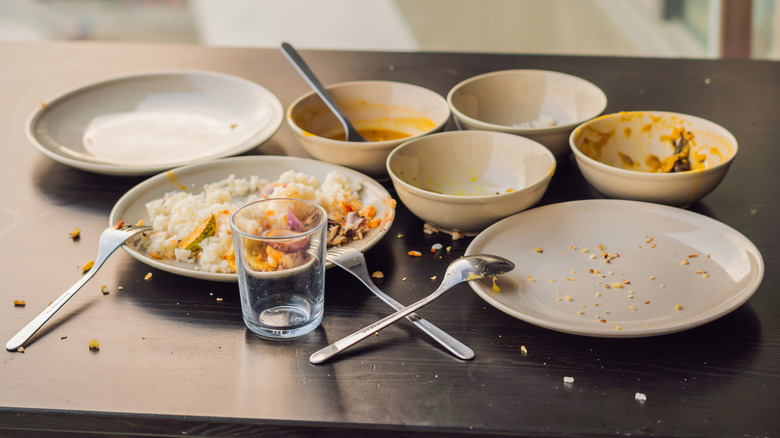 Elizaveta Galitckaia/Shutterstock
The uptick in bathroom trips following Thanksgiving dinner is partly to blame for the high volume of calls that plumbing companies get on the day after the food-centric holiday. However, the biggest reason for needing a plumber on the day the industry has dubbed "Brown Friday" doesn't occur in the bathroom at all. "The number one reason for calls is kitchen sink drains and garbage disposals," Paul Abrams, Roto-Rooter Service's director of public relations, explained to ABC News back in 2012.
According to a blog post from the company, turkey drippings are one of the major culprits of a clogged kitchen sink because the grease hardens once it cools down, ultimately building up on the sides of the pipes and "choking" the drain. Throwing starchy foods like rice, mashed potatoes, and stuffing into the kitchen sink can lead to problems as well, as the foods end up hardening like cement if you use water to wash it all down. Instead, Roto-Rooter advises sending all unsalvageable leftovers to the trash rather than the sink, and only using your garbage disposal once they've been scraped clean to the best of your ability. While this method may mean heaving an extra bag of trash out to the garbage bin after dinner, we certainly think that's much better than having to miss out on all of those amazing Black Friday deals to wait for a plumber to show up at your house instead.