This Instant Pot Has Thousands Of 5-Star Reviews And Is Under $100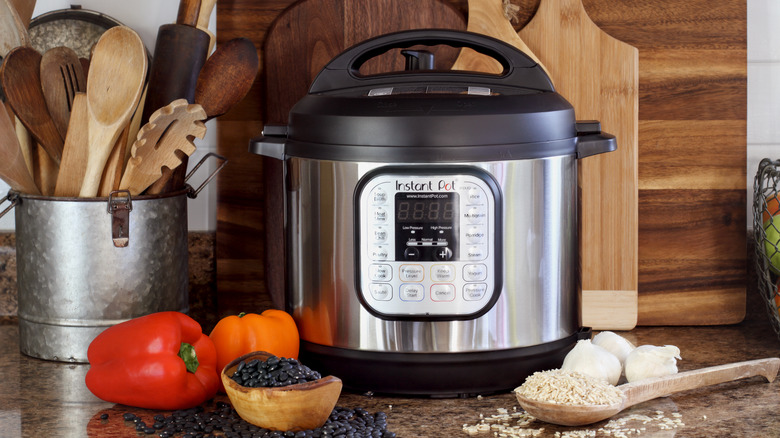 Stephanie Frey/Shutterstock
We may receive a commission on purchases made from links.
The Instant Pot is a wunderkind kitchen appliance with the multi-functionality to steam, roast, even sauté at both slow and speedy rates (via Amazon). For novice home cooks, it's perfect because the kitchen tool takes the guesswork out of cooking, as well as the fear factor out of using a pressure cooker, allowing you to make dishes as varied as yogurt, soup, pasta, and desserts. If you haven't bought an Instant Pot yet, it's possible the sheer volume of options available is what's stopping you. The choice can be overwhelming if you don't really know what you're looking for, and it can be hard to tell if you're picking the right one. Luckily, there is a simple way to solve this conundrum.
A good Instant Pot is one that is easy to use and clean, comes with great customer reviews, and (perhaps most importantly) won't break the bank. And according to over 136,000 ratings on Amazon, the Instant Pot Duo 7-in-1 Electric Pressure Cooker is the one to beat.
What's So Special about this Instant Pot?
For starters, the Instant Pot Duo 7-in-1 Electric Pressure Cooker has an excellent 6-quart capacity. The product description explains people generally gravitate towards this particular size when they want to meal-prep or cook easy family dinners, as the volume is ideal for batch cooking. Plus, most Instant Pot-specific recipes work with this size.
As the name suggests, this Instant Pot has 7 different cooking functions, plus 13 presets. It can crank out steamed rice, creamy beans, fall off the bone meats, and cozy soups. The appliance even has a yogurt function that works not only for homemade yogurt, but also, believe it or not, bread proofing. "I've been using my Instant Pot yogurt function to proof my whole wheat multi-seed sourdough bread, in the bulk fermentation stage. ... Main advantage, though, is dough rises 80-100%" writes one Amazon reviewer.
Sourdough bread baker or batch cooker aside, the Instant Pot Duo is a beginner's best friend. The clearly labeled control buttons on the digital interface are straightforward and easy to navigate. Just press and walk away! Ease of cleaning up and cooking go hand in hand; you can trust both the lid and stainless steel inner cooking pot to clean safely in the dishwasher without running the risk of wear and tear – one customer shares they've had their Instant Pot for over three years with no issues!
Looking to cook smarter, not harder? Shop the Instant Pot Duo on Amazon for $89.00.