The First Sbarro Menu Looked A Lot Different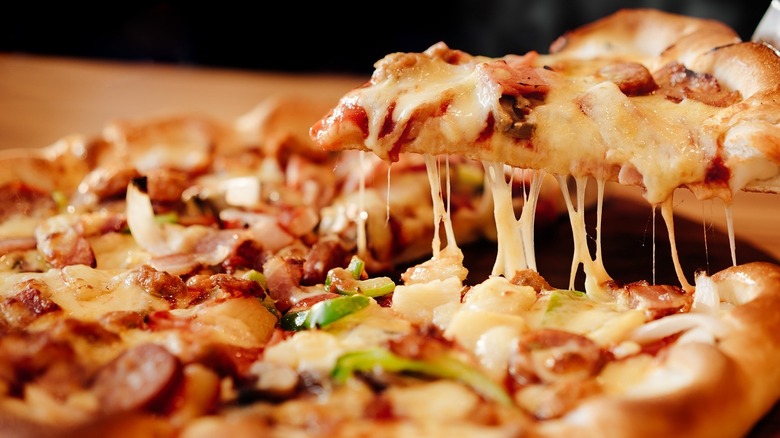 Qilin/Shutterstock
The name Sbarro likely brings up memories of pizza by the slice that you grab at kiosks at shopping malls and Sbarro chains throughout the United States. The chain's Italian owner, Carmela "Mama" Sbarro, grew up in Italy, and by the age of 35 moved to the United States with her husband and three children in tow, according to Gothamist. In 1956, within a year of arriving in New York, Carmela and her husband, Gennaro, opened Sbarro in the Bensonhurst neighborhood of Brooklyn, New York.
Today, Sbarro has 630 locations in 28 countries, according to their official website. Sbarro is known as a by-the-slice pizza shop,  specializing in New York-style pizza with a handful of options, including pepperoni, Supremo, four cheese white, NY cheese, and sausage. If you're not in the mood for pizza, they also offer a selection of pastas, salads, and breadsticks, per the official website.
But the original Sbarro wasn't technically a pizzeria or even a restaurant. The focus was entirely different, but customer demand and inspiration turned this family-run business into a well-known pizzeria chain that can be found in shopping malls, airports, and college campuses.
Customers inspired Mrs. Sbarro to serve pizza slices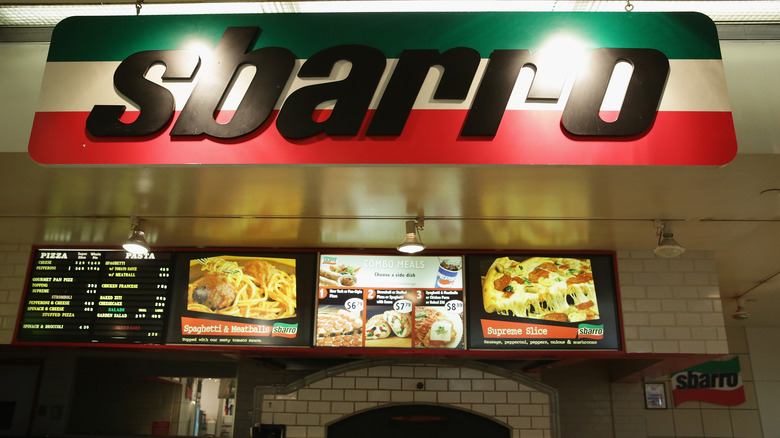 Alex Wong/Getty Images
Mama Sbarro initially opened a delicatessen that sold cheeses and cured meats that hung from the ceiling, per Eater, the type of thing you might find in a traditional deli in Italy. The name was Sbarro Salumeria, which means "Italian grocery store," per the Sbarro website. The deli also offered a hot food menu that included items such as chicken parmigiana, and sandwiches like prosciutto or smoked mozzarella.
Pizza wasn't part of the original deli. It was inspired by the fact that nearby workers would often come in to grab a quick and easy meal, according to Eater, and introducing pizzas by the slice seemed to be a match made in heaven. In the 1960s, Sbarro opened a pizzeria specifically dedicated to slices since they noticed there was plenty of demand from their customers and it was a good business model, per Eater. As for the original location, the delicatessen stayed open until Carmela could no longer work, and it officially closed in 2004, per the Sbarro website. Eight years later, in 2012, she passed away, according to Gothamist. 
It's not uncommon for successful chains to have started with a different focus entirely. Between trial and error and unexpected inspiration, you never know where an idea might lead. Next time you're craving Sbarro, you'll know that pizzas weren't part of the initial menu.