This Is The Most Popular Pizza Chain In 24 States, According To A Report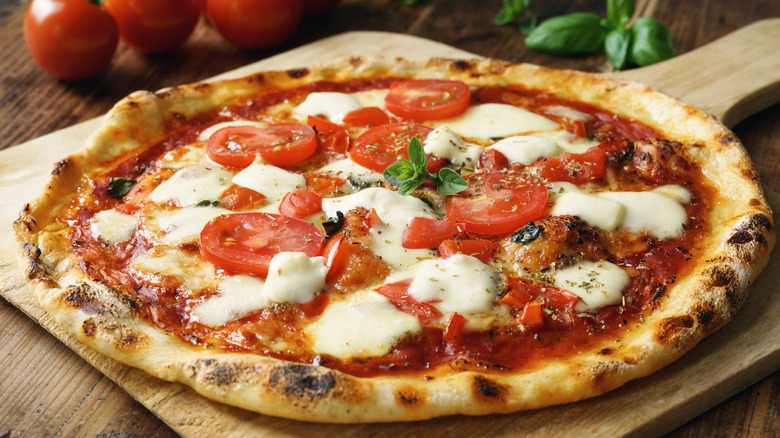 V. Matthiesen/Shutterstock
The pandemic and its related lockdowns upended the restaurant industry in ways that continue to reveal themselves. In 2020, U.S. consumption accounted for almost one-third of pizza sales worldwide — $46.24 billion out of $145 billion (via Zippia). That's a lot of pie! So what are we eating? Well, that depends largely on where you live. According to Thrillist, plain, old cheese pizza is the runaway favorite in 29 states. Surprisingly, only two states, Montana and Oregon, listed pepperoni as their preferred choice. 
Making the play for second-favorite pizza topping in America, was actually BBQ chicken, which took seven states. We didn't see that coming. Add in other chicken varieties — buffalo chicken, chicken bacon ranch, grilled chicken white pizza — and poultry beats beef by a wide margin, even when we throw in the three states where meat lovers pizza is the go-to choice. So, now that we know which toppings people prefer, which pizza chain reigned supreme during the pandemic?
Consumers prefer this pizza chain above all the others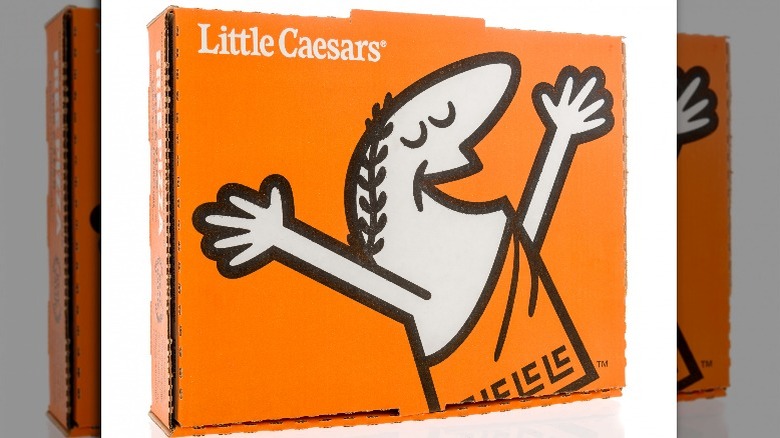 Keith Homan/Shutterstock
A February 2021 Zippia report listed the 10 largest pizza chains in the U.S. by gross sales and found that the three top sellers were Domino's Pizza, Pizza Hut, and Little Caesars. Rounding out the top 10 were Papa John's Pizza, California Pizza Kitchen, Papa Murphy's, Sbarro, Marco's Pizza, Chuck E. Cheese's/Peter Piper Pizza, and Cici's Pizza. Domino's may be at the top of the heap in annual gross sales, but a whopping 81% of the chain's revenue comes from selling just ingredients — dough and toppings — to its franchisees and other chains. 
However, if you flip the script to focus on just the consumer's favorite, regardless of gross annual sales, Little Caesars takes the top spot. TOP Data found that the popular pizza chain took first place in 24 out of the 48 states that it included in their study, performing especially well in the central states. Coming in way behind at second place was Papa John's, which took the lead in just 10 states. Clearly, people must love Little Caesars' "Hot-N-Ready" pizzas and their delicious garlic-parmesan breadsticks.