Ree Drummond Jumped At The Chance To Star In This Holiday Flick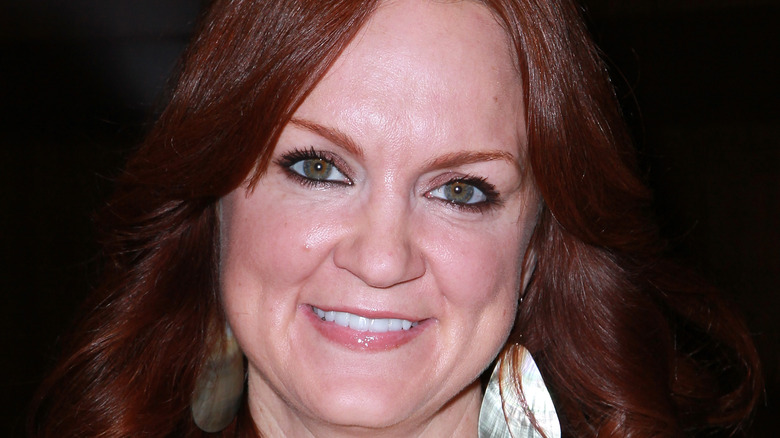 David Livingston/Getty Images
Ree Drummond is giving us all kinds of holiday vibes. Drummond is like a kid on Christmas morning who can't believe Santa piled presents under the tree. The Pioneer Woman couldn't contain her excitement because the day she has been waiting for finally arrived. In her latest Instagram post, Drummond shared that the Food Network movie "Candy Coated Christmas" hit Discovery Plus today and is available to stream. Per Variety, this is the first time Food Network has tried its hand at a scripted movie as it looks to tap into the avalanche of streaming services and platforms that are changing the way we digest content.  
Variety reported in August that Drummond would be involved with "Candy Coated Christmas," and upon the announcement, the celebrity cook took to social media to reveal how nervous she was to be a part of this holiday project. She wrote in an Instagram post, "I was certain I was gonna wind up fainting like those bridesmaids/groomsmen we used to see fall over on America's Funniest Home Videos." But her cold feet got warmed up a jiffy. As Drummond told Variety, "Any initial nerves I felt about joining this project completely melted away when I stepped into the sweet, charming world of Peppermint Hollow." The first-time actor said of the experience, "'Candy Coated Christmas' was so much fun to be part of; it had all the magical elements that make holiday movies so special." And Drummond is hoping you will see it.
Ree Drummond playing Bee was a sweet touch
Ree Drummond wrote on her Instagram account, "Hard to believe the day is here, but yay — 'Candy Coated Christmas' is now available to stream on discovery+!!! Food Network/Discovery produced this darling Christmas movie, and when they asked if I'd be willing to play the part of 'Bee' (a bakery owner in a small town called Peppermint Hollow!) it took me about five seconds to say yes. Hope you can catch this sweet, food-filled film! My role is relatively small, but BOY is the rest of the cast incredible! Hope you enjoy!" The post has received well over 26,000 likes and was met with both excitement and praise for Drummond's performance.
While one commenter seemed ready to hand Drummond with an award for "Best Supporting Actress," Instagram was busy trying to earn the best supportive fan base. The many kudos from commenters included, "It was adorable and you did an awesome job Ree!" Another follower wrote, "Bee was created for you! Perfect."  And still, another was gushing over Drummond's movie wardrobe, saying, "I can not wait!!! Hope you were able to keep that green shirt." Variety shares that John McCook, Aaron O'Connell, Lee Garlington, and Landry Townsend star alongside Drummond in this must-see for fans of The Pioneer Woman. So pop some popcorn, and make some hot chocolate because it sounds sure to put you in the holiday spirit.