25% Agree This Is The Best Place To Order A Thanksgiving Dinner For Delivery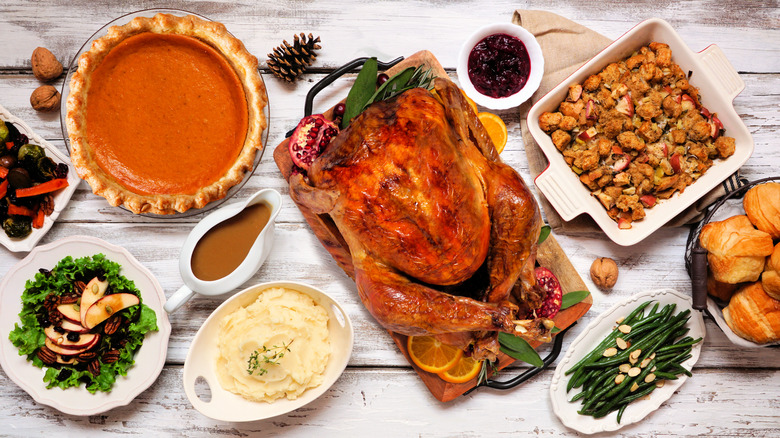 JeniFoto/Shutterstock
Cooking a full Thanksgiving dinner is no easy feat. It requires a lot of work on the part of the chef. You have to plan the menu and then shop for all the ingredients, fighting holiday shopping crowds at the stores. You have to put in hours of meal prep before the big day, making sure everything is ready to go. Then, on Thanksgiving itself, you have to spend all morning cooking all of the dishes, worrying about proper timing, and trying to get everything on the table warm and fully cooked. Not to mention you're in charge of roasting a massive turkey that needs a lot of attention. 
If that sounds like way too much effort, no worries — there are plenty of places you can order a full, already-prepared Thanksgiving dinner online, that includes everything from the turkey to the mashed potatoes to the pumpkin pie (via Good Housekeeping). But which pre-made Thanksgiving meal is best? Mashed polled 602 people across the United States to find out what they considered the best Thanksgiving dinner delivery service. Here's which one won over the hearts of a quarter of Americans.
Omaha Steaks delivers an amazing Thanksgiving dinner
According to Mashed's poll results, Omaha Steaks offers the best pre-made Thanksgiving meal for delivery. More than 25% of respondents chose it as the number one spot to order the holiday feast online. The popular online butcher offers a variety of Thanksgiving dinner packages, from a turkey feast to a prime rib dinner, that can be delivered nationwide (via the Omaha Steaks website). You can also build your own custom meal for eight people. For this order, you can choose between ham and turkey as the main dish and then add on your favorite sides and desserts, like smashed red potatoes, creamed spinach, mini baguettes, and caramel apple tartlets (per Omaha Steaks' website).
If Omaha Steaks doesn't fit your fancy, there are a bunch of other great places to order Thanksgiving dinner to be delivered. Meal kit delivery services HelloFresh and Blue Apron were the second most popular options among survey respondents, garnering 22% and 20% of the votes respectively. Willams Sonoma received 13% of votes, followed closely by Harry & David with 12%. Last place went to Goldbelly, which only 5% of people dubbed their favorite.