You Won't Be Able To Choose Between Smashburger's Festive Holiday Shakes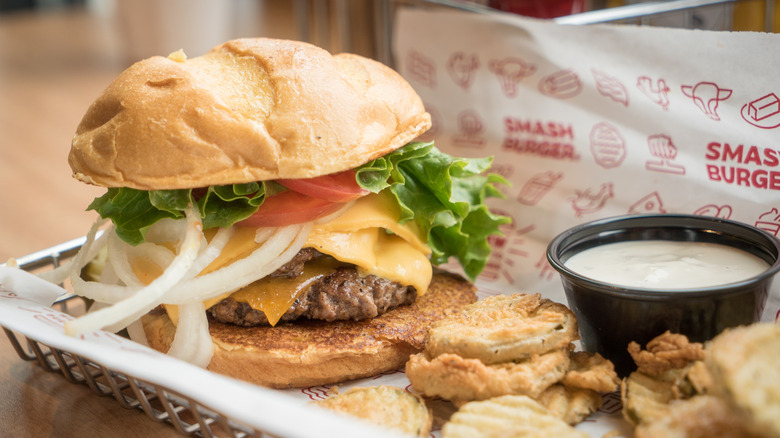 010110010101101/Shutterstock
There are a lot of things that Smashburger is famous for. Other than an extensive menu of signature, chicken, turkey, and even vegetarian burgers, the chain also has tater tots, french fries, and onion rings for sides. What you might not think of Smashburger for, however, are its milkshakes. Come to think of it, burgers and milkshakes are an iconic, age-old pairing, so it makes sense that Smashburger offers nine different shakes on its menu, per the website. But the variety isn't even the best part: All of Smashburger's milkshakes are made with Häagen-Dazs ice cream, rather than a non-dairy mixture, and do not contain stabilizers (via AZ Weekend).
While the burger chain's year-round milkshake menu is already tempting with the likes of Oreo, strawberry, and salted caramel coffee flavors, Chew Boom reports that two new limited-edition shakes are coming to the Smashburger menu — and they're going to make your ordering decision that much more difficult.
Smashburger is adding a new peppermint hot chocolate shake to its festive menu
Smashburger fans may remember that the burger chain first introduced a gingerbread milkshake to its festive menu in 2020, per Chew Boom. Forget gingerbread lattes; Smashburger's gingerbread holiday shake is made with gingerbread cookies crumbled into hand-churned vanilla Häagen-Dazs ice cream. It's back this year, too, Chew Boom reports, and it's topped with whipped cream and even more cookies.
Along with the returning gingerbread shake, the chain is introducing a brand-new seasonal milkshake to its menu: the peppermint hot chocolate shake. Not only does the treat have the signature Häagen-Dazs ice cream, but it also contains Ghirardelli hot cocoa peppermint mix, whipped cream, and a sprinkling of colorful peppermint candies. If you find yourself in the mood for a sweet and jolly dessert, plan accordingly: These items will be on Smashburger's menu through December 31.