You Probably Never Knew Julia Child Was A Spy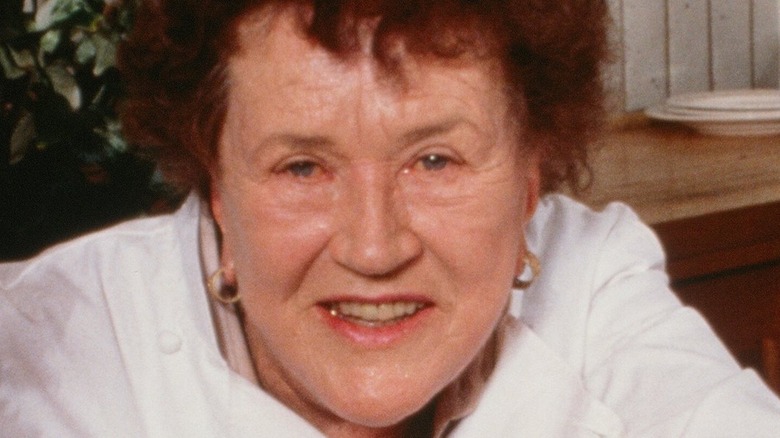 George Rose/Getty Images
Most people regard Julia Child as a popular American chef, author, and cooking show luminary who introduced millions to French cuisine through her magnum opus "Mastering the Art of French Cooking." However, it may surprise you to learn that she once worked as an intelligence officer for the forerunner to the CIA.
Child's life started out fairly ordinary. She studied at Smith College earning a history degree and after graduating in 1934, she moved to Manhattan where she worked as an advertising copywriter in pursuit of her dream to be a writer (via The Julia Child Foundation). 
When America entered World War II in 1941, Child wanted to offer her services, but her tall stature (6 feet, 2 inches) precluded her from joining the military (via Central Intelligence Agency). So instead, she headed to Washington D.C. and joined the Office of Strategic Services (OSS), known today as the CIA. Initially, she was based at OSS headquarters working as a research assistant for OSS leader General William J. Donovan. 
Her next assignment was bizarre but fascinating: helping develop shark repellent that was "coated on explosives that were targeting German U-boats." It seems that sharks had an unfortunate habit (especially for the sharks but also for the Americans) of occasionally detonating the explosives "when they bumped into them."
Child's introduction to French cooking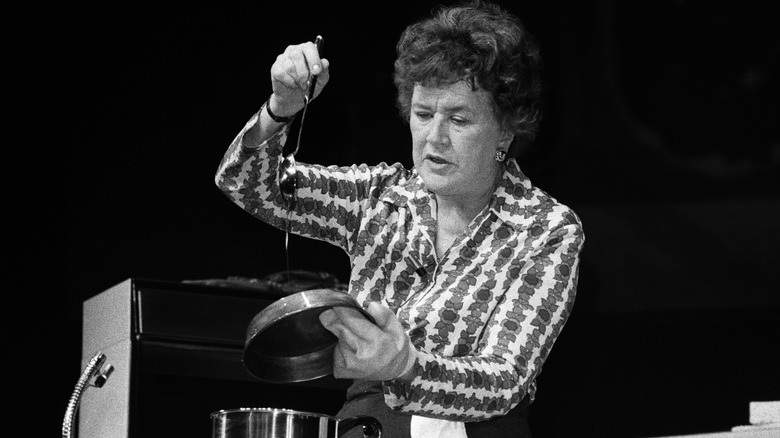 Janet Fries/Getty Images
From 1944-1945 Child was sent to Ceylon (modern-day Sri Lanka) and Kunming, China, where she served as the Chief of the OSS Registry. Child held top security clearances and "handled highly classified papers that dealt with the invasion of the Malay Peninsula" (per Central Intelligence Agency).
Her time in the OSS also led to another fortuitous development, both for Child and for cooking enthusiasts everywhere. It was during her service that she met her husband Paul, an itinerant OSS officer, who introduced her to French cuisine. 
Paul was stationed in Paris, France with the U.S. Information Agency from 1948-1954, and in 1950 Julia enrolled in Le Cordon Bleu, one of the country's most prestigious culinary arts schools (per Le Cordon Bleu). She was only doing it to pass time, and according to her book, "My Life in France," her success was anything but instantaneous (via NPR). 
But we all know how that story ends. Child, who died in 2004 at age 91, would go on to leave an "indelible mark on the food world," with expert chefs and food bloggers still celebrating her influence and drawing inspiration (via PBS).