Here's How To Make $2,500 For Tasting Hot Sauce
Do you think that your resume is missing something spicy? Then California Tortilla has the opportunity for you. For one week, you can work as the fast-casual franchise's consulting Saucemelier. In a press release that explains what all those words mean (via PR Newswire), California Tortilla states that it wants someone to sample the sauces on the menu and suggest both pairings and possible flights. 
California Tortilla president laid out the gist of the job in the press release: "We proudly feature 75 distinctive hot sauces on our Wall of Flame, and also provide 14 sauces that can be added to any Cal Tort order, so we know how to bring out the flavor in each dish. Now, we're looking for someone to put their palate to the test and match our sauces with our unique and bold menu flavors."
The position would pay the Saucemelier $2,500. To apply, send an email with the subject line SAUCEMELIER and your resume and a video explaining why you would be perfect for the role to flavor@californiatortilla.com. The window for applications is open until December 15.
Is the hot sauce job part of California Tortilla's revamp?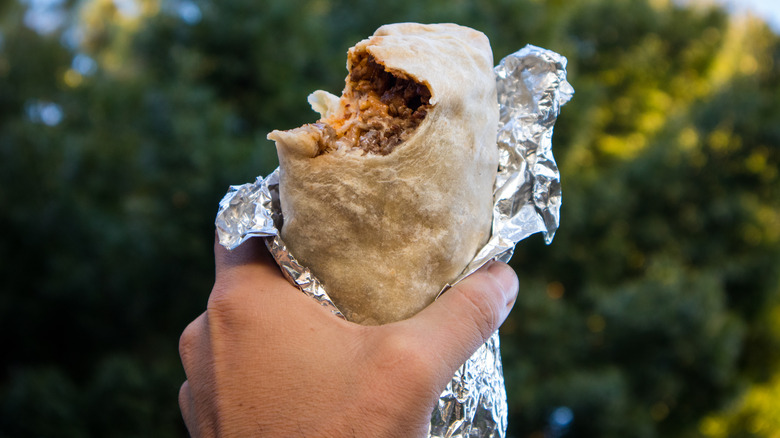 xhico/Shutterstock
The Saucemelier position seems to be sought because California Tortilla is pushing for a stronger degree of customization in its business. On November 4, QSR ran another California Tortilla press release in which the company announced that its newly reopened location in Dumfries, Virginia would operate according to a new service model. In more direct terms, this means that the restaurant "will feature the brand's newest service model offering guests the flexibility to customize their meals to their tastes using the brand's vast array of signature sauces and toppings."
So, if a company that devotes an entire section of its menu to a "Wall of Flame" (via the California Tortilla website) wants to allow customers to choose hot sauces carefully, it would be helpful to have pre-existing curated selections of hot sauce pairings. Some customers might need that extra nudge to feel confident in dousing their food with unknown hot sauces. For those willing to take the plunge into untasted wells, a possible payday of $2,500 awaits.