The Recipe From Happy Cooking Giada De Laurentiis Calls Her Favorite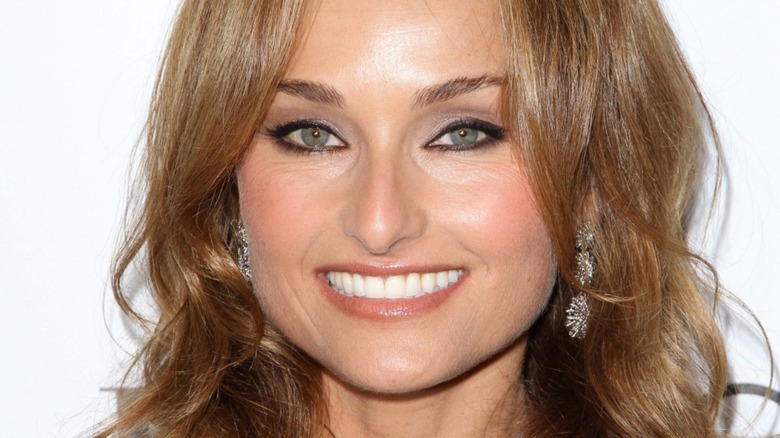 s_bukley/Shutterstock
Giada De Laurentiis is a national treasure. Want to host a fancy pizza party, worthy of a thumbs up from the Food Network judges? Get to Bloomingdale's, where Harper's Bazaar reports De Laurentiis' pop-up shop has cooking essentials, gift sets, and pizza kits. Confused about the latest TikTok trend? Giada's on it, bringing her thousand-watt smile and can-do attitude to the viral food dance and, like a fistful of parmesan cheese to a pasta dish, taking it to the next level. Neither the ceaselessness of a gig economy nor the pressures of social media can keep De Laurentiis down — so what keeps the pint-sized chef so fueled and fired up?
It may come as no surprise that the short answer is pasta and pizza, and preferably both together. As De Laurentiis told Williams-Sonoma in 2013, when it comes to choosing a favorite from her cookbook, "Happy Cooking," the answer required little deliberation. "My favorite recipe would have to be pasta pizza," De Laurentiis told the kitchen store, in a response that might make readers feel as though some words were left out by mistake. Fortunately for all of us, it's true: pasta pizza is a thing, and there's a chance De Laurentiis was put on Earth to teach us about it.
Pasta and pizza may be the secret to culinary happiness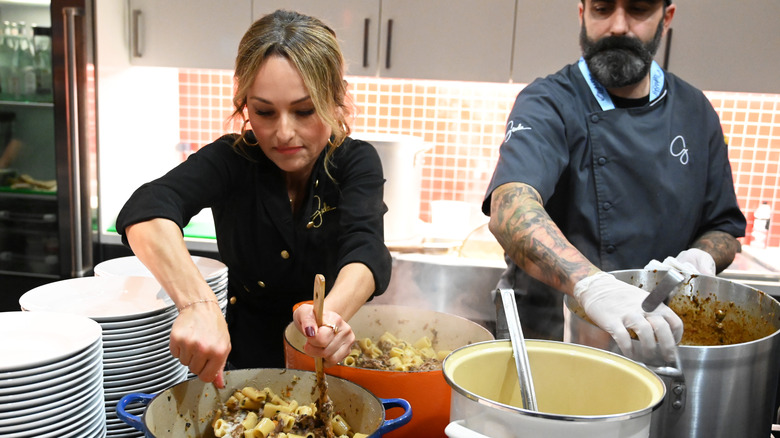 Slaven Vlasic/Getty Images
While blogs like Spend with Pennies have attempted a pizza pasta bake, and even professional chefs like Donal Skehan offer their own versions of the carb combo, only the Italian queen of the kitchen, De Laurentiis, can truly be trusted to do a pizza pasta properly (via Donal Skehan's website). De Laurentiis' version, as told to Williams-Sonoma, uses the classic spaghetti pasta, mixed with diced meats and vegetables (She likes ham, pancetta or salami, paired with peas or broccoli). She binds the ingredients together with eggs before cooking the mixture in a pan over medium-high heat, so that the eggs set on the bottom and create a solid base. After flipping the "pasta cake" (very carefully), cooking the other side will ensure that your spaghetti and pizza toppings are sealed inside a crunchy crust, which you can then cut into wedges.
If taking one awesome thing (pasta) and combining it with another awesome thing (pizza) to create new, incredibly awesome things (like pasta pizza) is totally your thing, "Happy Cooking" will be right up your street. De Laurentiis plays with other combinations in the cookbook, such as her "noodle paella," which she tells Williams-Sonoma is the dish that makes her happiest to cook. And if anything makes De Laurentiis as happy as she makes all of us, we support it completely.