Instagram Is Freaking Out Over This Pic Of Gordon Ramsay And Post Malone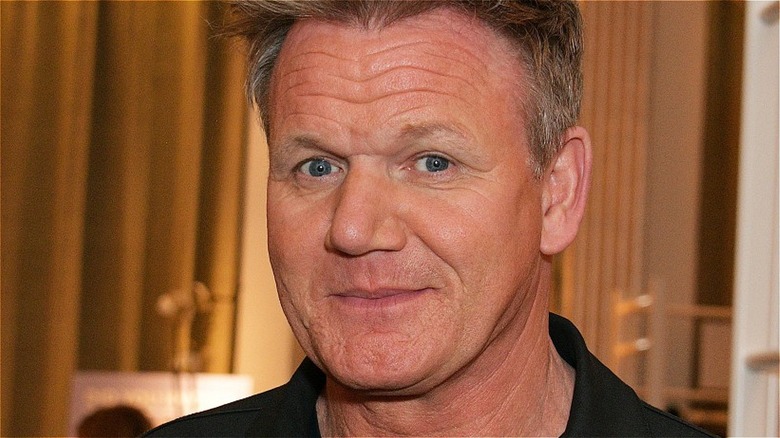 David M. Benett/Getty Images
Gordon Ramsay may be as well known for what comes out of his mouth as he is for the delicious food he cooks up, but lately it isn't the signature cursing of the host of "Hell's Kitchen" that has social media chattering. Instagram fans are freaking out over a recent post from Ramsay where he shared a photo of himself with music artist Post Malone, leaving his followers wondering what kind of collab these two might be up to. However, it should be noted, that Malone and Ramsay are not strangers, at least when it comes to the internet. Malone has been fanboying over Ramsay's cooking for quite some time. 
Back in 2017, Malone, whose Twitter handle is "Posty," tweeted out to Ramsay for advice on his dinner, which was a photo of Artic Vodka and a box of citrus Santal. "Hey Gordon! thoughts on tonight's dinner?" Malone wrote. Later that same year, he let his feelings for the celebrity chef be known by tweeting, "@GordonRamsay We love ya!!" followed by a couple of beer mug emojis. Well, as it turns out, the two recently met, and Instagram is feeling the creative vibes the music star and culinary chef might be cooking up in the not so distant future.
Singing or cooking?
Gordon Ramsay shared on his Instagram account a photo of the two celebrities posing together, and Ramsay with his arm around Malone's shoulder like they are old friends. "So good meeting this rockstar ! @postmalone see you in the studio soon?" Ramsay wrote. Naturally, fans are wondering what's up. The post has close to 736,000 likes and lots of chit-chat debating what it could possibly mean. 
Chef Nick DiGiovanni called it a "legendary meetup," and another fan wondered if the two will be meeting up in the kitchen, writing, "Cooking collab??" We know Malone is an Olive Garden fan, so maybe? Yet, per GQ, while Jimmy Fallon was down for breaking bread with the pop star at this restaurant, we aren't sure Ramsay would be up for that. Still, others are wondering if it might be a partnering of the musical persuasion, with one poster asking, "Is Gordon gonna drop some heat like the rock?" We've never heard Ramsay sing, but maybe that's his secret talent.
While inquiring minds may want to know what the future holds for these two, we are going to have to just keep speculating. As one follower wrote, "The collaboration I didn't know I needed." We're feeling those vibes, too.