This Christmas Tree Napkin Tutorial Is A Must-Watch For Your Holiday Party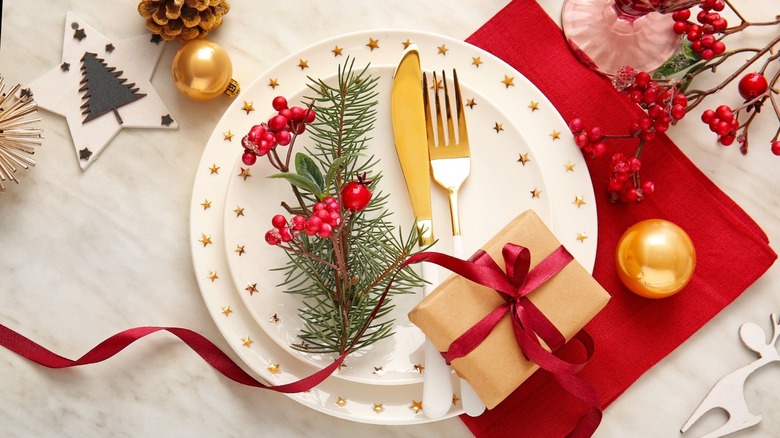 Pixel-Shot/Shutterstock
Anyone who has ever hosted a small get-together or a full-blown party during the holidays knows just how much effort goes into planning such an event. From the food and cocktails to the music and everything in-between, there's a lot of thought that goes into ensuring all the guests will be comfortable and enjoy themselves. When a sit-down dinner is part of the evening, one charming tactic to make sure invitees feel appreciated is with beautiful place settings.
If inflation has you groaning at the thought of one more item to add to your shopping list, there's good news — decorative table settings don't have to equal big bucks. One Instagrammer, Chantel Mila, or mama_mila_au, expertly shows us how it's done with some festive napkin-folding tutorials that may even work with napkins you already own. And if it's time to get some new dinner napkins, she even has a suggestion for where to find some inexpensive ones.
Chantel Mila has some fun and affordable napkin-folding tips
On her website, Chantel Mila describes herself as a "busy mum of two beautiful and crazy kids," but you wouldn't know it from looking at the immaculate photos of her house posted on her Instagram page. In addition to the home interior images, the talented Australian recently posted a short video on how to fold a Christmas tree-shaped dinner napkin that has received a lot of attention. In the caption, she writes, "This simple fold is easy to do and looks so impressive on your dining room table." The best part? She uses Kmart napkins that only cost $2 for a two-pack, making this classy maneuver one that's friendly on the budget.
The Christmas tree napkin tutorial was so successful (liked by over 48k at the time of this writing) that Mila posted another napkin folding tutorial. This time, she folds a napkin into a beautiful ribbon. For the video, she uses the same Kmart napkins and a small ribbon to tie the center of the bow, but writes that "you can add your own flair with colourful napkins, napkin rings or ribbons." As she explains in the caption, this shape "can be used for Thanksgiving or hosting dinner parties in the lead up to Christmas." Sounds like the perfect way to impress your Friendsgiving guests!