20-Minute Stovetop Stuffing Recipe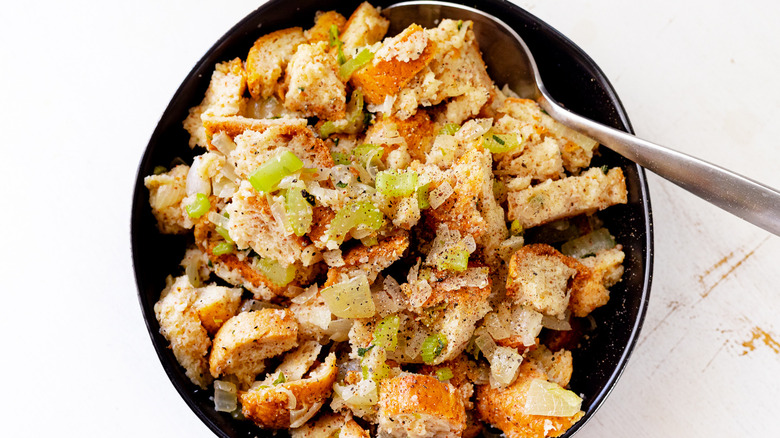 Sher Castellano/Mashed
Stuffing tends to be defined as a Thanksgiving-only kind of dish, but it doesn't have to stop there. This stovetop stuffing recipe comes together with the simplest of ingredients and easy instructions, making it perfect for a lively holiday dinner or busy weeknight meal side. Recipe developer Sher Castellano has created the perfect stovetop stuffing recipe that can be made in 20 minutes, without taking up any space in your oven. Castellano says, "This recipe has all of the classic stuffing flavors you and your family are looking for [and] comes together without any fuss." 
This recipe has three key components that make it successful every time. The first is keeping the vegetables al dente, which allows for a little bit of crunch. The second is just the right amount of liquid to keep the stuffing from ever getting soggy. And the third is using whole grain bread (gluten-free or regular wheat) to add in some extra texture. If your bread is stale or you have the foresight to keep it out on the counter overnight, then it's even better but not necessary.
Gather the ingredients for the stovetop stuffing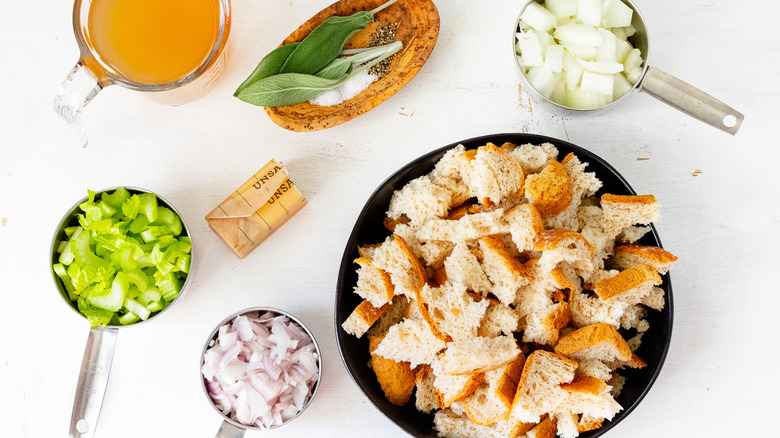 Sher Castellano/Mashed
All you need to make this stovetop stuffing recipe is whole grain bread, butter, celery, aromatics, salt, pepper, and a little bit of vegetable broth. The aromatics include yellow onion, shallots, and sage leaves, which provide plenty of extra layers of flavor. It's such a simple list that it's possible you already have these ingredients on hand. If you want to make this recipe vegan, you can substitute equal parts olive oil for the butter. If you can't source the shallots then you can use equal parts leek or scallions instead. However, Castellano says, "the fresh sage is a non-negotiable because it creates that classic stuffing flavor."
Start by preparing the bread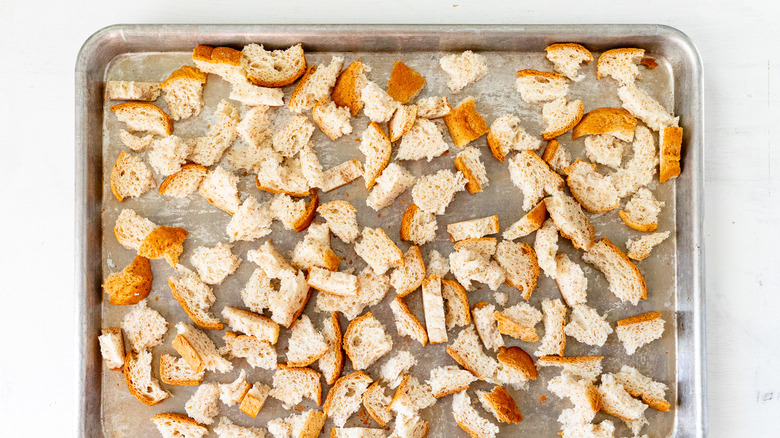 Sher Castellano/Mashed
The first step for your stovetop stuffing is to create the stuffing pieces. Rip the bread into pieces instead of cutting them into cubes for maximum flavor and texture. Castellano tells us, "Tearing the bread into bite-sized pieces is superior to cutting them because it allows for more rough edges, nooks and crannies, and more overall flavor."
Technically, you can use any kind of bread you want in this recipe, but the best kind of bread to use is whole grain bread, and it can be either gluten-free or not. Castellano explains, "Whole grain bread has a denser texture which slows the absorption of liquid, yielding a chewier stuffing that doesn't get soggy." And stale whole grain bread is even better — setting the bread on the counter overnight to dry out is an optional extra step, but one well worth taking if you can remember. 
Sauté the vegetables and aromatics in a pan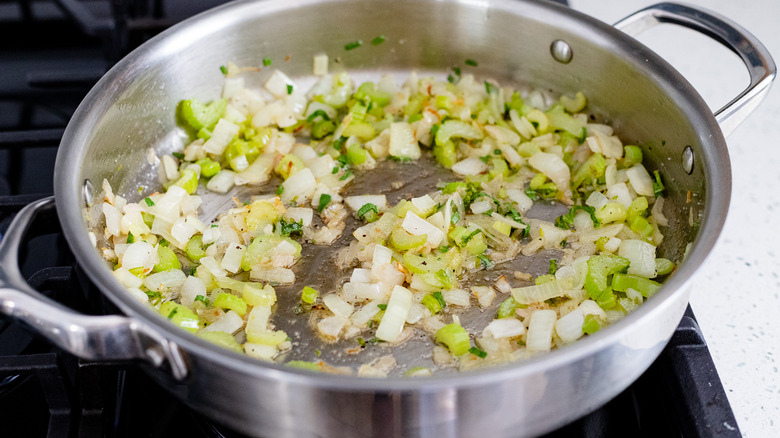 Sher Castellano/Mashed
Next, you will sauté the aromatics and vegetables. The ingredient list calls for shallots and onions, but you can substitute equal parts leeks, scallions, or whatever alliums you prefer or can source instead. Celery is next on the list and can be swapped with equal parts fennel for a more complex flavor profile. Whatever combination of vegetables and aromatics you prefer, allow for a slightly al dente finish. This adds a layer of crunch to complement the stuffing texture.
Heat a pan over medium-low heat — anything higher than this will result in burnt vegetables. Add the butter to the pan and let it melt. Then, add in the shallots, onions, and celery, and sauté for 7 minutes. The onions will be translucent and the celery will be bright green and little bit crunchy. Next, add in the sage, salt, and pepper, and sauté for 3 more minutes.
Simmer the broth in the pan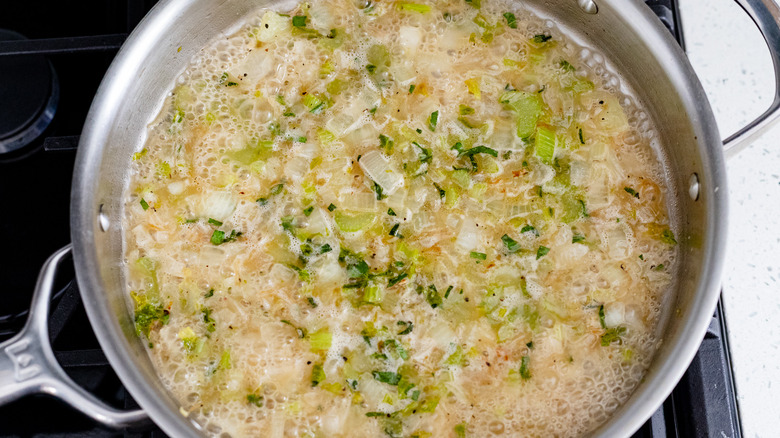 Sher Castellano/Mashed
Now it's time to add in the broth to the pan with the other ingredients. Let it come to a boil, and then boil the contents for 1 minute before turning off the heat to allow the flavors to meld together. Using low-sodium broth is ideal, but if you only have full sodium broth on hand, reduce the listed salt by half. Castellano says, "I like using vegetable broth to keep the flavor simple and bright, but you can definitely use chicken or turkey broth if you prefer instead." 
Add in the bread and serve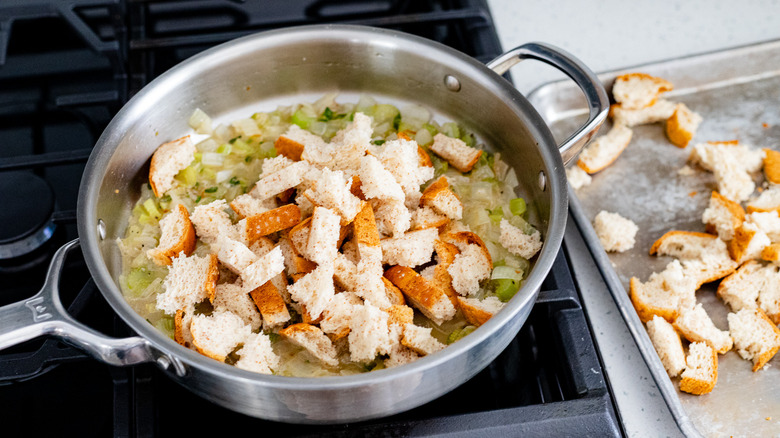 Sher Castellano/Mashed
Lastly, add in your bread chunks and toss them with a wooden spoon or spatula to combine well. Avoid over mixing so the bread doesn't get too broken down and soggy. Combine just until the liquid has been absorbed and the vegetables are evenly distributed with the bread. Serve the stuffing warm straight from the pan, or store it in an airtight container for up to three days. You can reheat it in the microwave or in a pan with a little oil or broth. 
20-Minute Stovetop Stuffing Recipe
Enjoy a variation on a classic stuffing recipe with this stovetop version. Warm and satisfying, it's ready in 20 minutes without even turning on your oven.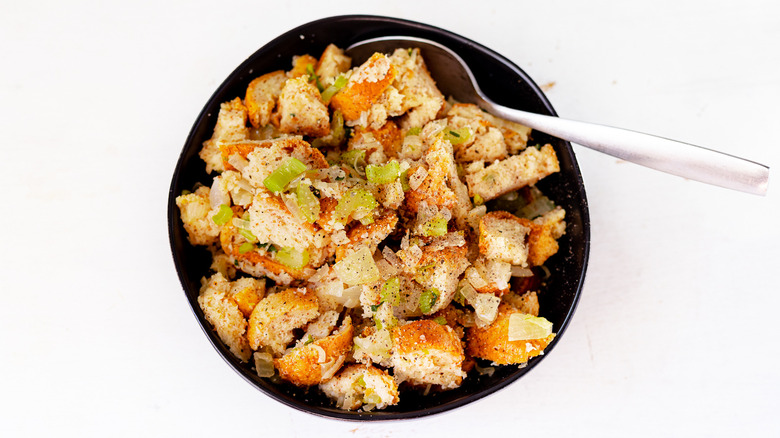 Ingredients
12 ounces whole grain bread
¼ cup unsalted butter
½ cup shallots, diced small
1 cup yellow onion, diced small
1 cup celery, ½-inch slices
5 fresh sage leaves, chopped
½ teaspoon fine sea salt
¼ teaspoon black pepper
1 cup low-sodium vegetable broth (or chicken or turkey broth)
Directions
Tear the bread into bite-sized pieces and set them aside.
Heat a large sauté pan over medium-low heat.
Add in the butter and let it melt.
Then add in the shallots, onions, and celery, and sauté for 7 minutes.
Add in the sage, salt, and pepper, and sauté for 3 minutes.
Turn the heat up to high, then add in the broth and bring the contents to a boil.
Allow the liquid to boil for 1 minute and then turn the heat off.
Lastly, add in the bread, stirring quickly to combine well.
Nutrition
| | |
| --- | --- |
| Calories per Serving | 239 |
| Total Fat | 10.3 g |
| Saturated Fat | 5.4 g |
| Trans Fat | 0.3 g |
| Cholesterol | 20.3 mg |
| | |
| --- | --- |
| Total Carbohydrates | 29.3 g |
| Dietary Fiber | 5.5 g |
| Total Sugars | 5.5 g |
| Sodium | 353.0 mg |
| Protein | 8.4 g |