The Pie Alex Guarnaschelli Made On Her First Food Network Show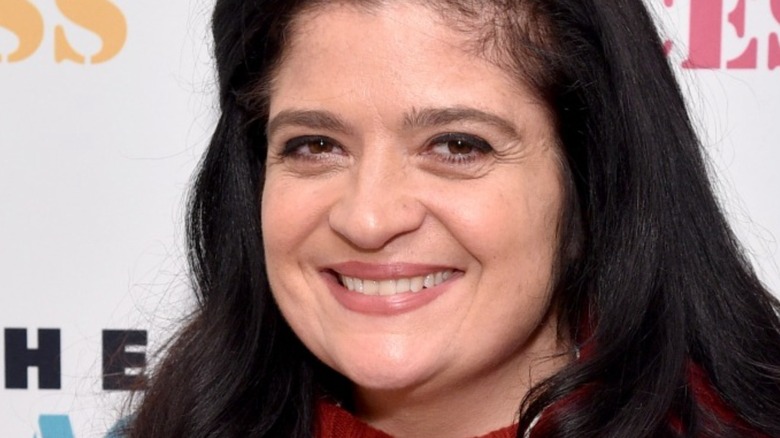 Bryan Bedder/Getty Images
Few cooking personalities know how to put a pie together like Alex Guarnaschelli. According to People Magazine, this Iron Chef learned how to make the perfect apple pie by taking inspiration from her mother and uses ginger and orange zest to make the flavors pop. On the other end of the tart spectrum, Guarnaschelli perfected her blueberry pie and relies on lemon juice and blueberry jam to make the filling taste great, per Food Network. While the chef has accumulated a ton of tips and tricks and makes baking look easy, pie recipes didn't always come so easily to the chef.
Guarnaschelli recently shared an older cooking memory on Twitter that could reassure any beginning baker. "I made this on the very first Food Network show I ever appeared on. It was a competition. I didn't win, but my pie was a knock out. LOL," she tweeted. She also linked to a recipe that redirects to her sugar-cranberry pie.
A perfect pie for the holidays
The link redirects to a recipe for the sugar-cranberry pie that relies on a filling of Anjou or Bosc pears, cloves, lemon juice, cranberries, and more (via Cooking Channel). Even if the pie didn't win Guarnaschelli anything, few can deny that it tastes great. Over on Twitter, fans poured in to share their appreciation of the recipe. Gems like, "One of my fav!!!" and "Anything you cook is amazing. Love watching you on Food Network!" line the post, and the pie has easily won over the hearts and taste buds of eaters across the internet.
If you ever need some baking inspiration, make sure to remember Guarnaschelli's sugar-cranberry pie next time you need to impress. While the chef has gone on to perfect the pie and other baked goods, few can deny that she started off with a winning recipe and has only built up her prowess over the years. If you need a festive pie this holiday season, take a page from this celebrity chef's book and try out this old-school recipe that guarantees to please.