Blueberry Pie Recipe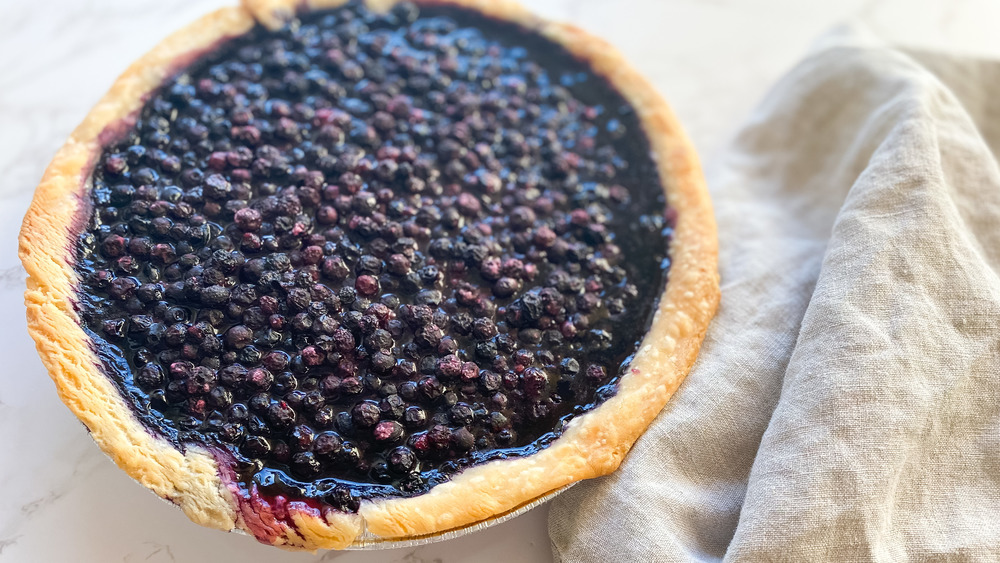 Kristen Carli/Mashed
What's the true taste of summer? Is it burgers and dogs hot off the grill? Ears of fresh corn slathered in butter? A homemade blueberry pie steaming sweetly on the sill? Ideally, it's all of those things, actually. And maybe a fresh green salad on the side and cold glass of lemonade or beer to wash it all down, too. But what's that? It's not sometime between April to October, which is the North American blueberry season according to the U.S. Highbush Blueberry Council? Guess you can't make a great blueberry pie then, right?
Why of course you can, according to chef, "Mostly Green" writer and creator, and registered dietician Kristen Carli of Camelback Nutrition & Wellness in Phoenix, Arizona. "I love using frozen berries to make this any time of year, not just in berry season," she says. And don't worry if you're wary of pies, many of which have a bad wrap as being hard to make. "[This pie] is very easy to make and only requires a few ingredients," Carli adds. 
And as for serving, she recommends you keep it classic: "It pairs well with vanilla bean ice cream."
Gather your ingredients to make this blueberry pie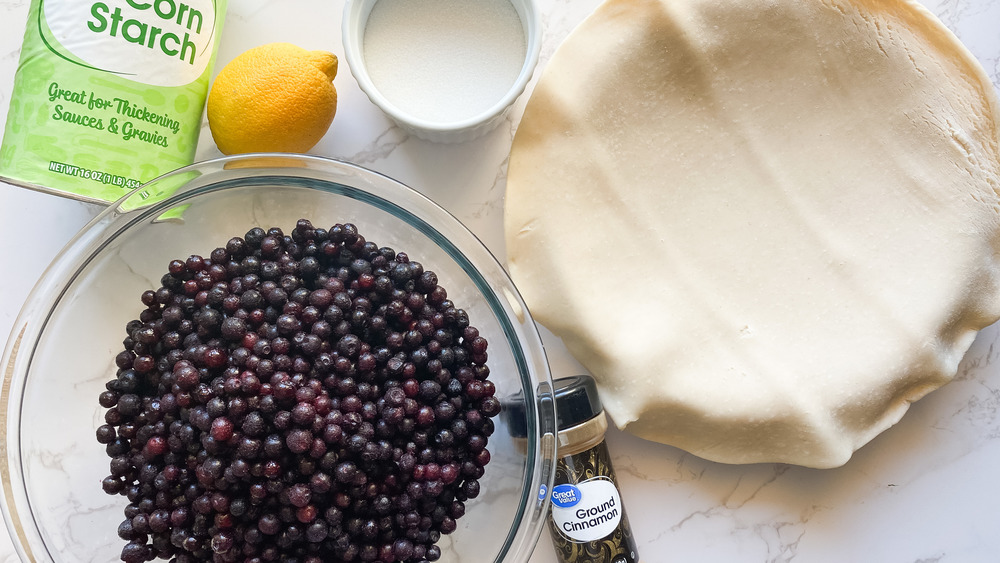 Kristen Carli/Mashed
If you want to make your own blueberry pie crust from scratch, then by all means go for it and the more power to you, but that is the difference between this being an easy, manageable recipe and it being a challenge. And also, because this pie is not topped with crust, there's no decorative lattice and layering to make out of your DIY crust anyway, so probably best to spare yourself the effort. 
To that end, you'll need a refrigerated pie crust, five cups of frozen wild blueberries, three-quarters of a cup of granulated sugar, half a cup of cornstarch, a teaspoon of lemon juice, and half a teaspoon of ground cinnamon for this recipe. Make sure you gather all your ingredients before you start cooking.
Pre-heat and prep the crust for your blueberry pie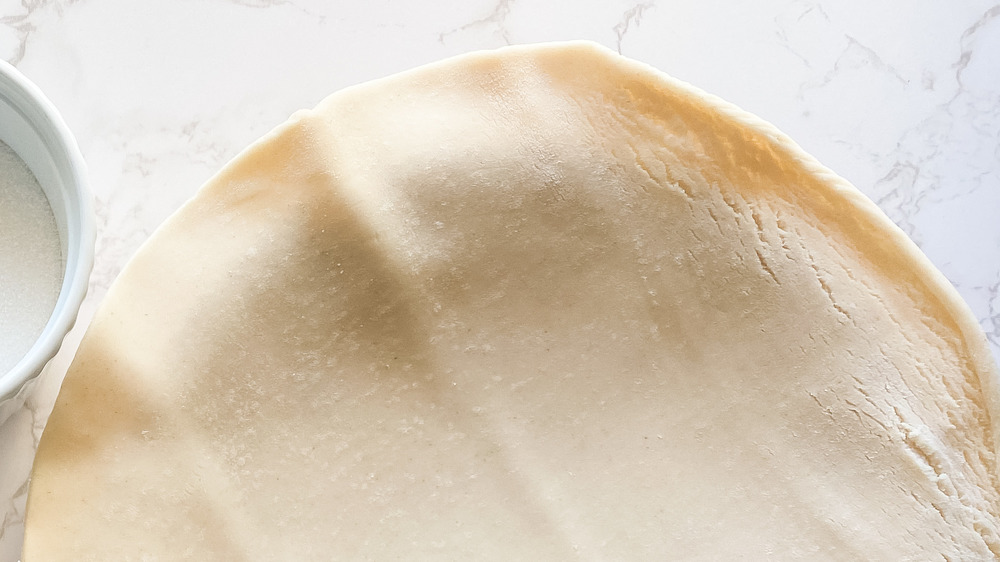 Kristen Carli/Mashed
As with so many recipes, this blueberry pie recipe starts with the oven. Preheat it to 400 degrees Fahrenheit because this pie needs to cook good and hot. 
To start making your blueberry pie, line a pie plate with the pie crust, gently pressing the crust down into the pie plate until it adheres to its shape, and then fold the edges of the crust over the rim of the plate. Using a knife, slice around the outer edge of the pie plate, removing the overhanging extra crust. (This will prevent it from burning while baking.)
Prepare the blueberry pie filling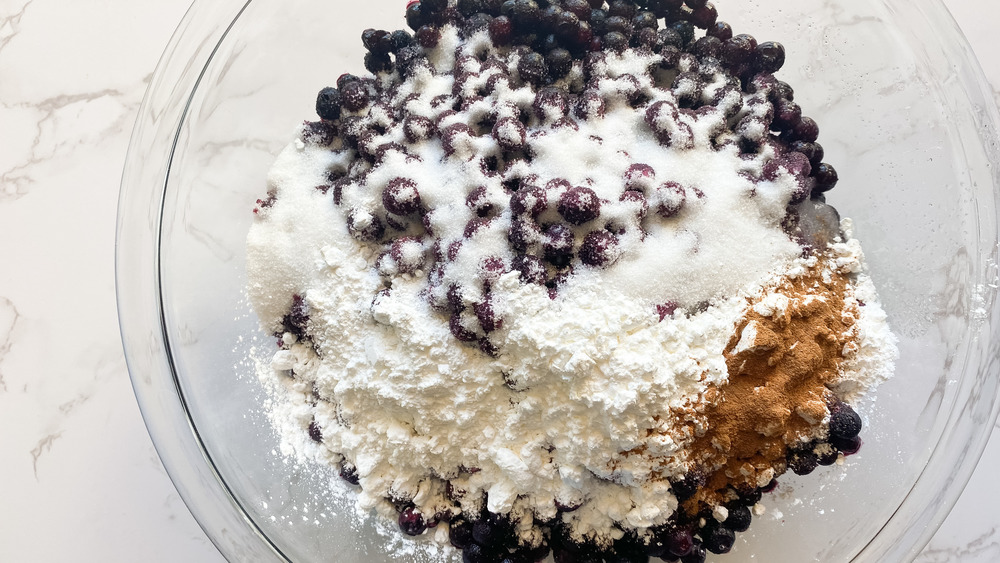 Kristen Carli/Mashed
If not already thawed, give the blueberries a few minutes to thaw and soften. Spreading them out on a clean dish towel will speed this process along considerably if you don't want to wait too long. Once they're ready, you can make your blueberry pie filling.
In a large mixing bowl, combine the blueberries, the sugar, the cornstarch, the lemon juice, and the cinnamon. Stir everything well to combine the filling ingredients. It's critical that the sugar in particular is mixed through fully, as it will melt and mix into the berries unevenly if there are pockets of sugar left behind.
Add the blueberry pie filling and then foil wrap the edges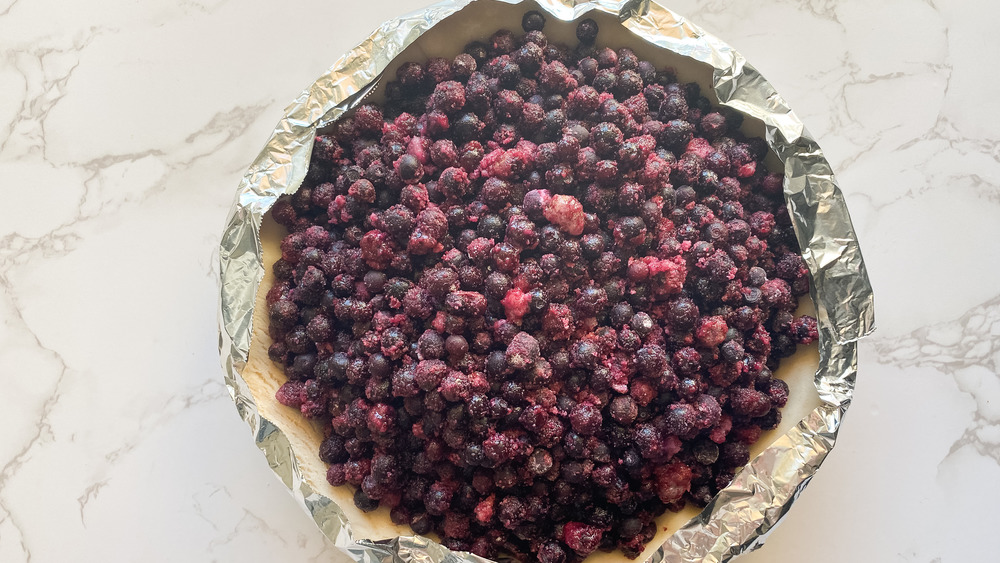 Kristen Carli/Mashed
Pour that well-mixed blueberry pie filling mixture into the pie crust and gently even it out using a spoon so that it fills the crust to the edges and is level on the top. 
Now, carefully cover edges of the pie crust with thin aluminum foil strips to prevent the exposed crust from burning while the pie bakes in that decidedly hot oven. Skipping this step might be the difference between a pie you take snaps of to share on social and a pie you decide is best eaten in a dark room, so make sure not to skip it.
Bake your blueberry pie, then cool and enjoy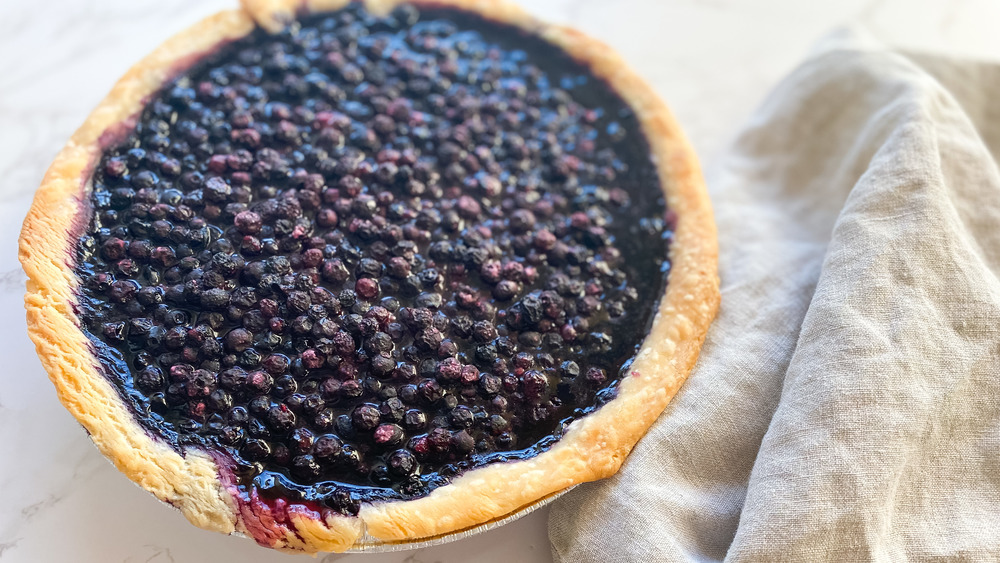 Kristen Carli/Mashed
Now it's time to get cooking your blueberry pie! Bake that pie at 400 degrees Fahrenheit for 45 minutes and enjoy the smell as the house fills with a truly irresistible aroma. Once the baking is done, you will, sorry to say, need to allow the pie to cool completely before serving it, and it's best to let it cool at room temp. It might speed up the cooling process, but we don't recommend chilling this pie in the fridge before you eat it.
Once you do serve it up, if there's any remaining, Carli says: "Store it in the fridge in an airtight container for up to five days." There's a good chance that you won't have many leftovers, though.
Blueberry Pie Recipe
This blueberry pie recipe is super-simple to make, and it only requires a few ingredients. Try it with frozen blueberries if you can't get your hands on fresh!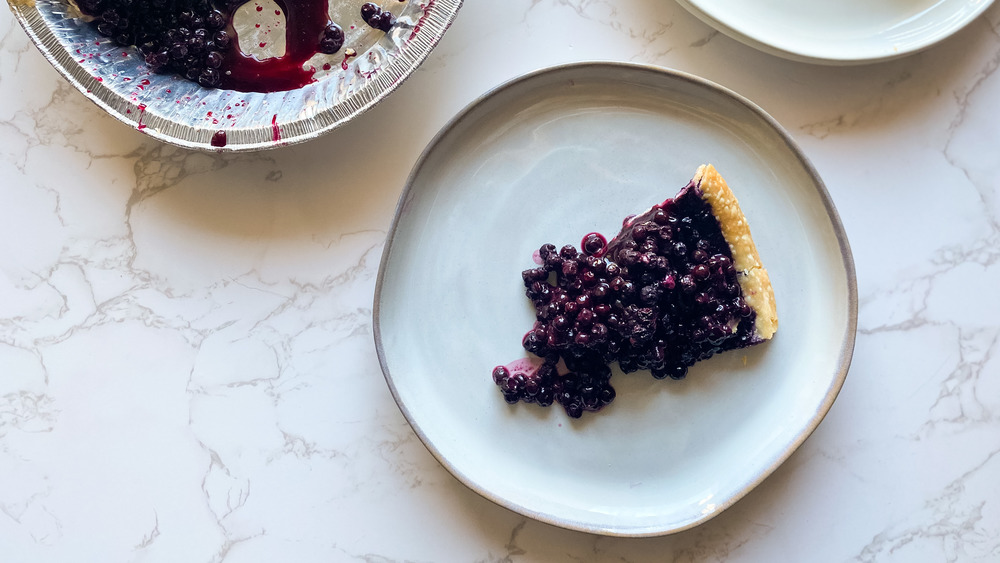 Ingredients
1 refrigerated pie crust
5 cups frozen wild blueberries
¾ cup granulated sugar
½ cup cornstarch
1 teaspoon lemon juice
½ teaspoon ground cinnamon
Directions
Preheat oven to 400 degrees Fahrenheit. Line a pie plate with pie crust. Press into pie plate and fold edges over. Using a knife, slice around the outer edge of the pie crust removing the overhang
In a large mixing bowl, combine blueberries, sugar, cornstarch, lemon juice, and cinnamon. Stir to combine.
Pour mixture into pie crust. Cover edges of pie crust with foil strips to avoid burning.
Bake at 400 degrees for 45 minutes. Allow to cool completely before serving.
Nutrition
| | |
| --- | --- |
| Calories per Serving | 281 |
| Total Fat | 7.4 g |
| Saturated Fat | 2.8 g |
| Trans Fat | 0.0 g |
| Cholesterol | 0.0 mg |
| | |
| --- | --- |
| Total Carbohydrates | 53.0 g |
| Dietary Fiber | 4.5 g |
| Total Sugars | 18.7 g |
| Sodium | 120.6 mg |
| Protein | 0.9 g |