This Is How Much The World's Most Expensive Pancake Cost
Move over breakfast of champions, and make way for the pancake fit for a king. According to Mental Floss, Pancake Day is celebrated in the UK, Australia, and Ireland on Shrove Tuesday (widely known as Fat Tuesday in the US). This is the last day before Lent, a 40-day period of abstinence practiced by Christians, when they used to clear out all the sugar, butter, and eggs in their kitchens to eliminate potential food temptations. This ingredient purge turned Shrove Tuesday into the perfect day for pancakes, and a tradition was born. 
Stephen Miles, manager of the Radisson Blu Edwardian Hotel in Manchester, England, and idea-man behind what may be the fanciest of all flapjacks, told Manchester Evening News, "I just thought it's a bit of fun for Pancake Day, rather than the boring lemon and sugar." With luscious lobster, the finest caviar, high-end champagne hollandaise sauce, and a price tag that will set you back a grand — this pancake breakfast is many things, but boring isn't one of them.
The pancake in question costs over $1,000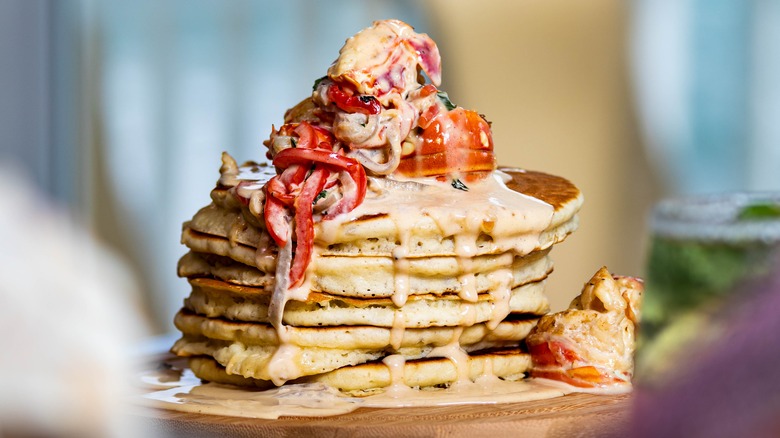 REMOR Media/Shutterstock
The Radisson Blu Edwardian is making breakfast the most important and expensive meal of the day with its £800 (around $1,070) pancake. Your wallet might go into shock when this breakfast bill hits the table, but your palate will approve the price tag when tasting the decadent ingredients that make this pancake so pricey.
According to Manchester Evening News, this extravagant breakfast delight is created by layering lobster and mussels between savory pancakes flavored with beetroot and chive topped with a swirl of cream cheese and beluga caviar. The delectable dish is finished with a Dom Perignon champagne hollandaise sauce with gazpacho shots and extra caviar on the side.
Chef Matt Downes of the hotel's Opus One restaurant created the pancake masterpiece to match the other luxurious amenities offered by the hotel. Those lucky enough to try the savory take on the classic breakfast treat report that the pancake is rich with lobster and caviar but not overwhelmed by seafood flavors, and the Dom Perignon hollandaise sauce is a dreamy "taste sensation."
If your tastebuds are looking to step outside the traditional breakfast box, and your bank account is willing to trade paychecks for pancakes, this extravagant treat is the way to feel like royalty for a meal.