Creamy Avocado Pasta Recipe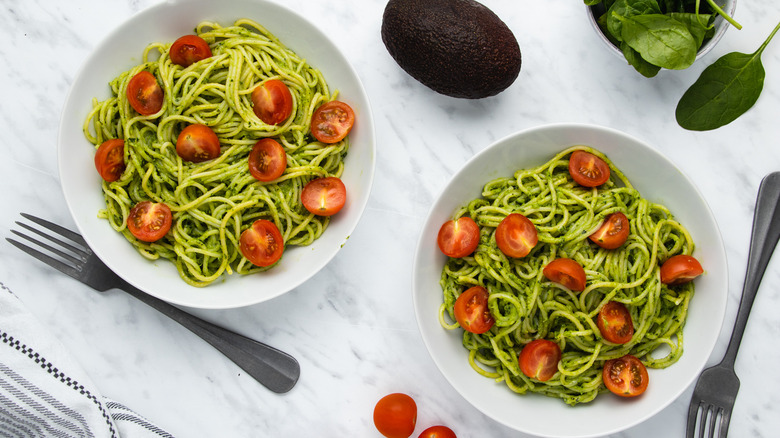 Catherine Brookes/Mashed
Is there anything that isn't improved by adding some avocado? Pasta is no different, especially when the avocado is combined with basil, lemon, and garlic as in this recipe created by Catherine Brookes. Brookes shares her passion for easy, healthy, and delicious meals on her website Blue Sky Eating. 
This fresh and zesty recipe turns the idea of heavy spaghetti dishes on its head. Even better, it is so quick and easy to make that it might just become your favorite go-to, especially for vegetarians and vegans looking for tasty, healthy meals. Avocados are extremely nutrient-rich, containing on average 2 grams of protein, 15 grams of healthy fats, and fiber (via Healthline). Basically, an avocado is like a healthy energy bomb. To keep it light on the carbs, you can even serve this with gluten-free pasta — Brookes loves it either way. 
Gather up the ingredients for this creamy avocado pasta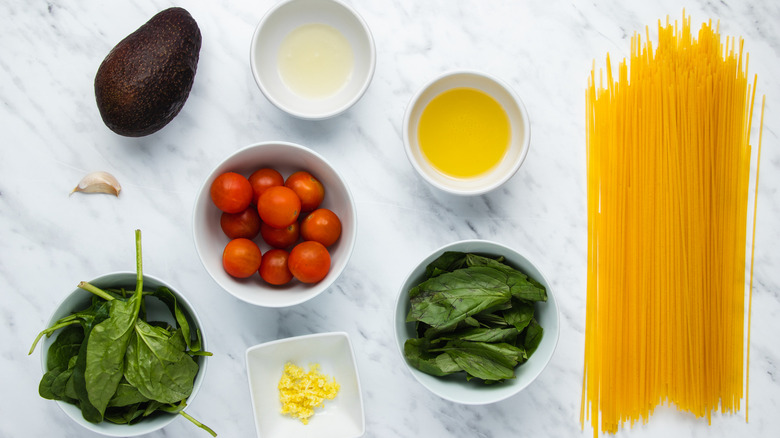 Catherine Brookes/Mashed
Part of the brilliance of this recipe is its simplicity since it requires only a few ingredients and is quick to prepare. For the vegetables, you will need a large ripe avocado and ⅓ cup of spinach. Then, get a bundle of basil and a lemon, the latter both for the zest and juice. Round out the veggie aisle with 10 cherry tomatoes and a garlic bulb, though this recipe only calls for a clove so if you already have a bulb at home you will be fine.
Next, you need 2 tablespoons of olive oil, salt, and pepper. Of course, the central ingredient is pasta, and for this specific recipe, chef Brookes uses spaghetti, noting that "You can use either normal or gluten-free pasta for this depending on your dietary requirements." Now, you're ready to make some creamy avocado pasta.
Grind up the greens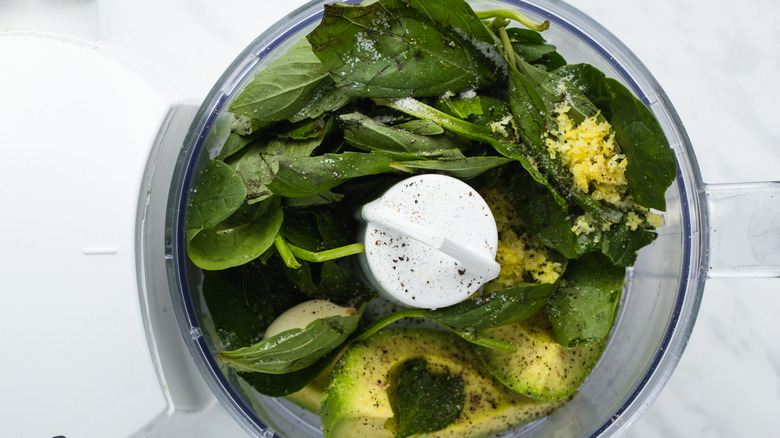 Catherine Brookes/Mashed
Scoop all the flesh out of your avocado and drop it into the bowl of a food processor. Throw in the spinach and the basil, then add the lemon juice and zest in as well. If you don't know what lemon zest is or how to make it, it is just little pieces from the lemon peel. "You can just shave it straight from a fresh lemon using a fine grater," Brookes explains. Finally, add the salt and pepper, then blitz the contents until they are smooth. 
As the food processor runs, gradually pour in the olive oil, and let it run for 30 seconds. "The olive oil should combine pretty quickly as you pour it in," Brookes notes, "but I like to leave it about another 30 seconds once I've added all the oil just to make sure it's super smooth."
Cook the pasta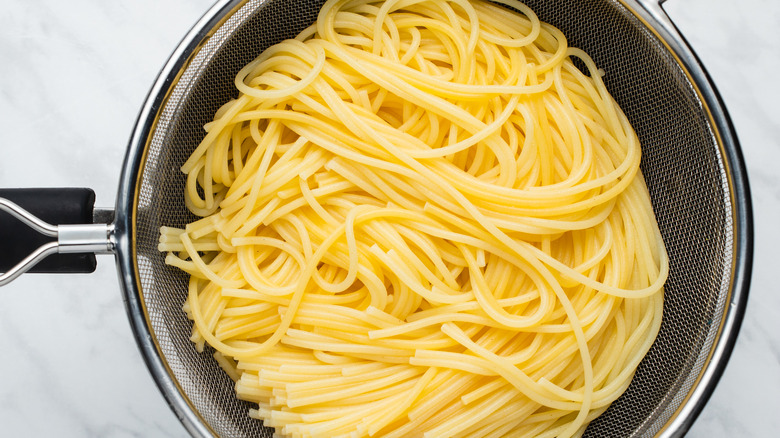 Catherine Brookes/Mashed
Finally we're nearing the end of the recipe, and it's time to cook your pasta. It's pretty straightforward and Brookes indicates, "Just make sure to add plenty of water to the saucepan and add some salt." Bring the salted water to an active boil before tossing in the pasta. Follow the package instructions for the cook time since different shapes and sizes of pasta will vary. 
When done, drain the pasta, and at this point you can either choose to run it under cold water, which will cool it down and stop it from cooking, or not. "No problem running the pasta under cold water if you'd prefer it cold," Brookes says. "I like it warm so that once you add the avocado mixture it's the perfect temperature to eat right away."
Finish and serve your creamy avocado pasta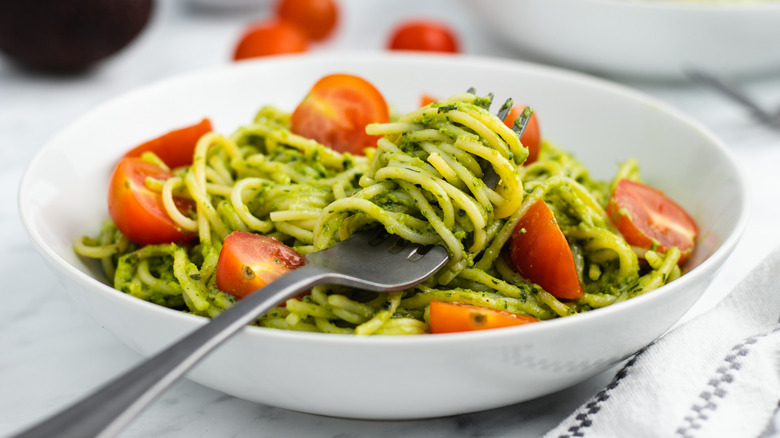 Catherine Brookes/Mashed
Return the cooked pasta to the saucepan while the pan is still on the stove. Pour the avocado mixture on top of the pasta, then stir it throughout, making sure it is mixed in well. Once the pasta is ready, transfer it to bowls, and serve it with the cherry tomato halves on top. "I'd aim for half in each bowl," Brookes suggests, "so five each."
Now you're ready to eat your quick, fresh, nutritious, and guilt-free pasta dish. It will probably get a few surprised exclamations of "Why didn't I think of putting avocado in my pasta before?" as you just smile and dig in.
Creamy Avocado Pasta Recipe
This creamy avocado pasta recipe is a total game-changer. Quick and easy to make, this vegetarian dish is perfect for a weeknight dinner or to wow your guests.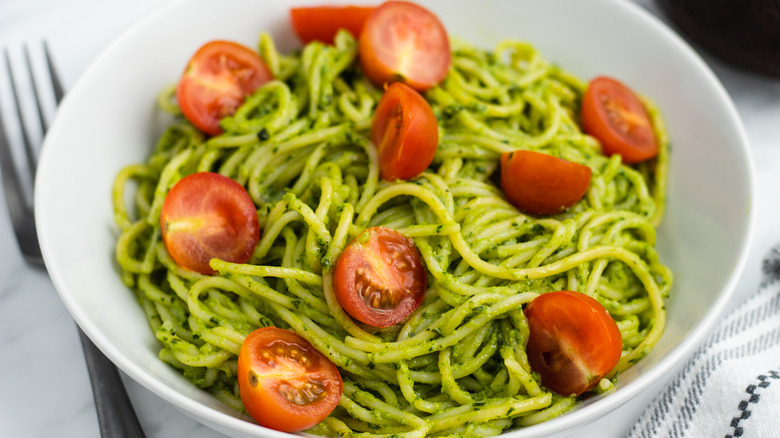 Ingredients
1 large ripe avocado
⅓ cup spinach (lightly packed)
¼ cup fresh basil (lightly packed)
1 clove garlic
1 tablespoon fresh lemon juice
1 teaspoon lemon zest
salt and pepper to taste
2 tablespoons olive oil
10 cherry tomatoes, halved
8 ounces pasta (spaghetti shown)
Directions
Add the avocado, spinach, basil, garlic, lemon juice, lemon zest, salt, and pepper to the bowl of a food processor, and blitz until smooth.
With the food processor running, gradually pour in the olive oil, then let it run for another 30 seconds.
Bring a large saucepan of salted water to a boil, and cook the pasta as per the packet instructions (usually around 10 minutes).
Drain the pasta and return it to the saucepan.
Stir in the avocado mixture.
Transfer the pasta into serving bowls, and add the cherry tomato halves on top.
Nutrition
| | |
| --- | --- |
| Calories per Serving | 763 |
| Total Fat | 33.9 g |
| Saturated Fat | 4.9 g |
| Trans Fat | 0.0 g |
| Cholesterol | 0.0 mg |
| | |
| --- | --- |
| Total Carbohydrates | 100.4 g |
| Dietary Fiber | 13.5 g |
| Total Sugars | 6.1 g |
| Sodium | 806.2 mg |
| Protein | 18.4 g |