This Is The Only State Without A Five Guys
Nathan Stirk/Getty Images
Five Guys is widely regarded as one of the best fast food hamburger chains on the planet. Their made-to-order burgers, fries, and milkshakes have awarded the fast food chain the title of best burger joint in the United States multiple times (via The Harris Poll). Of course, making such a bold statement may cause an internet food fight if you love another burger restaurant like In-N-Out. However, it is difficult to argue with the fact that Five Guys makes some really tasty burgers.
Per Insider, the Arlington, Virginia-based chain started as a small, family-owned business. Fast forward over three decades and Five Guys has achieved world domination, and customers from all corners of the planet love to crack open peanuts while they wait for their famous Little Bacon Cheeseburgers. According to their website, the burger chain has 1,700 stores that dot cities and towns across the good old U.S.A., Canada, Europe, and the Middle East. In carving out their glorious path, however, Five Guys appears to have missed a state. That's right, there is a state in America that doesn't have a Five Guys to call their own.
There's no Five Guys in Alaska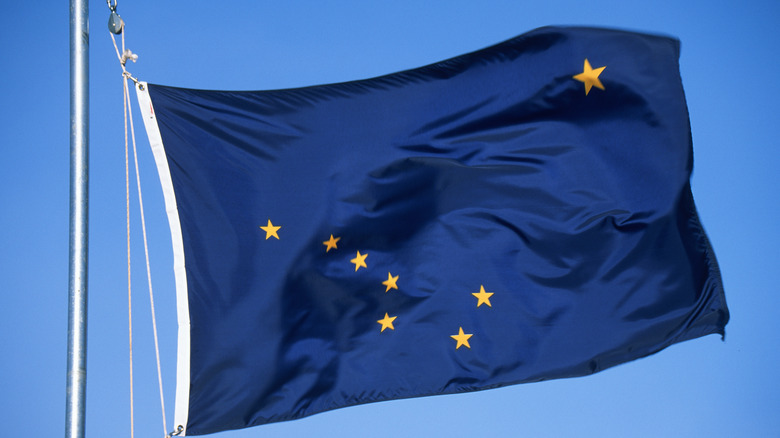 Joseph Sohm/Shutterstock
Per the Five Guys website, while California has 133 stores and Texas is home to 72 Five Guys, the citizens of poor Alaska don't have a single Five Guys to enjoy. Even Rhode Island, which proclaims to be the smallest state on its government website, can boast that it is home to six Five Guys locations its citizens can drive to and order some coveted burgers. In fact, it's possible they can hit all six in a single day because the state is so small. So, what gives, Alaska?
We can't say for certain, but there may be some business barriers to be conquered. According to a CNBC report, doing business in Alaska is expensive. Apparently, The Last Frontier has "oppressive" utility rates and a corporate tax rate of 9.4%, one of the highest in the country. Alaska is also at the very bottom of the list of top states for business (via CNBC). So, maybe these are some reasons Five Guys has yet to open a location in Alaska. We can't say for sure. However, if you're in any other state, go and enjoy a burger from the hamburger chain, well, because you can.