Boston Market Customers Are Fuming About This Thanksgiving Mix-Up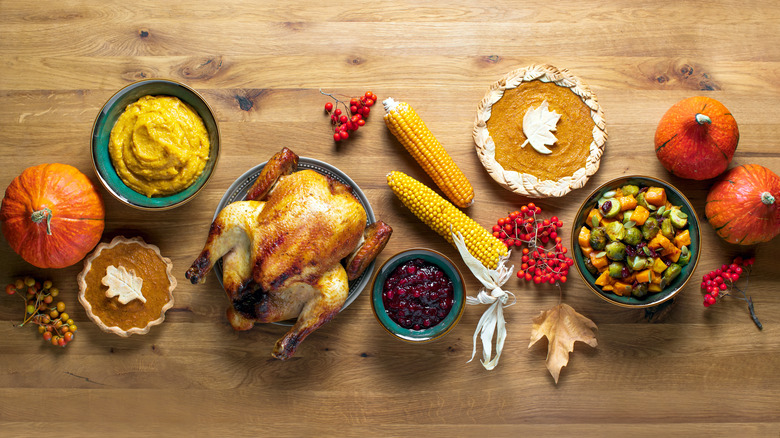 Fortyforks/Shutterstock
Boston Market likes to provide tempting and easy meal options to its customers for Thanksgiving every year — and why wouldn't they, as their regular everyday menu items are inspired by the holiday favorites? According to Delish, the brand has launched several convenient options in the last few years, including prepared Thanksgiving dinners that can easily feed a crowd. Some of their offerings in the past have included pre-cooked meal options such as a whole roasted turkey with mashed potatoes, stuffing, dinner rolls, and gravy. All customers had to do was thaw the frozen meals and heat them up for the perfect, convenient holiday dinner.
Unfortunately, this year, a few people were in for a surprise when they went to collect their prepaid Thanksgiving meals at a Boston Market location in Rancho Cucamonga, California. According to Today, customers found the restaurant doors closed, forcing them to scramble to find other dining options for Thanksgiving. As expected, those who had to deal with the holiday headache were rather displeased with the brand.
Many customers were left scrambling to find a new option for Thanksgiving
As reported by Today, a few people who had placed Thanksgiving orders ahead of time at a Boston Market outside Los Angeles and prepaid for the meals were taken aback when they realized that the location that was advertised to be open on the holiday was actually closed. Instead, they were met with a sign that read, "No employees showing up today ... We are unable to fulfill the orders! We are sorry!" 
Slaton Smith, the chief marketing officer at Boston Market Corporation said in a statement to NBC Los Angeles that the company was made aware of the issue and was working to correct it. He added that they would ensure that every single customer would receive a full refund for their troubles. "We are investigating the cause of this issue. We sincerely apologize to every guest who placed an order and came to the restaurant today," he said.
An angry customer who was present at the Rancho Cucamonga location told The Daily Bulletin that he was never told about the closure. He added, "I was really hoping to take it easy this Thanksgiving, [and] not have to make a whole dinner for the family ... now I have to find a Plan B."