These Are The Dishes Ayesha Curry Always Has On Her Holiday Table - Exclusive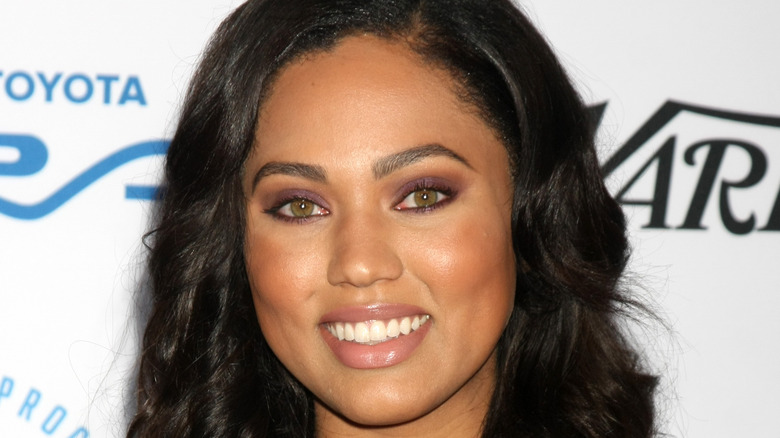 Kathy Hutchins/Shutterstock
When it comes to holidays in the Curry household, it should come as no surprise that Ayesha Curry is the one in the kitchen, making Thanksgiving and Christmas dinner for the whole family, including her three kids and NBA star husband Steph Curry. "It's been that way for years," the cookbook author, entrepreneur, and food media personality told Mashed in a recent exclusive interview. And, if you've tried any of the recipes that are featured in her cookbooks, on her YouTube channel, or from her former Food Network show, then you know just how lucky the Curry family is when the holiday season rolls around and they get to dig into her home-cooked meals.
So, given the chance, we had to ask the matriarch just what her holiday dinner spread looks like. Curry — a native Canadian with Jamaican roots who now calls California home — shared some of her family's favorite festive dishes, and they are food traditions steeped in nostalgia, personal memories, and shared family history.
Curry holidays have prime rib and a unique side dish mash-up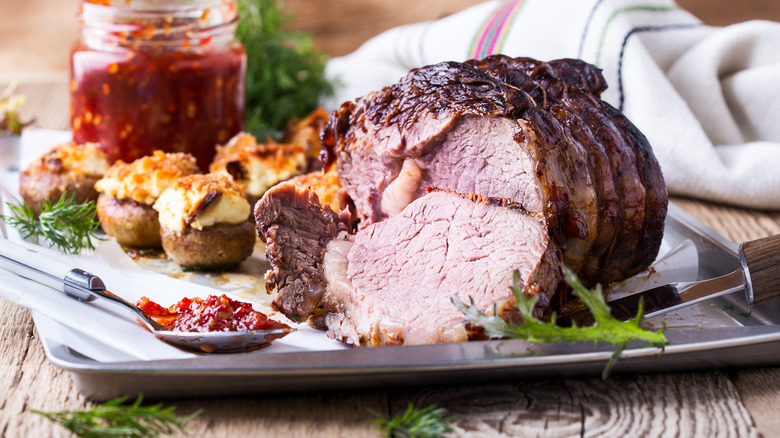 istetiana/Shutterstock
For so many of us, Thanksgiving and Christmas wouldn't be complete without a giant roasted turkey in the center of the table. Maybe a glazed honey-baked ham at the very least. But, in the Curry household, the star of the holidays is prime rib. "[At] Christmas time ...for like the past six years now, I've always made prime rib, like a big prime rib," Ayesha Curry told Mashed in a recent interview. To accompany the roasted beef, she makes a "scallop and leek potato casserole with lots of Gruyère cheese on top." Curry also said that holidays aren't complete without some traditional Jamaican fare to celebrate her family's heritage: "We always have oxtail and rice and peas in our spread."
But, that doesn't mean some of the more staple holiday sides don't make an appearance too, including mac and cheese and candied yams. Curry said the two sides are her all-time favorite holiday dishes ... but only under a very unique condition. "I mix them together on my plate. I can't eat them any other way. It doesn't feel like Thanksgiving to me if I don't do that." But that's not enough for Curry, who wants the whole family to savor her side-dish mashup. "I'll go around, being so obnoxious ... and I look at everybody and I'm like, 'You got to mix it together. ...Try it, try it.' They're like, 'Oh God,' and then they ultimately end up loving it, and it becomes their thing too."
Lasagna is also a good luck holiday tradition in the Curry household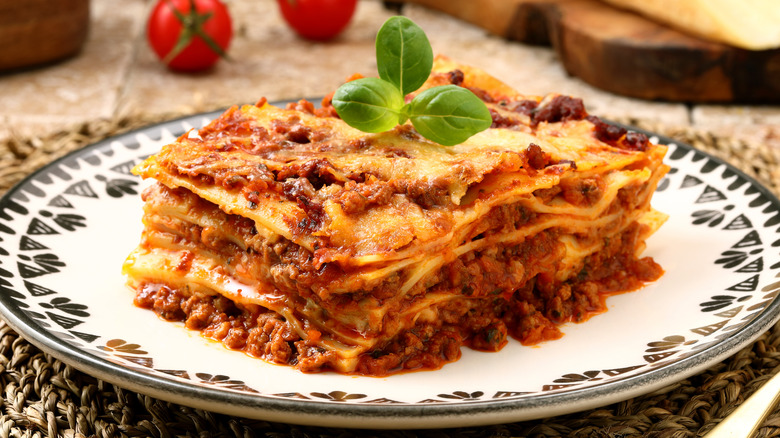 denio109/Shutterstock
Holidays at the Curry house are always unique, and not just because of the food on the table. When you've got an NBA star in the family, Christmas Day is all about basketball. Ayesha Curry told Mashed that her family has developed their own food tradition around it. She noted that the day after Christmas, they "always do lasagnas." That may seem a little out of left field, but it's apparently become a symbol of good luck. 
"What would happen is, Stephen had games on Christmas for the past few years, either the day before or the day of," she recalled. "The first year I started that tradition, they won. So I had to keep it going." And while, according to official basketball records, the luck of the lasagna has only worked for about half of Steph's seasons, it's still a tasty tradition and one worth keeping.
You can watch Ayesha Curry on the newest season of "Selena + Chef" streaming now on HBO Max. Curry's cookware line is available at retail stores and PotsandPans.com. And click here to check out the latest issue of her magazine "Sweet July."