These Are The Only States That Don't Have A Panera
Deutschlandreform/Shutterstock
Panera Bread is one of the most well-known fast-casual chains in the United States. It takes the typical fast-food experience up a notch by offering the comfortable dine-in experience of most restaurants, combined with the limited service of a fast-food joint. Its prices are higher than a McDonald's (there is certainly no dollar menu) but still feature plenty of affordable options.
According to the company's website, Panera first launched back in 1987 under the name St. Louis Bread Co. Before that, its owners Ron Shaich and Louis Kane, founded Au Bon Pain, another popular chain, though the two restaurants are no longer affiliated, per Restaurant Business. Today, Panera's website reports 2,162 locations throughout the United States, with data company ScrapeHero noting that Florida has the most locations at 192. But despite the high number, it turns out not every state is so lucky to have Panera's iconic broccoli cheddar soup and chicken Caesar salad right at its fingertips.
Seven states and territories are without a Panera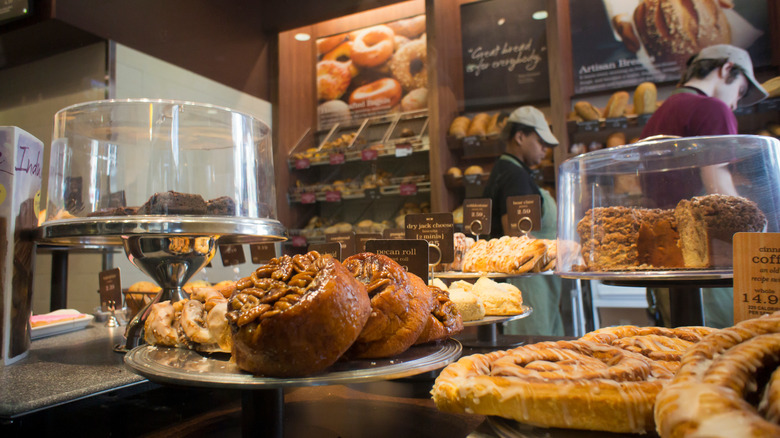 Rblfmr/Shutterstock
Though Panera Bread has grown tremendously in popularity since its inception in the 1980s, it technically hasn't infiltrated every part of the United States. According to data company ScrapeHero, there are five territories and two states without the café chain: Alaska, American Samoa, Puerto Rico, Guam, Northern Mariana Islands, U.S. Virgin Islands, and Hawaii.
It's unclear why these specific spots lack a Panera, but it's important to note that none of them are within the contiguous United States. Plus, they all have relatively small populations. Still, these places aren't totally without fast-food chains. A quick Google search shows you'll find a McDonald's in every one of these places — and most have more than one location, which doesn't come as a surprise. But in terms of fast-casual, options are slim. Google suggests you'll be lucky if you find a Subway or a Pizza Hut.