How A Snail Shortage Led To The Creation Of Oysters Rockefeller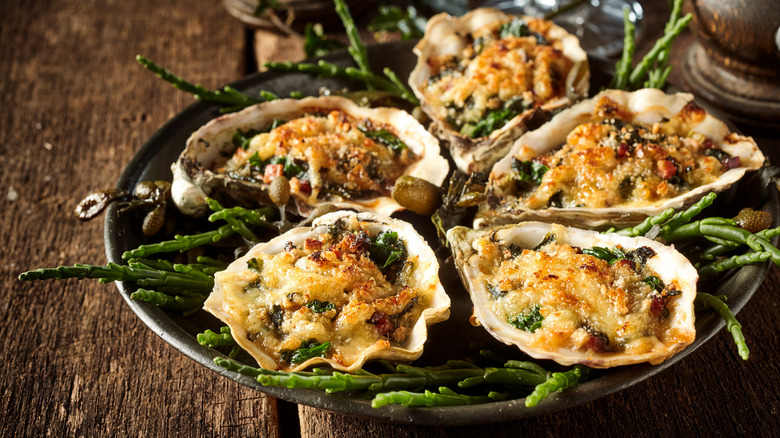 Stock Creations/Shutterstock
How do you feel about oysters? According to Ocean Conservancy, these bivalves are found in saltwater environments all around the world. They are often classified as a love-it-or-hate-it type food that is relished raw by many seafood lovers while others are completely baffled and can't get past the slimy texture or briny flavor (via The Independent). Some diners find a middle ground with cooked oysters, which show up in dishes ranging from fried oysters to oyster stew.
Another cooked oyster dish popular with mollusk lovers is Oysters Rockefeller, a storied recipe invented in a New Orleans kitchen circa 1899. The recipe calls for oysters on the half shell topped with a buttery, herby breadcrumb paste and placed under a broiler until bubbly and golden brown (via Saveur). While many NOLA restaurants now serve the dish, the storied French-Creole eatery Antoine's lays claim to inventing it, according to The Food Channel.
A snail shortage leads to a rich dish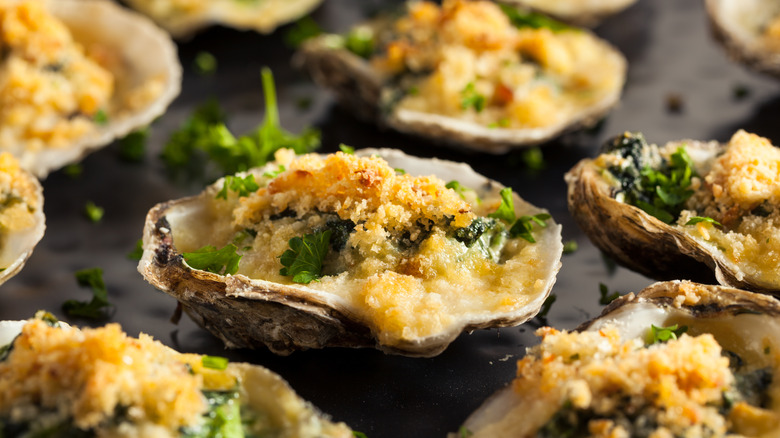 Brent Hofacker/Shutterstock
The legendary New Orleans restaurant Antoine's is the United States' oldest family-run restaurant, according to the their website. After it was established in 1840 by 18-year-old French immigrant Antoine Alciatore, the eatery was quickly lauded for the French-inflected Creole dishes on its menu, such as Chicken Rochambeau and Fish Amandine. The restaurant also came up with Oysters Rockefeller in 1899.
According to The Food Channel, New Orleans experienced a local shortage of snails that year — the vital ingredient in Antoine's signature escargot dish, which serves them in butter, parsley, and garlic. The shortage caused Antoine's chefs to pivot, subbing local oysters for the snails. At some point, the breadcrumb topping was added, too. A legend claims that an Antoine's customer exclaimed, "Why, this is as rich as Rockefeller!" after sampling the creation, referring to the oil magnate John D. Rockefeller and his hefty wallet (via What's Cooking America). Whether this is culinary myth or truth, we'll never know: All we know is that a buttery platter of oysters and a chilled white wine sounds pretty good right about now.