Here's How Many Wings Sean Evans Has Eaten Throughout Hot Ones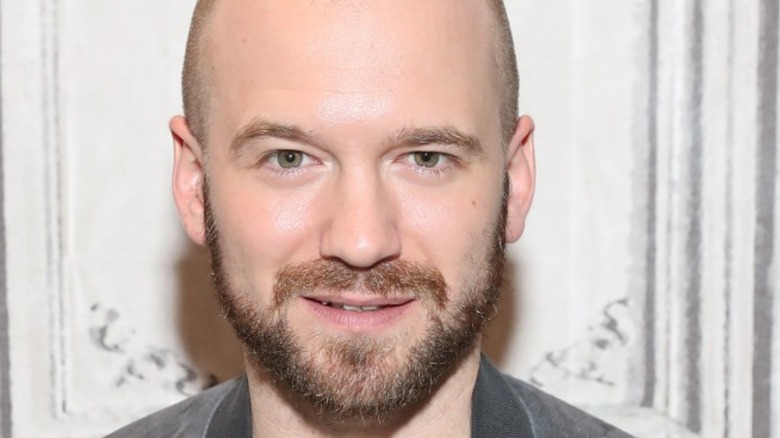 Credit: Bennett Raglin/Getty
We all know this: Sean Evans is no chicken wing novice. The "Hot Ones" host has been downing wings dipped in hot sauce professionally for what he estimates is 230 episodes, dating back to 2015 when rapper Tony Yayo first talked about how much Eminem likes tacos on the soon-to-be hit show. You could and should relive that moment on YouTube.
 Since, Evans has sustained a singularly unique way of paying his bills — learning, first-hand, if every A-list celeb on the planet (including but not limited to Paul Rudd, Padma Lakshmi, Charlize Theron, and Shaquille O'Neal) can take some heat. Shaquille "The Big Aristotle" O'Neal — as Buzzfeed will remind you — most definitely can't.
"Shang-Chi and the Legend of the Ten Rings" star Simu Liu, to his credit, and with the help of a little Boba Tea, didn't do so poorly. (Check out his episode on YouTube if you want confirmation.) Besides, the Marvel actor achieved another feat during his "Hot Ones" episode: turning the table on Evans. As Simu Liu became the interviewer and Evans the interviewee, the actor asked the burning question that we've all been craving an answer for. How many wings has Evans really eaten throughout "Hot Ones?"
Sean Evans doesn't like wings anymore. Here's why
It took a while for Sean Evans to get paid to eat a whole heck of a lot of wings. "We used to joke internally about how many scorching-hot chicken wings I'm eating for nothing," Evans recounted to WhaleBone. "Nobody was watching. Nobody cared. I had another full-time job." But he believed in the power of chicken and hot sauce ... for better or worse.  "We're probably 230 episodes in, [and at] 10 wings an episode, that would be squarely over 2,300 wings that I've eaten for the internet's amusement over the years," Evans estimated when Simu Liu asked in December 2021 (via YouTube). 
For some perspective, 2,300 wings add up to one chicken wing a day for over six years. Suffice to say, you will not find the "Hot Ones" host on a quest for wings outside of the office. "You know theres' a couple things that have ruined [chicken wings] for me," Evans told the "Shang-Chi and the Legend of the Ten Rings" star. "First off it feels like work. Plus, I've eaten a lot of them, so it's kind of the last thing I want to eat." Unfortunately for Evans, it's not unusual for him to get offered up wings when he does go out to a restaurant. "I've been typecast in acting terms as like 'the wing guy,'" he lamented. "So, I think you start to then resent wings, over time."