Chipotle Turned Its Cilantro Soap Meme Into A Real Product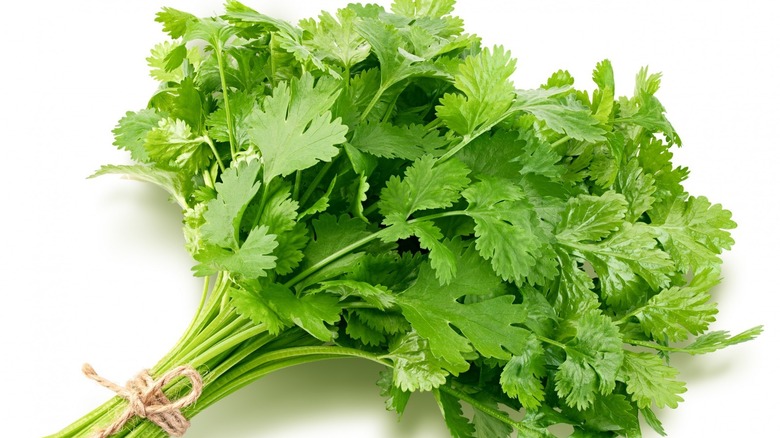 grey_and/Shutterstock
Perhaps has there never been a debate as prominent in foodie culture as to whether cilantro is tasty, or, as others argue, disgusting. In a study published in Flavour, some participants who reported liking the herb claimed they found it "fresh, fragrant, or citrusy," while those who hated the taste called it akin to "soap, mold, dirt, or bugs." 
Chipotle, the Mexican grill chain popular for its burritos, tacos, and quesadillas, is one restaurant destination where cilantro is a commonly used ingredient. In August, Mashed reported that the chain had poked fun at the cilantro controversy with an Instagram post featuring a box with the label Chipotle Cilantro Soap, which claims it has a "fresh scent" and is "for sensitive skin." The caption states, "Ok but what if soap tasted like cilantro?" Comments poured in, with some proclaiming their distaste for cilantro, such as one user who wrote, "Might as well use that instead of cilantro cause they taste the same." Others noted the humor in the post, like another user who commented, "Can I grate it and sprinkle it on my Chipotle bowl?!!"
Chipotle Cilantro Soap will have gift receivers LOLing
But Chipotle wasn't done poking fun at those who think cilantro tastes like soap. In a press release, Chipotle announced the reveal of a real-life version of the Chipotle Cilantro Soap featured in its August Instagram, and it has been made available online from Chipotle Goods. While some of us may be in disbelief, Chipotle assures us that this is the real deal. The "all natural," 4-ounce, $8 bar is made from multiple organic oils, coriander essential oil, and chlorella powder. The product description states, "This 100% real soap bar is the perfect gift for cilantro lovers and haters alike. Just make sure they don't eat it." 
Chris Brant, chief marketing officer for Chipotle, explained the connection between the meme and the release of the real soap, stating, "Our Cilantro Soap plays into a larger trend of turning digital moments into real life experiences." It looks like the marketing strategy was a success; the press release said the soap would be available until supplies last, and the product listing shows that it's currently sold out.