Hank Aaron Was A Franchisee For These 4 Fast Food Chains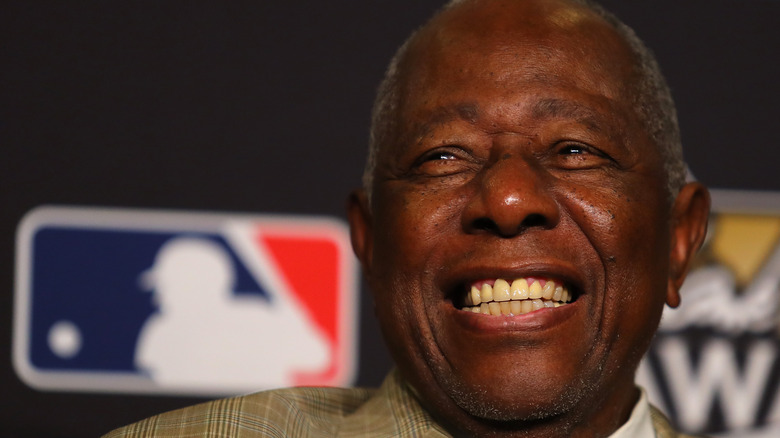 Tim Bradbury/Getty Images
When it comes to baseball legends, a few star athletes come to mind. Henry "Hammerin' Hank" Aaron is considered one of the greatest professional baseball players of all time. From 1954 through 1976, the iconic right fielder played 21 seasons with the Milwaukee and Atlanta Braves and two seasons with the Milwaukee Brewers. Throughout his noteworthy career, he set a number of league records, including a total of 755 home runs, breaking Babe Ruth's streak. To no one's surprise, Aaron was sworn into the Baseball Hall of Fame in 1982, the first year he was eligible. Then in 1999, on the 25th anniversary of his home-run record, Major League Baseball commenced the first Hank Aaron Award, which is presented to the top hitters in each league, according to Biography.
In addition to his athletic vocation, Hammer was a generous philanthropist and a successful businessman. He cared deeply about helping others, especially when it came to providing people with jobs that could help them get ahead in life. To fulfill this mission, Aaron became a franchisee for four popular restaurant chains.
Hank Aaron owned four successful franchises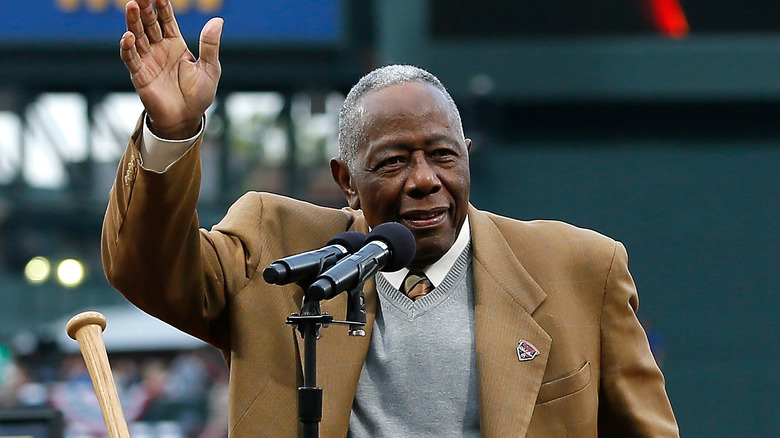 Kevin C. Cox/Getty Images
Hank Aaron entered the restaurant business in Milwaukee in 1986, when he helped launch the Arby's RBI Award program with Frank Belatti, a University of Notre Dame alum and then-vice president of marketing for Arby's. This was the first-ever fast-food sponsorship associated with the MLB (per Notre Dame Mendoza College of Business). At that time, Aaron was also the MLB record holder for RBIs (runs batted in). Belatti and Aaron remained close friends for life, according to Nation's Restaurant News.
Aaron eventually expanded his Arby's franchise to 10 locations. Soon after, he became a franchisee of Church's Chicken and Popeyes Chicken & Biscuits (now Popeyes Louisiana Kitchen) in Atlanta, Georgia, where he formerly played for the Braves. His son-in-law, Victor Haydel, joined the Atlanta franchise and helped expand the business to include two Krispy Kreme locations. "He really enjoyed getting involved in the restaurant business," Belatti told Nation's Restaurant News. "He loved the idea of hiring people and creating opportunities. It was never really about what it did for him. It really was about what it could do for other people, which I loved about him." Aaron died on January 22, 2021, at 86 years old (via Biography).