Valerie Bertinelli's Hot In Cleveland Blooper Has Instagram Cracking Up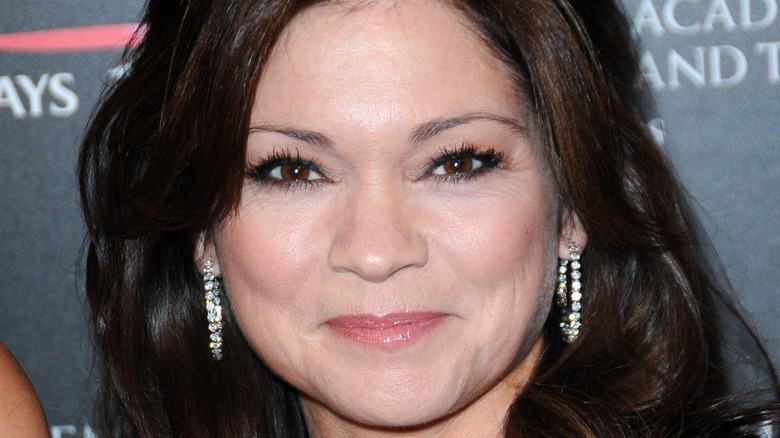 s_bukley/Shutterstock
When Valerie Bertinelli isn't whipping up her delicious and comforting recipes, the celebrity chef apparently loves to post bloopers from her time on TV Land's "Hot in Cleveland." For the uninitiated, the cookbook author first appeared on "Hot in Cleveland" in 2010 (via IMDb). The show found success and brought viewers 6 seasons of laughs until it concluded in 2015. Bertinelli played the 40-something character Melanie Moretti, who winds up living in Cleveland with two of her peers as they reject the Hollywood trope of women over a certain being seen as no longer "hot." 
Per Today, the host of "Valerie's Home Cooking" took to Instagram earlier this year to celebrate her co-star, beloved Hollywood icon Betty White's 99th birthday by sharing funny outtakes from their days of filming the sitcom together. The video lasts a little over 9-minutes, and they are quite the dynamic duo. Well, Bertinelli is back at it. The recent Instagram post, which features a blooper involving Bertinelli's character in a morgue, has garnered more than 240,000 views and has followers in stitches.
This producer is a bit of a practical joker
Valerie Bertinelli's Instagram post shows her "Hot in Cleveland" character Melanie Moretti having a heated exchange over the phone. The voice on the other end threatens to take Bertinelli down, and Moretti responds, "Oh yeah? Over my dead body." She then turns to what appears to be a corpse covered with a sheet on a hospital gurney, and quips, "No offense" as she lifts the covering. Suddenly, the body pops up, revealing executive producer Todd Milliner (via IMDb), who had been patiently waiting to scare her. Bertinelli screams out of fright before breaking into laughter. Her reaction to Milliner's practical joke is priceless and you can tell they liked to have fun on the set.
Bertinelli captioned the post with a laugh-crying emoji and wrote, "OMG! get so freaked out when people scare me! LMBO! @imtoddmilliner Grr... #HotinCleveland #Bloopers." Instagram users cracked up as well with one follower responding with, "The best. I'm the same way! I scream at the top of my lungs whenever I get scared!!" A different user seemed to appreciate the laughter even more than the screaming: "Love when we can belly laugh. good for the soul." But still, it reminded others how much they enjoyed watching "Hot in Cleveland." As one fan put it, "Omg, I loved that show! I miss it!" But at least fans can relive memories of the show through Bertinelli's hilarious blooper posts.