Pillsbury Brought Back This Popular Holiday Flavor Of Grands! Rolls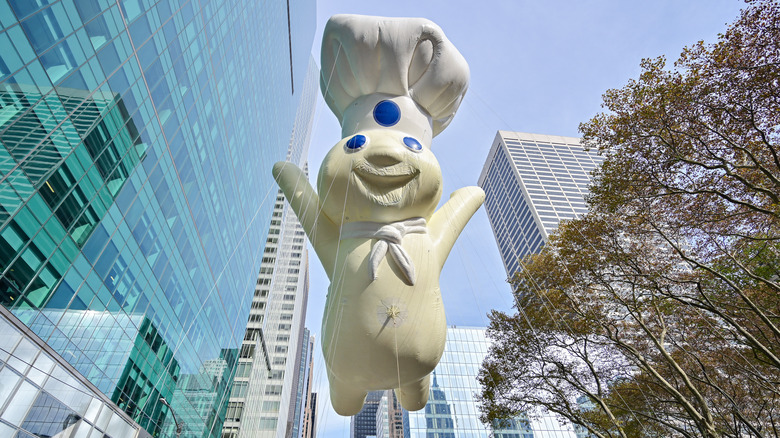 James Devaney/Getty Images
As with most shopping around this time of year, picking up groceries is no easy – or cheap – task during the holiday season. But luckily, the folks at Pillsbury have several products on the market that might lighten the holiday load. Perhaps you've already crammed cranberry sauce and turkey in the brand's biscuits using a holiday recipe recommended by the Pillsbury website. If you've taken on the job of hosting a holiday party for your family and friends, Pillsbury's tasty crescent rolls can be used for several appetizers like pigs in a blanket or a yummy crescent-wrapped brie. The popular brand also has you covered in the realm of desserts thanks to its individual pie crusts that Costco shoppers, in particular, are absolutely loving. 
Pastry lovers have a reason to check out the Pillsbury products at their local grocery store this holiday season as well, as one of the brand's fan-favorite seasonal treats has finally made its return. According to Taste of Home, Pillsbury's popular Grands! Hot Cocoa Rolls are back to help make your mornings (or afternoons, or evenings) merry and bright for the rest of the year.
Pillsbury's Grands! Hot Cocoa Rolls let you eat a classic holiday drink
A YouGov poll conducted last year found that one in three American adults preferred to sip on hot chocolate over any other holiday beverage, and if you're a proud part of that statistic, you might also like the idea of eating the festive drink in the form of Pillsbury's Grands! Hot Cocoa Rolls. Per Taste of Home, the limited-edition baked good is back for another year (presumably so you can fill your home with the delectable aroma of hot chocolate in the morning). 
If you're not familiar with these festive pastries, picturing one of Pillsbury's classic cinnamon rolls wouldn't be too far off, as the brand's hot cocoa rolls are nearly identical. However, instead of the typical cinnamon-flavored filling, these delectable treats are filled with a hot cocoa filling that, according to Junkfood Banter, has "no traces of cinnamon." Pillsbury didn't forget the marshmallows, either. Each tube of five not-cinnamon rolls also comes with sweet marshmallow-flavored icing for you to drench the pastries in, giving them the full hot chocolate experience.
If your mouth is watering, Taste of Home says Walmart is the place to go to stock up on Pillsbury Grands! Hot Cocoa Rolls, while All Recipes says Target, Kroger, and Wegman's has them as well.