This Fruit Hack Will Make Your Christmas Tree Smell Delicious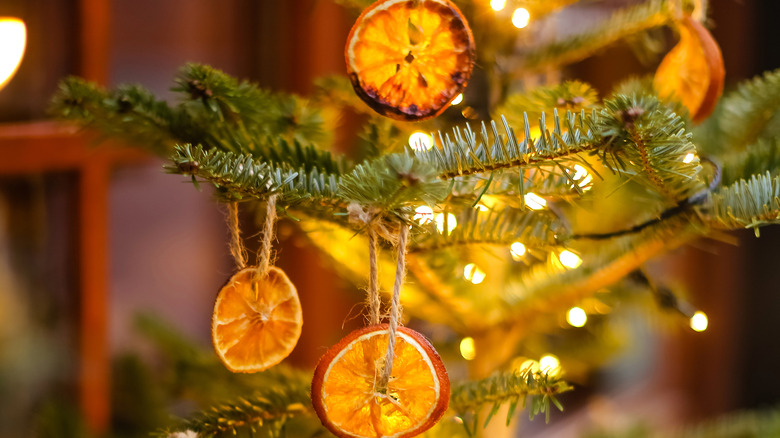 Eliz A/Shutterstock
Lately, prices have been going up on everything from gas to groceries, making for a tight budget for the holidays this year. But, we found a holiday hack that will save your wallet, dress up your tree, and fill your home with a seasonal aroma to remind you that it really is the most wonderful time of the year.
Reddit features an innovative and fun idea to decorate your Christmas tree with dried orange slices, cinnamon sticks, and pinecones. There is something very satisfying about making homemade ornaments that can ignite the holiday spirit. Not to mention that making your own decorations is a fun task that can take up some time during family visits or with kids during those long days of holiday break.
Users commenting on the crafty post mention that they also enjoy stringing popcorn and cranberries as DIY garland to hang around their trees and say that it makes them feel nostalgic and puts them in a warm and fuzzy holiday mood. According to My Recipes, stringing popcorn became popular in the 19th and 20th centuries because it was affordable and fun, just like making the decorations in this Reddit post.
These homemade ornaments look and smell like the holidays
The original poster who shared this crafty decoration idea on Reddit recommends cutting oranges into 1/2-inch thick slices and roasting them in an oven set to 150 degrees Fahrenheit for 3-4 hours, flipping the slices every hour until they are dehydrated. Cinnamon sticks can be purchased at the grocery store, and if you live in the right area, the pinecones are provided for free by Mother Nature. All the decorations can be tied with twine to hang on your tree.
When asked if there are any places to find affordable cinnamon sticks, one follower suggested checking out the international aisle or international markets as they usually have better prices on their spices. According to Refresh Restyle, if you gather pinecones for homemade decorations, you'll want to bake them in a low heat oven to get rid of bugs and sap before you hang them on your tree. One person on Reddit also commented, "Aside from looking super cute and old-timey, that's way more eco-friendly than store-bought ornaments. I love it!"
One person on the thread recommended, "I think different dried fruit slices would look nice and smell nice." And another suggested, "I used dehydrated orange, lime, and lemon slices too! I used a hot glue gun to glue on pretty kitchen spices like star anise, cloves, and pink peppercorns. They are gorgeous on the tree, the light shines through them."
There really is no place like home for the holidays, and this easy and affordable décor hack will fill your house with seasonal aromas and make your Christmas tree look festive without breaking the bank.