Nigella Lawson's Cocktail Sausages Are Perfect For Your Holiday Party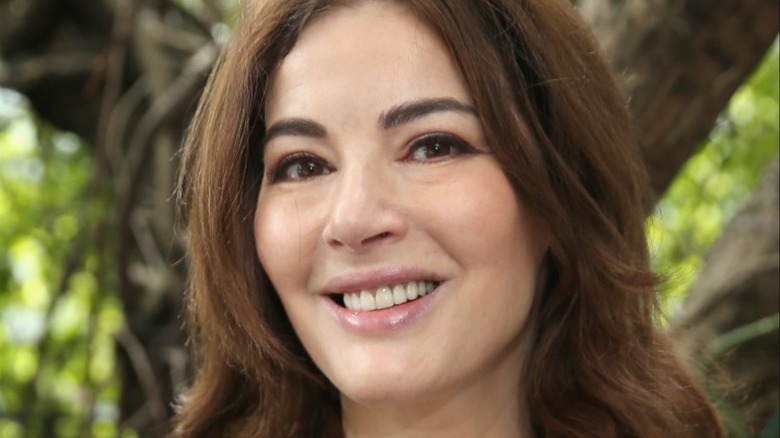 Neilson Barnard/Getty
The first few days of December have come and gone, and Nigella Lawson's Instagram profile pic currently features her wearing an appropriately festive Santa hat. Giving her fans the season's jolly greetings, Lawson commenced a monthlong Christmas-themed recipe drop on her website. Describing herself as a "traditionalist when it comes to Christmas," Lawson said that through December, she will be sharing tons of classic holiday recipes as well new ones that she has grown to love. If there's holiday cooking inspiration that you need, Lawson has a promising supply of festive recipes in store!
Lawson's recipe for cocktail sausages is perfect if you're hosting a party this Christmas. Though, as she declared to fans on Instagram, "Why wait for Christmas? Have them now, I say!" As explained on Nigella.com, these aren't just any old cocktail sausages — this is a recipe from the Nigella Lawson after all. Her cocktail sausages are a take on an actual cocktail: the classic cosmopolitan.
What's in Nigella's cosmopolitan cocktail sausages?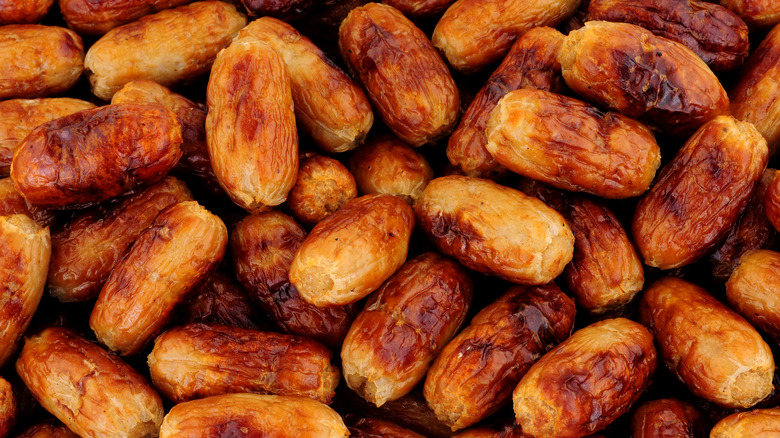 Philip Kinsey/Shutterstock
According to the recipe on Nigella.com, you should cover your sausages in a marinade based on the ingredients of a cosmopolitan cocktail. Nigella Lawson uses store-bought cranberry sauce as a stand-in for cranberry juice, and instead of triple sec, she uses fine-cut orange marmalade. Add the lime juice as you would in the cosmo, and anyone who would like to add a splash of booze can throw in a shot of vodka. Pop the sausages covered in the marinade for an hour in the oven and you're all set to host a party.
While Lawson's recipe makes 50 sausages for a party, comments on her Instagram post suggest that they might disappear quickly. As one fan exclaimed, "These always get gobbled up in our house !!" A different, probably hungry Instagram follower wrote, "Those look amazing! I can't resist cocktail sausages." Someone else suggested that wrapping the sausages in strips of bacon would "take you on a short trip to Heaven and back."
If you think the cosmo cocktail sausages look promising, Lawson has tons of other recipes on her website that might provide holiday inspiration. Whether it's her "oh-so-sumptuous No-Churn Chestnut Ice Cream," gingerbread stuffing, or Norwegian pork ribs, the site is filled with festive ideas, and there are even more to come!