The Chicago Deli Former Presidents Love To Visit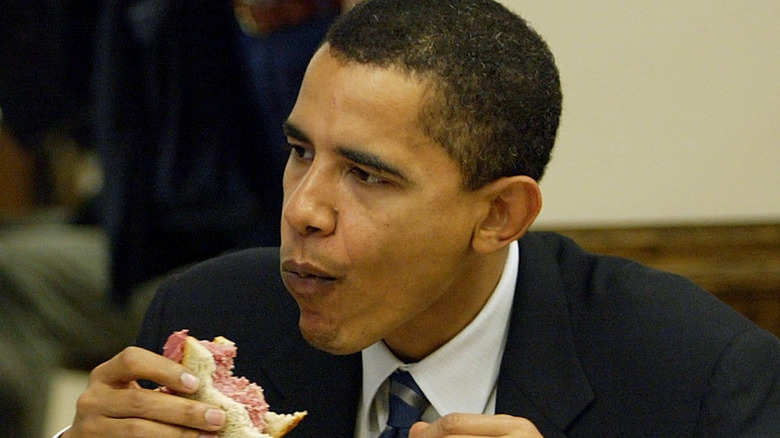 Tim Boyle/Getty Images
A weekend in Chicago usually consists of some time in Millennium Park, a few minutes sky-high in the Willis Tower, and some high-end shopping along the Magnificent Mile. Spanning along Lake Michigan, the Windy City is home to other famous pit stops like the Shedd Aquarium and Wrigley Field, and if you start to get hungry between tours Chicago's food scene has plenty to offer. Of course, there's the famed Chicago-style hot dog that you can get just about anywhere, Portillo's included. But if you're craving a hearty deli sandwich — particularly if you have a hankering for corned beef — you'll want to stop at Manny's Cafeteria & Delicatessen.
The establishment on Jefferson Street has been serving the community Jewish comfort food since 1942, even though its address has changed a few times since then (via DNAinfo). Manny's Deli, as the locals call it, isn't your regular Chicago deli, either. The joint has had seconds of stardom in TV hits like "ER" and "Shameless," and has quite the list of customers, some of whom have names you might just recognize. Manny's has its regulars as many neighborhood shops do, but the mix also includes high profile politicians like Chicago mayors Richard J. Daley and his son, Richard M. Daley, as well as former Presidents Bill Clinton and Barack Obama. Clearly, the establishment, which has been passed down through four generations, is doing something right.
What's on the menu at Manny's?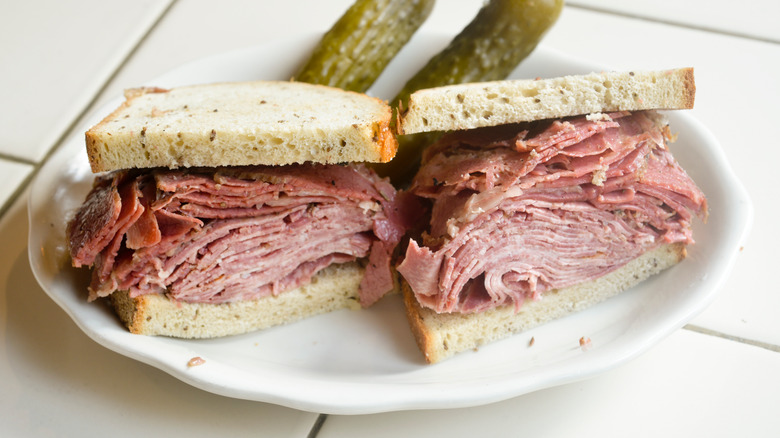 rj lerich/Shutterstock
Though the deli is serving up everything from roast beef to gravlax to chicken salad, Manny's has a cult following when it comes to its corned beef and pastrami (via Manny's Deli). You may have tried a corned beef sandwich, but you've probably never had one like Manny's before — a mountainous 9 ounces of warm, thinly sliced corn beef brisket packed between two slices of rye bread. And if walking around the city has left you famished, you can even order one with three-quarters of a pound of corned beef, according to Food Insider on Facebook. 
Pre-pandemic, the deli would go through 1,000 pounds of corned beef a day, Food Insider also reported. That's how renowned this sandwich is in the city of Chicago.
Towering meat sandwiches aside, Manny's deli also serves breakfast, lunch, and dinner options. There's a full hot buffet with items ranging from stuffed cabbage to spaghetti to Salisbury steak, with daily specials every day of the week. Customers can start off their day with some babka french toast and build their own salads, then order soup and a sandwich before finishing everything off with cookies from the bakery. We feel bad if you won't be in Chicago anytime soon because you might have just gotten some sudden cravings.