Trader Joe's Shoppers Are Pumped To Try Its New Organic Rolled Oats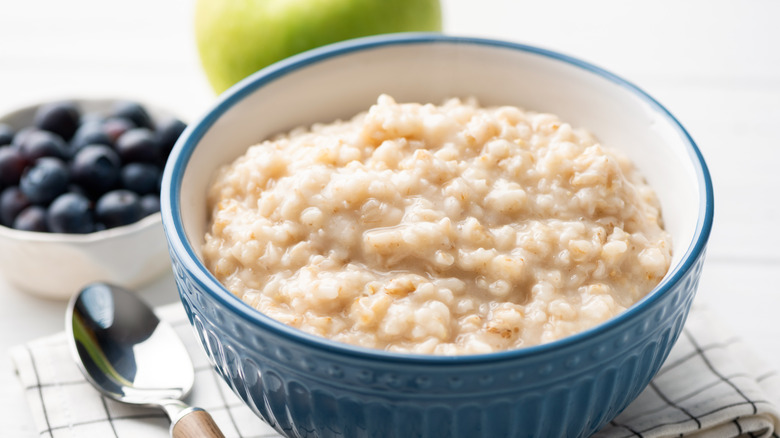 Vladislav Noseek/Shutterstock
If breakfast is the most important meal of the day, what you choose to eat in the morning is a big deal. Ideally, you want something healthy, nutritious, and satisfying that will provide you with plenty of energy to fuel the first half of your day. While you could go for scrambled eggs, a hearty smoothie packed with protein powder and spinach, or Greek yogurt topped with fresh fruit, another tasty choice that's likely better for you is oatmeal.
There are plenty of reasons to eat oatmeal (aside from the fact that it's a comforting, hot bowl of deliciousness, especially when mixed with brown sugar, cinnamon, or nut butter). According to Healthline, oats contain protein, whole grain carbs, fiber, and antioxidants, which keep you full, aid digestion, and can even help lower cholesterol. You can choose from a bunch of different brands and types when you're in the cereal aisle, but if you happen to be a Trader Joe's fan, the retailer just came out with a new option: organic rolled oats. 
The Trader Joe's organic oats have people very excited
Oats may not be new at Trader Joe's — but these organic rolled oats are. The popular grocery retailer recently brought the unique oats to its shelves, and fans of the store are incredibly excited. One foodie account, @traderjoeslist, shared a picture of the new oats on Instagram, which they found at their local Trader Joe's. "If you're looking for a warm breakfast that's packed with fiber and protein then this is for you," they captioned the post. "Top it with your favorite fruits and drizzle with honey if you like it a little sweeter!" With over 11,000 likes, it's clear that other people are ecstatic about the new addition to the popular store.
According to the package, the rolled oats — which also happen to be gluten-free — contain more than just, well, oats. You'll also get a helping of "ancient grains and seeds," which include amaranth, quinoa, chia seeds, and ground flax seeds, as listed on the packaging. Shoppers can't wait to snag the oats for themselves, calling it a "must try" and a "perfect start to the day." One person who has already tried the porridge said on the Instagram post that it's as delicious as it is filling.